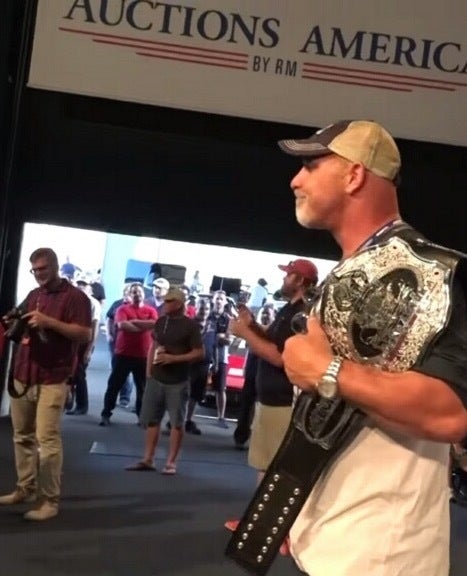 Lightening has stuck (again) and for the second time in two weeks, a Championship Wrestling Belt has sold for big bucks and with 100% of the proceeds going to charity to help US Military Veterans.

The staggering total is now $85,000

Those who read my articles regularly will recall that last week, I attended a Special Operations Wounded Warriors (SOWW) event. At this event, shortly after Kris Tanto Paronto's keynote address, a custom made Championship Belt was auctioned off and fetched $5,000. The belt was subsequently donated back to the same charity.

This week, it happened again and the results, with the help of Bill Goldberg, are mind boggling. While other pro athletes are refusing to stand up for those who gave their all, Goldberg did just the opposite; he stood tall! The larger than life patriot addressed the crowd on hand at Auctions America in Auburn and what happened next, as seen in the video below, was truly amazing.
What I experienced at Auctions America with that belt and those people restored the faith I have in that flag. Very honored and humbled to be a part of such a life changing event. - Bill Goldberg
Video form the live auction in Auburn
The lucky charities include Honor Flight Northeast Indiana and Wounded Warriors of South Florida whose Executive Director Mike Durkee advised would share proceeds with another great charity, Special Operations Wounded Warriors.

These charities, as a result of World Championship Belts fashioned by Rey Rey, a disabled Military Veteran, will use the proceeds to champion their causes, all of which will serve to enrich the lives of those who made selfless contributions to America.

A joint event is currently being planned in Miami with Wounded Warriors of South Florida and Special Operations Wounded Warriors where the ceremonial checks will be presented.

Please stay tuned for more info on that and an update on the uniform of the day.