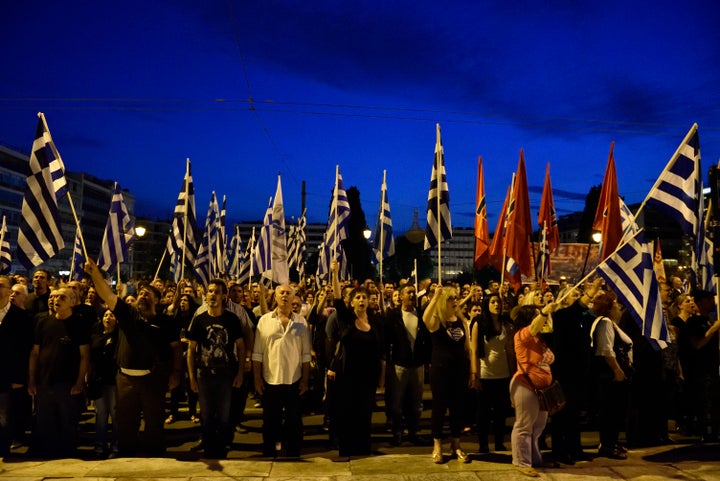 Local journalists say members of Greece's neo-fascist Golden Dawn party attacked them while they were covering an anti-refugee protest organized by residents in Chios last week.
Although the Sept. 14 rally at the town central square started peacefully, violence erupted as a group of protesters began marching toward one of the island's makeshift refugee camps and soon after headed toward another camp in the area of Souda, where about 1,800 people are sheltered.
As clashes between protesters and the police broke out outside the camps, journalists from local media were among those attacked by Golden Dawn members.
Ioannis Stevis, head of Chios news site astraparis.gr, said his arm was injured by a Golden Dawn member and his camera smashed while he was trying to cover the events. Another local journalist, Pantelis Fykaris, was verbally attacked.
Speaking exclusively to HuffPost Greece, Stevis condemned the unwillingness of local police to interfere during the attack.
"There is something wrong going on. The police do not respond to any of this. I am not in a position to judge why this is happening, it is the prosecutor and the competent ministry who should look into this," he said.
Stevis said that local journalists, including himself, have been targeted by Golden Dawn on social media platforms before, and said that although the perpetrators are known, the police have not made any arrests.
The Chios police declined to comment.
The journalist said he pressed charges against his alleged attacker, and that the Golden Dawn member also pressed charges in retaliation.
Chios is one of the islands of the eastern Aegean Sea that in recent years have received thousands of refugees and migrants who cross over from Turkish coasts in an attempt to flee war and poverty in their countries.
Over 3,500 people are stranded on the island, according to data from the U.N. refugee agency. Refugees live under harsh conditions in camps as they wait for their asylum claims to be processed, under the EU-Turkey deal aimed at stemming the flow of people.
Οn Monday, the brewing anger and frustration of months of wait erupted with a fire and violent clashes that almost completely destroyed the camp of Moria on the nearby island of Lesbos, where some 4,000 migrants and refugees were sheltered.
The government issued a statement asking police and prosecuting authorities in Chios to guarantee the safety of everyone on the island, saying, "This tolerance [to violence] has to stop now and everyone should assume responsibility."
Related
Popular in the Community