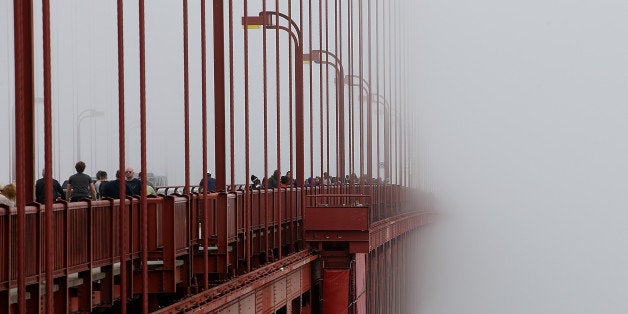 Earlier this year, a startling statistic emerged: People jumped to their deaths from the Golden Gate Bridge in 2013 at a rate of almost once a week. Now, officials have approved a final safety net design that activists hope will inspire similar efforts at suicide destinations around the world.
The $76 million suicide barrier design was approved Friday by the Golden Gate Bridge District, whose board green-lit funding for the project in June. The barrier will consist of a stainless steel cable net extending 20 feet downward and outward from the side of the bridge. The project, which comes after half a century of funding deliberations and shelved designs, is expected to be completed within three years and will be paid for by the bridge district, Caltrans, the Metropolitan Transportation Commission and the Mental Health Services Act.
"I think the Golden Gate Bridge can serve as a model for other bridges," Dr. Jill Harkavy-Friedman, a psychologist and the vice president of research at the American Foundation for Suicide Prevention, told The Huffington Post. "I hope we'll see more and more of this."
The Golden Gate Bridge is thought to be the country's -- and possibly the world's -- top suicide location. More than 1,600 people are believed to have taken their own lives there, although the exact number is unclear, because the California Highway Patrol stopped counting and releasing the data in 1995 amid concerns that it was encouraging jumpers.
While many people believe that someone considering suicide will not be deterred by a barrier at one site, and will simply seek out another method for ending his or her life, experts say that research strongly suggests otherwise.
"If you block the access to lethal means when a person is in a suicidal crisis, they actually don't think of alternatives," Harkavy-Friedman told HuffPost. "When someone is in a suicidal crisis, their thinking is very fixed and they have tunnel vision. What a barrier does is give time for the crisis to pass and for help to arrive."
She pointed to a study on the Clifton Suspension Bridge in Bristol, England, that found that in the years before the bridge erected suicide barriers, relatively few of its jumpers had a history of self-harm or psychiatric treatment -- suggesting that most of the people who jumped did so on impulse. After the barriers went up, suicides from the bridge were reduced by half, and there was no corresponding increase of suicides at other bridges. What's more, most of the people who did manage to jump to their deaths after the barriers were put up had histories that suggested their suicides were not impulsive, and that they jumped because they were determined to do so.

Anecdotal evidence from suicide attempt survivors also suggests that potential Golden Gate Bridge jumpers may not seek out other methods once the new construction is in place.
"Of the small number of people who have survived jumping from the Golden Gate Bridge, nearly all have said afterward that it was the Golden Gate Bridge or nothing. They didn't have a Plan B," John Bateson, author of The Final Leap: Suicide on the Golden Gate Bridge, wrote last year in an op-ed for the Los Angeles Times.
It's only been a few months since San Francisco lost its hometown hero Robin Williams, who took his own life at his Bay Area home in August following years of battling depression. Williams' death gave way to a national conversation about ending the stigma surrounding mental illness.
"Ninety percent of people who die by suicide have a diagnosable and potentially treatable illness," Harkavy-Friedman said. "I think that's the biggest misconception here."