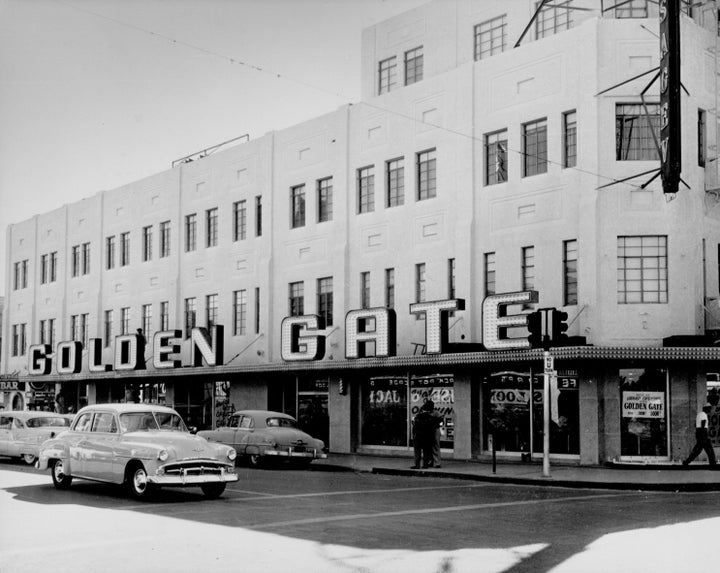 2012 was touted as the "Year of Downtown Las Vegas" by Mayor Carolyn Goodman last spring. Much attention has always been paid to The Strip, but downtown's Fremont Street and its "Experience" is a popular tourist attraction in its own right.
To mark the reemergence of downtown Las Vegas, developers Derek Stevens and Greg Stevens have remodeled not one but two Fremont Street icons. The Golden Gate, Las Vegas' first hotel & casino, reopened to the public late last month after months-long renovation, and the renamed D Las Vegas opened to the public Thursday.
The Golden Gate, which sits on land that was purchased for $1,750 at auction in 1905, has a new lobby and exterior, as well as a five-story luxury tower and extended casino floor. Though, The Golden Gate's real estate isn't the only reason it's steeped in history. After opening in 1906, the hotel became home to Vegas' first telephone in 1907 and the first neon signs in 1927, and was also one of the original hangouts of the Rat Pack. The casino got off the ground in 1955 thanks to a group of investors from San Francisco.
Meanwhile, Thursday marked the reopening of the D Las Vegas (formerly the Fitzgeralds hotel,) which sits beneath the world's largest video screen on Fremont Street. Much like the Golden Gate, the D has a new lobby, a two-level casino, 624 remodeled rooms and the first American Coney Island outside of Detroit.
Check out photos of the Golden Gate then and now below.
Photos courtesy of The Golden Gate unless otherwise noted.