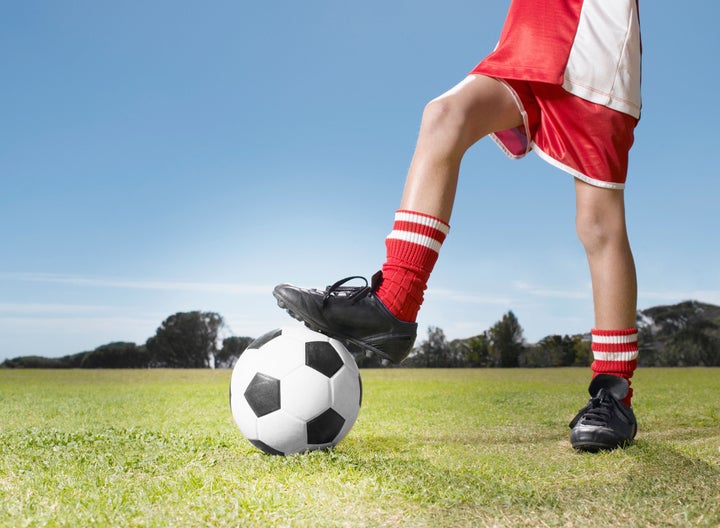 The soccer fields near Golden Gate Park's Beach Chalet are closed all the time--every Monday, every day during the four rainiest months of the year and for days after a heavy rain. Not to mention that one of the four fields is always taken out of use on a rotating basis to allow the grass to regrow.
For San Francisco's header-hungry soccer enthusiasts, it's nothing short of a travesty that drainage issues are keeping the fields closed for much of the year. That's why they're supporting the Recreation and Parks Department's plan to completely overhaul the fields, potentially tripling the amount of available playing time. However, its putting them in direct conflict with a dedicated group of conservationists--including the Sierra Club and the Golden Gate Audubon Society--determined to stop the fields' proposed face-lift from ever getting its cleats off the ground.
The plan would replace nearly ten acres of natural grass with artificial turf soccer fields, ten 1,500 watt, 60-foot tall lighting fixtures, a viewing plaza for spectators, renovated restrooms, a playground, expended parking for both cars and bikes as well as a picnic area.
The construction also calls for the removal of 55 trees and shrubs that the department insists will be replaced on at least a one-to-one basis elsewhere in the park.
"The fields are currently unsafe and in poor condition due to heavy use, abundant gopher holes and year-round wet conditions," said project manager Dan Mauer. "Players of all ages regularly suffer foot, ankle and leg injuries, with several broken legs reported over the last year."

In addition, he said, the synthetic fields are expected to save 6 million gallons of water a year.
Funding for the multi-million dollar construction will come from a combination of the Fisher family's City Fields Foundation and a 2008 bond measure targeted at improving the condition of the city's parks.
Critics say that new sports complex runs contrary to the vision for the park's western half espoused by the Golden Gate Park Master Plan adopted by the department in 1998. The document approvingly quotes original park designer William Hammond Hall, who wrote in 1886 that, "it was designed that the six hundred or more acres of the reservation including and lying west of Strawberry Hill, and its connecting ridge, should be simply treated as a woodland or forest, with all the hills and ridges more or less heavily timbered, and the valleys covered with lower-growing shrubs or field grasses."
Opponents also fear the bright lighting will disturb bats and songbirds as well as completely alter the experience of being on nearby Ocean Beach in the evening.
In October, the city's Planning Department released a Draft Environmental Impact Report that found the project could have adverse effects on the park's bat population. The report suggests those effects could be largely mitigated by taking additional measures to either induce the bats to shift to different tree roosts prior to tree removal and through the creation of "no-disturbance" buffer zones surround nearby active roosts.
The renovation project was initially slated to move out of the planning stage immediately following its unanimous passage by the Recreation and Parks Commission last year; however, it was put on hold when the department ran unto staunch opposition and decided to first conduct a comprehensive environmental review before moving forward.
In addition to the negative effects on the park's environment, the plan's detractors have raised concerns about the possibly detrimental health effects associated with exposure to the mixture of ground-up tires used for the artificial turf. "It's funny to us today to see images of children being allowed to run around with plastic dry-cleaning bags on their heads, or pregnant mothers to be binge-drinking cocktails," said Richmond resident Kelley Watts to the Ocean Beach Bulletin at a community meeting about the fields earlier this year. "Our culture has evolved [to] where we now consider such behaviors ludicrous, so how is that we [have] come to believe that it's OK to let children play in tire waste, which all parties agree contain unregulated amounts of heavy metals and chemicals?"
"We have parks because we want to make a connection with nature," Katherine Howard of the preservation group Ocean Edge told the San Francisco Examiner. "Plastic just doesn't do it."
A 2007 study by the Connecticut Department of Public Heath found that, while it's inevitable both participants and bystanders will ingest particles from soccer field turf, its unlikely that it poses a significant health risk. The report also notes that governmental bodies in Norway, Sweden, New Jersey and California all conducted similar evaluations and all independently came to the conclusion that this particular type of synthetic playing field, which can be up to 90 percent recycled tire material, doesn't pose a threat to public health.
Many of the plan's supporters are hoping that increased lighting on the fields will discourage another, slightly more risque, recreational activity that's been occurring near the fields with some regularity.
Patrick Maguire, a Sunset District soccer player, says that anyone who dribbles a ball down the Beach Chalet fields knows what the crusty creeps coming and going behind the fields are up to. "People are having sex in bushes back there," says Maguire, who coaches kids' soccer teams just a couple of kicks away from the action. He believes that lighting up the area and increasing local foot traffic will push these sex cruisers out of the bushes.
The project will remain in the stage of receiving written comments from community members until December 12. If everything continues to go as planed, construction will begin in mid-2013.
REAL LIFE. REAL NEWS. REAL VOICES.
Help us tell more of the stories that matter from voices that too often remain unheard.