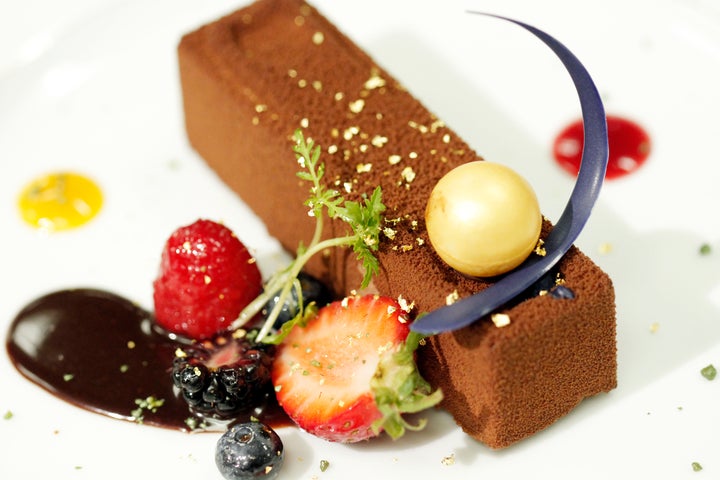 Think of these dishes as the food that stars will almost choke on when they get an earful of Ricky Gervais' edgy monologue during the Golden Globes.
Executive chef Suki Sugiura and pastry chef Thomas Henzi of the Beverly Hilton Hotel unveiled the 2012 Golden Globe Awards menu on Thursday to a kitchen packed with cameras and journalists. According to the Hollywood Foreign Press Association, the dishes took six months to conceptualize are centered on the theme of "Global Food Harmony" to reflect the "global nature" of the awards.
On the day of the event, it'll take 40 chefs and 110 kitchen staffers to prepare dinner for 1,300 guests, according to BizBash. That's a lot of blowtorches.
The 2012 Golden Globe Awards Menu
Appetizer: Pistachio crusted pistou ravioli with wild arugula served with smoked tomato, kabocha compote and burrata
Entree: Miso and sake lees marinated pacific sea bass with grilled king oyster mushroom and braised prime short rib of beef. To be served with porcini pine nut herb ragout in a light cream of sherry wine ginger tamari sauce and roasted fingerling potatoes, candy striped beets, baby bok choy and yellow baby carrots.
Dessert: A trio: chocolate delice almond crunch terrine and acacia honey, caramel and fresh berries, paired with a Moet & Changdon Grand Vintage 2002 magnum specially created for the event.
Consider the bar set for ambitious homecooks hosting an awards show viewing party. Here's where to buy the edible gold flakes in Los Angeles.