HIGH: The "La La Land"–themed opening number with all the Barbs (minus the whole "look at how funny it would be if Jimmy Fallon and Justin Timberlake were gay!" thing).
LOW: Everything else Fallon did, particularly imitating Chris Rock while making an O.J. Simpson joke.
LOW: Shocking absolutely everyone, Mahershala Ali lost the first award of the night to Aaron Taylor-Johnson. "Nocturnal Animals" is now a Golden Globe winner. 
HIGH: Tracee Ellis Ross' sweet speech. "This is for all the women of color, and colorful people, whose stories, ideas and thoughts are not always considered worthy and valid and important. But I want you to know that I see you. We see you. It is an honor to be on this show, 'Black-ish,' to continue expanding the way we are seen and known, and to show the magic and the beauty and the sameness of a story and stories that are outside of where the industry usually looks." 
HIGH: A bespectacled Julia Louis-Dreyfus filling in for Questlove in the DJ booth.
HIGH: Keith Stanfield's little jig when "Atlanta" won.
LOW: Sofia Vergara made a weird anal-sex joke, then turned to introduce Sylvester Stallone's teenage daughters.
HIGH: Meryl Streep shooing people away so Viola Davis could get to the stage to accept her award.
LOW: "La La Land" won Best Screenplay, because it totally makes sense to give a musical a writing award over "Moonlight" or "Manchester by the Sea."
HIGH: Kristen Wiig and Steve Carell reminiscing about their sad experiences watching animated movies. 
LOW: No Frances McDormand reaction shots.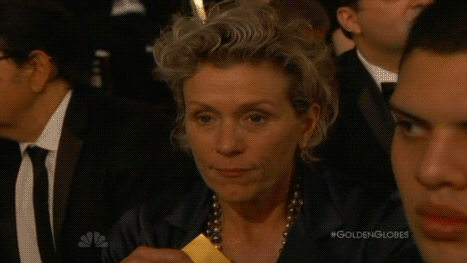 HIGH: "Moonlight" closed out the night by winning one of the two top film awards. (The other went to "La La Land.") It was the only prize "Moonlight" took home, which is a bummer. But it was an incredibly high note to end an otherwise spotty show.
REAL LIFE. REAL NEWS. REAL VOICES.
Help us tell more of the stories that matter from voices that too often remain unheard.
BEFORE YOU GO