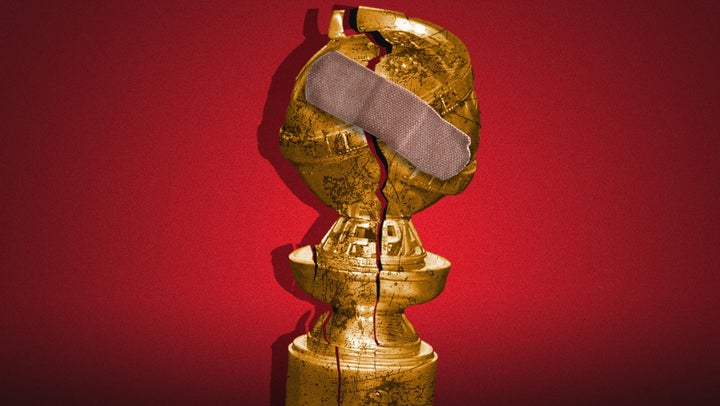 Much of Hollywood appears to be treating Tuesday night's Golden Globes ceremony almost as if the last two years didn't happen. There have been the usual press releases, the For Your Consideration ads and the party invitations, and there will likely be a full-court press about the red carpet and the winners.
Many seem to have conveniently forgotten that in 2021, amid the larger racial reckoning catalyzed by the murder of George Floyd, the Los Angeles Times published an investigation into the organization behind the Globes: the Hollywood Foreign Press Association. Their reporting unveiled a number of damning revelations, including that the organization had zero Black members and had allegedly committed a bevy of ethical breaches, like reportedly accepting lavish gifts and trips from studios and publicity firms in exchange for awards consideration. The HFPA purported to be a group of international film journalists, but many of its members were not journalists at all or hadn't worked in media for years, the LA Times found.
In response, it looked like the end of the Golden Globes. Celebrities and publicists distanced themselves from the HFPA. NBC pulled its longstanding arrangement to broadcast the show until the organization enacted "meaningful reform." Last year's untelevised ceremony was like it didn't happen at all, with many nominees and winners not even publicly acknowledging that they had received recognition from the Globes — a sharp contrast from the usual flurry of statements and social media posts.
But this year, it's largely business as usual. The Golden Globes have returned to NBC, hosted by comedian Jerrod Carmichael, who broke out last year with his celebrated HBO comedy special "Rothaniel." There are some signs of the ceremony's lessened significance, such as it now being held on a Tuesday night instead of its old Sunday night time slot, and some nominees tiptoeing around whether to trumpet the news of their nomination, as well as weighing whether to attend. Yet only one nominee has specifically announced he will not be there: "The Whale" star Brendan Fraser, who in 2018, revealed that the HFPA's former president Philip Berk allegedly groped him at an awards luncheon in 2003 (which Berk denied).
The Golden Globes' return underscores just how much the industry at large is willing to look the other way, erase the past and just forgive and forget. And it comes at a time when it's increasingly looking like many of the promises made during those so-called reckonings were simply performative.
How We Got Here
Long known as the boozier, messier and looser cousin to the Academy Awards, the Globes were always a little bit suspect. The HFPA, composed of a small group of mysterious members, often selected an idiosyncratic set of nominees and favored big stars, even if their projects weren't exactly in awards contention. There were perennial rumblings of something shady going on.
What Reforms The HFPA Made
In response to the scrutiny, the organization's leaders pledged to become "HFPA 2.0," as its new president told Vanity Fair in late 2021. It brought in new leadership, including a chief diversity officer, tightened its rules (such as banning gifts), enlisted outside consultants, launched a partnership with the NAACP and invited 21 new members, including six Black journalists. This fall, to widen the pool of voters for the Golden Globes, the HFPA also added 103 journalism and film industry professionals to become part of the voting body, though not as paid members.
It was a bumpy road, to say the least. In April 2021, a diversity consultant hired by the HFPA quit just a month into the role, reportedly after a meeting that contained "a full-bodied presentation of issues relating to deep-seated sexism, racism and corruption over decades," as the LA Times reported at the time. During that same period, Berk sent an email to HFPA members which referred to Black Lives Matter as a "racist hate movement" (he was ousted from the organization shortly after). That June, two HFPA members resigned, criticizing the HFPA's initial set of reforms as "window-dressing."
Improving diversity and demonstrating a sustained commitment to it takes years of concerted effort, as anyone who's ever done diversity work at an organization in any industry will tell you. Even in the best-case scenario, it's hard to believe that in just a year or two, things at the HFPA have improved significantly enough that most people could just flip a switch and embrace the Golden Globes again.
Business As Usual
Despite all of this, a lot of people have, and the Globes are back. On Tuesday night, it'll be interesting to see which attendees, if anyone, will acknowledge the cognitive dissonance of proceeding with the ceremony as if nothing happened. Will anyone join Fraser in publicly declaring they won't attend? (Some nominees have cited "scheduling conflicts.") Will anyone say anything critical of the organization on the red carpet or onstage? Will anyone refuse to accept their award, or try to distance or disavow themselves from it after winning?
A few people might, but they will likely be alone. Expect many in Hollywood to take the easier route: smile, wave, give some effusive remarks — and continue participating in the fantasy the industry is built on.
Support HuffPost
The Stakes Have Never Been Higher
Popular in the Community