With the Golden Globes taking place Sunday, January 10th, nominees, presenters and other A-list talent had a chance to attend gift lounges around Los Angeles where they received everything from clothes to beauty products to trips.
SECRET ROOM EVENTS CELEBRITY STYLE LOUNGE IN HONOR OF THE GOLDEN GLOBES at the SLS Hotel in Beverly Hills.
Visit Santa Barbara debuted its limited edition "Red Carpet Red" pinot noir at the Secret Room, which was gifted exclusively to guests. A representative from electric car company Tesla was on-site handing out vouchers to test drive its Model S.
Travel Org gifted portable leather organizers designed to keep passports, itinerary, currency, documents, credit cards - even car keys - in one organized and zipped-up stylish case.

Actress Saffron Burrows, or the Golden Globe nominated comedy Mozart in the Jungle, at the Secret Room Events gift lounge.
To keep their creative minds working, celebs received a full line of Scullery clay-making products including oven-baked clay, tools and keepsake making kits. Eve & Niko Crafts and Home Décor gifted baskets and bowls woven out of recycled telephone wire by Zulu women.
Nadri Incorporated gave out a selection of their fine jewelry which included everything from earrings to necklaces to bracelets. Ruffle Girl gifted matching mother-daughter striped scarves. There were also hats, tote bags and ultra soft t-shirts and zip-up hoodies by Texas-based Twisted J Apparel.
On the beauty front, visitors received a charcoal mask and a daily detox scrub from Derma E, luxurious body scrubs and lotions from Adore Organic Innovation and make-up such as eye shadow, blush and lip gloss by City Color. There was also Myntsmile toothpaste, made exclusively for teeth with porcelain veneers, crowns, implants, etc.
Celebs left with goodie bags chock full of items including portable speaker systems by Edifier, solar power chargers and lights by Waka Waka Power, luxurious stuffed animals form the Manhattan Toy Company and super soft cotton shirts from Beach Lunch Lounge.
GBK & PILOT PEN GOLDEN GLOBES SUITE at the W Hollywood Hotel:
Guests received a variety of writing instruments from Pilot Pen including the Matte Black Vanishing Point and the FriXon Clickers. Presenting sponsors such as anti-aging treatment LifeCell, Freedom Quit Smoking System, iRestore Laser Hair Growth System and the The Science of Eating website all showcased their wares.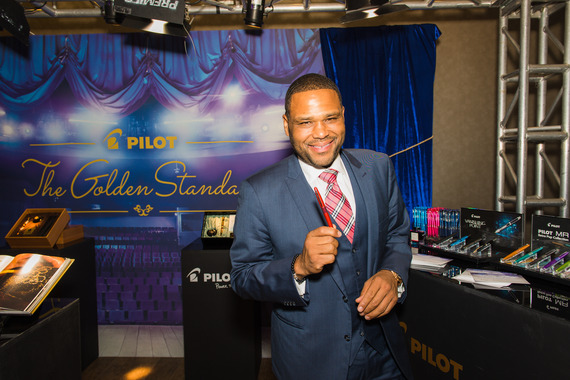 Black-ish TV star Anthony Anderson at GBK
Head'N Home Hats by American Hat Makers had a floor to ceiling wall of handmade leather hats for men and women including everything from Aussie inspired outback hats, Steampunk Hatter hats and leather fedoras. Beija-Flor jeans gifted from numerous lines including the Emana collection containing skin firming technology and Ecochic jeans made with, among other things, recycled plastic water bottles. Apparel company Hale Bob went beyond its signature bold print fashions with racks of faux-fur vests, evening wear and carry-on luggage.
Burke Williams Day Spa had massage chairs and therapists to de-stress visitors, while gifting goodie bags of its skincare and make-up products. Tweezerman was providing on-the-spot engraving on tools and brushes, including its world-famous slanted tip tweezers. Truly Yours Perfumes gave out their newest fragrance, Riesa, a citrusy floral scent with a hint of woodiness.
Guests received a three night stay for two at the Caribbean's Belmond La Samanna on the island of St. Martin, luxurious silk pillow cases by Shhh Silk, and Jewelinx, a jewelry organizer that sits on a hanger, allowing the user to keep an outfit and its accessories together in one place.
There was also the portable and inflatable Relief Bed, used for aid workers as well as impoverished, homeless and disaster relief victims. It also makes a great addition to any household or vehicle's emergency preparedness kit.
Artisan Group, a collective group of artisans that make everything from thank-you cards to pet products, gave out a goodie bag of handcrafted items including beauty supplies from Essential Body Pleasures, bathtub candy from Soapy Bliss, jewelry by Carol Rayburn and handmade soap from One Leaf.
Guests sipped premium grass-fed bone broth from Au Bon Broth and indulged their sweet side with caramel apples by Enchanted Sweet Shoppe.
To burn off calories, celebs received gift cards to The Sweat Shoppe, an indoor cycling studio where classes are held in heated rooms. Expect to be drenched in sweat by the time you're done!
HBO LUXURY LOUNGE in honor of the 73rd Annual Golden Globe Awards at the Four Seasons Hotel:
DSW aka Designer Shoe Warehouse, gifted Converse sneakers and had artists on site who drew custom-designs for those who wanted a little more personal pizzazz. Lifestyle brand Nautica, handed out sweaters, scarves and perfume.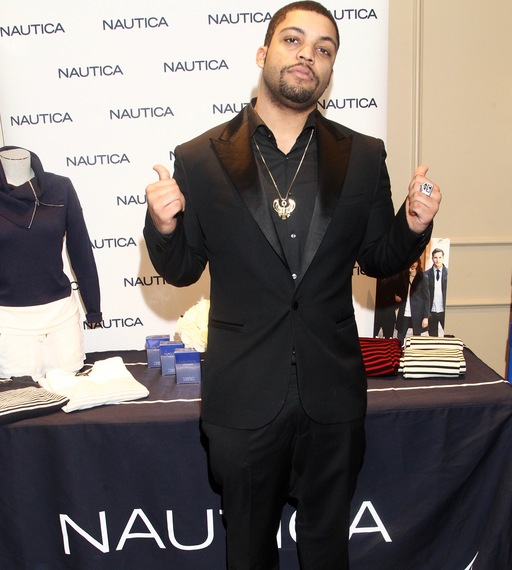 O'Shea Jackson, who plays his real-life father Ice Cube in the Golden Globe nominated Straight Outta Compton, attends the HBO Luxury Lounge.
Victorinox Swiss Army gifted 8-wheeling hardcase traveling suitcases and carry-ons. Celebs also left with an I.N.O.X. steel watches complete with a survival paracord wristband that can be undone and used in emergency situations.
There was a variety of backpacks, tablet cases, messenger and tote bags by Solo, UPPAbaby strollers, cologne from Gendarme, jewelry from KEEP Collective and homeopathic remedies from Boiron.
Marc Jacobs Beauty was providing on-site manicures and make-up applications, and gave guests goodie bags full of Marc Jacobs Beauty products including mascara and eyeliner.
Related