 Welcome to For Your Consideration, HuffPost Entertainment's weekly breakdown of all things Oscar. Between now and Feb. 25, 2013, executive arts and entertainment editor Michael Hogan and entertainment editor Christopher Rosen will chat about awards season and which films will make the most noise at the 85th annual Academy Awards.
Rosen: Hello, Mike! The 70th annual Golden Globes have come and gone, leaving everyone pleased ... except Oscar producers Craig Zadan and Neil Meron, Oscar host Seth MacFarlane, "Lincoln" director Steven Spielberg and whichever members of the directors branch of the Academy of Motion Picture Arts & Sciences didn't vote for Ben Affleck.
Let's start with the telecast. Golden Globes hosts Tina Fey and Amy Poehler were predictably great. Their monologue had bite, but wasn't mean (that joke about Kathryn Bigelow having experience with torture after being married to James Cameron for three years is the new King of the World), they kept the proceedings moving and they made everyone feel comfortable. The room wasn't tight, as it has been during the past two years, when Ricky Gervais was raining hellfire down from the Beverly Hilton Hotel stage. Couple that with some great moments from Jennifer Lawrence, Anne Hathaway, Ben Affleck and Daniel Day-Lewis, and Jodie Foster's zeitgeist-exploding, not-really-but-really coming-out speech, and the Academy Awards have quite a lot to live up to on Feb. 24. The Golden Globes might not be relevant to the outcome of the Oscars, but it's definitely the better television show.
Speaking of which: What do we make of the big wins for "Argo" at the Golden Globes? Well, not a whole lot. The film still blew a tire when Affleck was snubbed by the Academy Awards in the Best Director category. Yet, as I wrote on Monday morning, if any film can overcome the Affleck snub, it's "Argo." People have loved this film since September, and it might wind up being the consensus choice for Best Picture, Oscar history and snubs be damned!
Suffice it to say, with "Argo" and "Silver Linings Playbook" gaining steam, I'm not convinced "Lincoln" wins Best Picture. Are you still holding strong with Honest Abe?
Hogan: Hey Chris, I'm sticking with "Lincoln," even as I clutch the statistical models of HuffPost's Oscars(R) Prediction Dashboard to my chest for warmth and gaze across the frigid awards landscape searching in vain for a preliminary award that the film and its director, Steven Spielberg, have actually won. Affleck and Hooper got the Globes; Bigelow took home the NYCFF awards; Haneke and P.T. Anderson, of all people, pocketed the L.A. Critics Awards. Notice anything about those names? Only one of them is even nominated for Best Director at the Oscars!
Still, remember when it seemed like Mitt Romney had a shot at winning the White House? Look how that turned out. "Lincoln" has the most nominations, including three of four acting categories, and there's no denying that, more than any other contender this year, it has the heft we tend to associate with Best Picture winners. It's also got (a) a lead actor who transforms himself into (b) an inspirational historical figure while (c) teaching us important lessons about The Way We Live Now. And did I mention the statistical model we launched yesterday, which puts its odds of winning at 87.6%?
Look, I get why rooting for Steven Spielberg can feel like rooting for the New York Yankees (and, no, let's not have that argument again), but I think he overcame his worst instincts in this movie and created what you might call a late masterpiece. It's not my favorite movie of the year, but it's the strongest candidate for Best Picture, in my opinion.
But we were talking about the Golden Globes! You're right that Seth MacFarlane must have been wondering why he ever agreed to host the Oscars as Tina and Amy conducted their comedy master class. And while I had a hard time following Jodie Foster's Cecil B. DeMille acceptance remarks -- and gave up on Robert Downey Jr.'s introduction about 30 seconds in -- I give her credit for making the most of her moment in the spotlight.
I'm also happy for #TeamArgo and the "Les Mis" gang. As we've been saying for months now, this has been a hell of a year for movies, and for once Hollywood's ridiculously drawn-out awards season feels like it has a purpose: to spread the love around to deserving films.
So here's my question for you: as a big "Silver Linings Playbook" champion, do you think last night's pair of losses to "Les Mis" counts as a setback for David O. Russell's crazy-person romantic comedy? And do you think there are enough old voters who won't give a damn that Jennifer Lawrence was quoting some movie when she dared to gloat about beating Meryl Streep?
Rosen: Let's be real: If it took the quick minds of the Internet (ours included) a beat or two to realize Lawrence was quoting "First Wives Club," you can only imagine what the Luddites who actually vote for the Oscars were thinking about her Meryl "slam." Lawrence is a breath of fresh air ... for us. There's a real chance that the old Hollywood guard might find her too big for her britches -- even though we know they helped sew those britches: this is her second Best Actress nomination in three years.
Meanwhile, on the other side, there's Jessica Chastain being both charming to audiences and reverent to the community. She's an Actress, capital "A," and a workhorse: Nothing was handed to Chastain on a silver platter, something she happily reminded the audience on Sunday night. You can definitely see a narrative forming where the Oscar voters decide they want to reward age over youth. (Age being a relative term since Chastain is still only 35.)
The only fly in this ointment, however, is this: People love "Silver Linings Playbook"; they respect "Zero Dark Thirty." Add in the fact that, on screen, Chastain is all clenched non-emotions, while Lawrence is a raw nerve, and I think the victory goes to Katniss Everdeen. But it'll be close, close, close.
As for Lawrence's film: If you subscribe to the idea that "Argo" received some kind of boost from the Golden Globes, you have to also subscribe to the idea that "Silver Linings Playbook" took a hit. Again, all the reasons the "Argo" bump isn't too substantial -- the Hollywood Foreign Press doesn't vote for Oscars, being a big one -- hold true in the opposite direction for "Silver Linings," but: It needs a boost. That could come from Harvey getting his film a Producers Guild Award or it could come from the audiences. "Silver Linings Playbook" has two weeks of wide release to prove to Oscar voters that it's the populist film of the year! (Never mind "Lincoln" and its $150 million, right?!?) Won't Oscar voters want to make the people happy? (At least that's probably what Harvey is saying.)
In the end, though, you're right: This has been a great year for movies and it's nice to see every film get its day in the sun. Maybe "Lincoln" hasn't had one yet because everyone is waiting until Oscar night.
Rosen: There's a first time for everything. Until next week!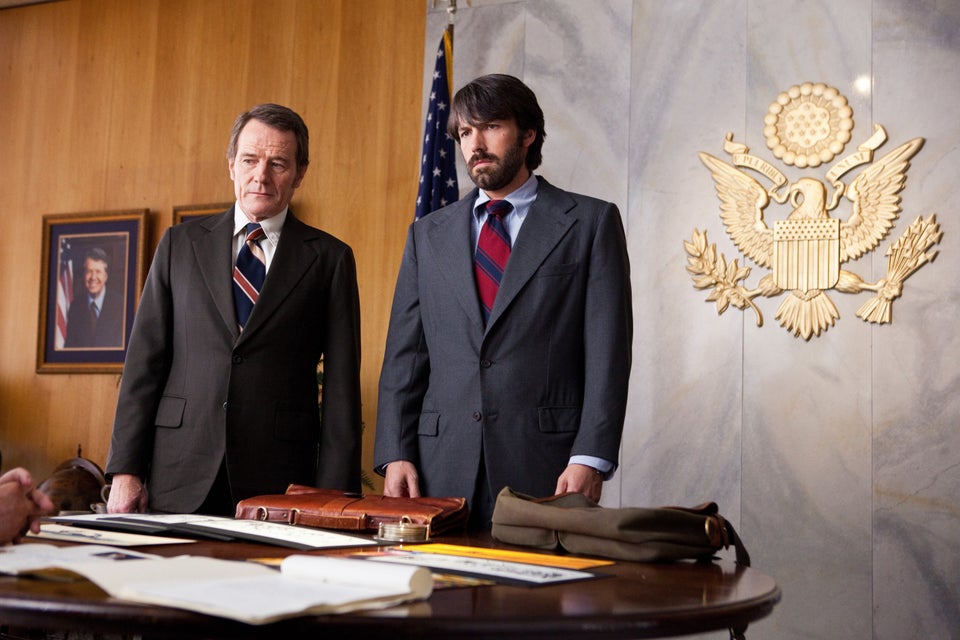 Oscar Nominees 2013
Popular in the Community