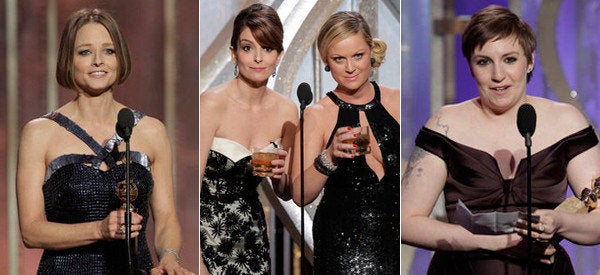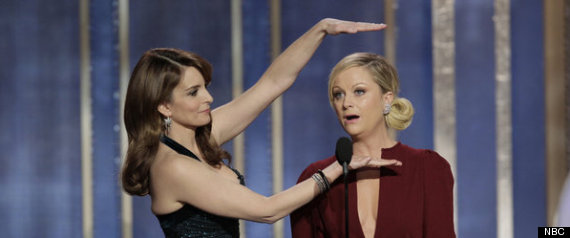 To all of those people who say that awards shows are pointless and boring, can I just say, "Oh, please!"
Sure, there were the expected wins for "Homeland," "Les Miserables," "Game Change" (with a couple of upset wins for "Argo"), and of course, many agents and producers were thanked, but we also got to see some genuine moments of both comedy and drama. Any time I can see performers like Poehler, Fey, Kristen Wiig, Will Ferrell and Aziz Ansari goof on the awards-circuit nuttiness and a cinematic icon come out of the closet once and for all, hell yes, I'm going to hunker down and watch every damn minute. All that plus designer fashion? I'd be crazy not to watch.
So, Jodie Foster, huh?! As all good performers do, she took us on a journey with her during her speech: She wittily surveyed her career, movingly opened up her kids, honestly discussed being a public figure for 47 years and, last but not at all least, broached the topic of her sexual orientation in front of millions of people (even if she never said the words "gay" or "lesbian," her meaning was clear). The speech was made up of equal parts anger, nervousness and honesty, and it offered a rationale for evasion even after it ended decades of it. Ultimately, it was very moving, and any way you slice it (and I'm sure we'll be reading analyses of it for weeks to come), it's not a speech you're likely to forget soon.
After a funny introduction from her longtime friend Robert Downey Jr., Foster took to the stage quoted a "Saturday Night Live" sketch, "I'm 50!" Things soon took a fascinating turn.
"I guess I just have a sudden urge to say something that I've never really been able to air in public, a declaration that I'm a little nervous about ... I'm single!" Foster said.
She spoke of her coming out as a thing of the distant past, but then said with some (not unjustified) bitterness that every celebrity was expected to be make their lives part of "a press conference, a fragrance and a prime-time reality show."
"You guys might be surprised, but I am not Honey Boo Boo Child," Foster said. "I'm sorry. That's just not me.
"If you'd had to fight for a life that felt real and honest and normal against all odds, then maybe you might value privacy above all else," Foster added. She thanked her family and friends and Mel Gibson ("You know you saved me too," she told him), her "ex-partner in love but righteous soul sister in life" Cydney Bernard. There was also a moment during which her audio cut out, and that was mighty frustrating. But her words were loud and clear during the final moments of her speech, which concerned her mother, who has dementia.
"I love you, I love you, I love you, and I hope if I say this three times, it will magically and perfectly enter into your soul, fill you with grace and the joy of knowing that you did good in this life. You're a great mom. Please take that with you when you're finally OK to go," she said, with tears in her eyes.
Given that this was the Golden Globes -- the awards show best known for giving celebrities plenty of booze -- things started out a little lighter.
It's no surprise that Amy Poehler and Tina Fey are both smart and funny. But they were so funny as hosts of the Golden Globes that you might not have noticed how intelligent their comedy strategy was.
There are a few different ways awards show hosts can go: They can make innocuous jokes about current events; they can skewer the excesses of the entertainment industry; or, if they want to be seen as edgy, they can make fun of dumb things that celebrities have done. For some, it's even better if those celebrities are sitting a few feet away from the stage when they launch their barbs.
Those kinds of gambits are rarely as brave as the host (cough Ricky Gervais cough) thinks they are. In any event, Poehler and Fey found another way to have fun with the whole shindig. Sure, they made the expected jokes about the industry, but there was a huge difference in how they framed their witty lines about celebrities: The jokes were about hard things the celebrities had gone through, not dumb things they had done. The jokes were sympathetic, not antagonistic. Well played, ladies.
There was a "whoa" murmur in the audience when they noted the controversy "Zero Dark Thirty" had endured, and then they then quipped that when it came to torture, they'd trust "the woman who was married to James Cameron for three years." Oh snap! But they hadn't made fun of director Kathryn Bigelow, they'd made a joke at Cameron's expense that was entirely sympathetic to Bigelow.
Same treatment for Anne Hathaway later, who bowed her head -- apparently laughing with recognition -- when Amy and Tina called out James Franco for being a douche when Franco and Hathaway hosted the Academy Awards. They asked Lena Dunham if she's being forced to strip so frequently on her HBO show. They noted that Meryl Streep couldn't attend because she had the flu ... though they heard she was "amazing in it" -- the flu, that is.
Oh, Amy and Tina. You have to love those dames. Their approach to goofing on the industry was not only effective, it's a brand of sisterhood anyone could get behind. In fact, all of the truly memorable moments came from ladies, unless you count Quentin Tarantino's super-interesting description of his "process" (yes, I'm kidding about that).
Poehler and Fey brought an energetic but loose vibe to the proceedings, and found other ways to mock the organization presenting the Globes, the Hollywood Foreign Press Association (they cautioned at the outset that HFPA "can lead to cancer"), and the whole statue-giving process itself. A couple different times, they themselves gave perfect nominee-face ("Who me?") as they sat in the audience as participants in a made-up film called "Dog President."
The most entertaining moments of the broadcast were not the rest of the acceptance speeches, which were unremarkable; no, the fun bits reflected the goofball vibe the hosts set at the outset.
One of the most inspired bits featured Wiig and Ferrell doing a bit of improv during the introduction of the Best Actress in a Comedy award -- a bit that revealed that they allegedly hadn't seen the nominated films. "Judi Dench, where did she come from?" Ferrell wondered, adding soberly that she "used to be a police officer."
Adele got into the spirit by saying that she and the girlfriend she'd brought with her -- both of them "new mums" -- just basically came for a girls' night out. And that's really what the Golden Globes are -- a night out for incredibly good-looking and talented people. Sometimes the incredibly good-looking people are also talented, and those of us sitting at home with a bag of Doritos console ourselves by talking smack about their tanning-booth addictions and unfortunate dresses. If they happen to be talented, good-looking and well-dressed, well, then we just give thanks for the good movies and TV shows they churn out now and again.
The thing is, Adele reacted like a real person would react -- as if she'd really just gone out to have a few drinks and she'd somehow gotten to see some standup comedy as well. "We've been pissing ourselves laughing," Adele blurted after winning a Best Original Song award for "Skyfall."
Hey, Adele, so was I! Of course the speeches were all exactly what you'd expect -- the usual roster of thank you's and shout-outs to agents, moms and Harvey Weinstein -- but none of them went on too long. And it was hard not to get caught up in the genuine enthusiasm of winner Lena Dunham. I don't know what was more endearing, the way she was tottering around on clearly uncomfortable heels or the earnest way in which she captured the celebratory ladies-night vibe of the evening.
"This award is for every woman who felt like there wasn't a space for her," Dunham said the first time she took the stage to accept a Best Actress in Comedy Series award.
Later, when "Girls" won as Best Comedy Series, she said that doing the show "made me feel so much less alone in the world."
It's hard to argue with that sentiment. Or with Poehler and Fey's closing statement:
"We're going home with Jodie Foster!"
PHOTO GALLERY
Golden Globes Winners And More
Calling all HuffPost superfans!
Sign up for membership to become a founding member and help shape HuffPost's next chapter