The Golden Globes were actually great this year. Tina Fey and Amy Poehler capped three stints as hosts with their greatest punchlines yet, while the slate of often surprising winners kept Twitter relatively pleased -- particularly on the television side, where freshman shows "Transparent," "Jane the Virgin" and "The Affair" steamrolled the awards. Moreover, the acceptance speeches were especially genuine this year. Even Amy Adams' uncharacteristically nonplussed delivery (that lady did not think she was going to win!) had its charm, and the number of people who championed diversity made it a meaningful night. Alas, the Golden Globes were not without their blemishes. Let's grade the highs and lows:
BEST: Tina Fey and Amy Poehler's monologue. The ladies' opening bit included jokes about North Korea, Emma Stone looking like a Margaret Keane painting, celebrities not knowing what cake is, the civil-rights movement, Wes Anderson arriving "on a bicycle made of antique tuba parts" and Bill Cosby having "put the pills in the people." It started as a standard "look's who's here" checklist and ended with a game of "Would You Rather?" and a call-and-response chant that had the TV section hollering that they're "better" than the movie people. We'll miss you gals.
Score: 8.5
BEST: Jessica Chastain and Helen Mirren's reactions to the Cosby jokes. Prepare to see a lot of this online today.
Score: 8
BEST: "Fargo" nabbing Best Miniseries or Television Film. We would have been satisfied with another "True Detective" win, and "Olive Kitteridge" was one of 2014's most under-appreciated gems, but "Fargo" deserved this.
Score: 7
WORST: Billy Bob Thornton's acceptance speech. At first it seemed like maybe Billy Bob Thronton had given us pithy words to live by: "You can say anything in the world and get in trouble. I know this for a fact. So I'll just say thank you." Then the number of moving, legitimate speeches that followed made us realize that he'd taught us exactly what not to do. At least go full Merritt Wever if that's what you're going for.
Score: 5.5
WORST: Jeremy Renner's crack about Jennifer Lopez's boobs. "You've got the globes, too" is the night's signature boorish moment.
Score: 2.5
BEST: Gina Rodriguez's acceptance speech. A class act and a beautiful moment for "Jane the Virgin."
Score: 8.5
BEST: "Transparent" winning Best Television Series - Musical or Comedy. Jill Soloway dedicated her moving speech to anyone persecuted for being transgender, and it felt like a pinnacle of all the social advancements television represented last year.
Score: 10
BEST: Prince showing up. Even better: "The Help" co-stars Viola Davis and Allison Janney freaking out over his unexpected arrival.
Score: 7.5
BEST: Common's speech. "I am the hopeful black woman who was denied her right to vote. I am the caring white supporter killed on the frontlines of freedom. I am the unarmed black kid who maybe needed a hand, but instead was given a bullet. I am the two police officers murdered in the line of duty. 'Selma' has awakened my humanity."
Score: 9
WORST: The North Korea bit with Margaret Cho. Cho had her moments as a stone-faced North Korean soldier obsessed with Meryl Streep and dubious of the "Orange is the New Black" category placement, but this was the joke that would not end.
Score: 5
BEST: But thankfully, it led to Benedict Cumberbatch photobombing Meryl Streep and Margaret Cho. Cumberbatch hopping through the background of their photo-op was the real treasure.
Score: 6.5
WORST: Ricky Gervais. He bumbled his way through the presentation of Best Actress - Musical or Comedy while holding a glass of booze and giggling like he was so proud to have come up with mean jokes that made the audience chuckle politely. Déjà vu!
Score: 3.5
BEST: Frances McDormand reacting to things. She stared.
Score: 8.5
BEST: Jeffrey Tambor's win for "Transparent." Tambor somehow made it through "The Larry Sanders Show" and "Arrested Development" without a single Golden Globe nomination, yet "Transparent" is so fantastic that we aren't even screaming about what retribution this is. "This is much bigger than me," he said when he got to the stage. Bravo.
Score: 9.5
BEST: HBO went home nearly empty-handed. Matt Bomer ("The Normal Heart") was the source of HBO's only Globe, which we don't say to spite the network's excellent slate of programming. We say it to point out that there is superb television also happening on Netflix, Amazon, Showtime, FX, The CW and SundanceTV, not to mention the many wonderful networks that didn't take home hardware.
Score: 7
BEST: Seeing these two together. Joint Gyllenhaal nominations at every award show please!
Score: 8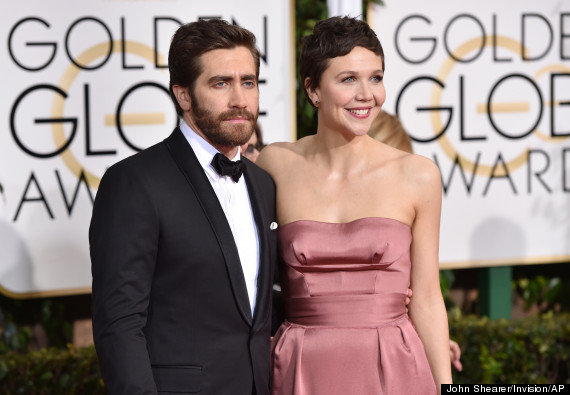 BEST: Julianna Margulies and Don Cheadle presenting George Clooney's Cecil B. DeMille Award.
Margulies: "Has he ever asked you to tour a disaster area with him?"
Cheadle: "Yeah, I went to the set of 'Monuments Men.'"
Score: 7.5
BEST: Tina and Amy's Oprah joke.
Tina: "Our next presenter is a woman who's known by only one name."
Amy: "Winfrey!"
Score: 7
WORST: Letting Michael Keaton talk as long as he did. Heartfelt, sure, and it introduced us to his attractive son. But the telecast had 20 minutes left, and two commercial breaks later, everyone was frantic about being behind schedule.
Score: 4.5
BEST: "The Grand Budapest Hotel" keeping the Oscar race interesting. Amid one of the haziest Oscar derbies in recent memory, we answered few questions about what will take home Academy Awards next month. "The Grand Budapest Hotel" was expected to win the Globes' screenplay prize and "Birdman" was predicted to win Best Picture - Musical or Comedy, but their flip-flopping points to an interesting ride between now and Feb. 22. (Who are we kidding? "Boyhood" is winning.)
Score: 8
BEST: Wes Anderson trolling the Hollywood Foreign Press Association. Anderson started his Best Picture - Musical or Comedy speech by saying he's "not going to spend many of my few seconds up here thanking people like ...," and then named a bushel of people associated with "The Grand Budapest Hotel." But he made it clear he was spotlighting those who are truly important: "Instead, I'm going to focus on the membership of the Hollywood Foreign Press: Yorum and Dagmar and Yukiko and Munawar and Lorenzo, Armando, Husam, Jean-Paul, Hans, Helmut -- these are the people I want to thank tonight, and many others with names nothing like theirs, but equally captivating -- Kirpi, Erkki, Anke, and so on. I thank you for this Golden Globe."
Score: 7
WORST: Someone didn't turn on the air conditioning. Paramedics were called after an unnamed attendee passed out because the lights were too hot. Everyone seemed to glisten a little more than usual, and Frances McDormand, when not burning a hole in the stage with her eyes, was seen fanning herself. Just look at Clive Owen!
Score: 5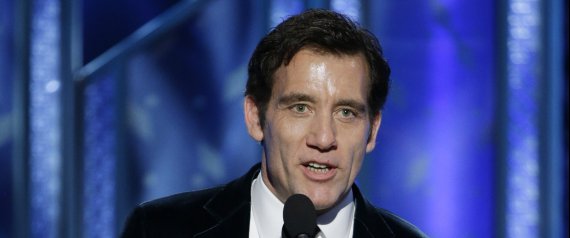 WORST: Not enough Tina and Amy overall. This was their last time hosting!
Score: 3
Calling all HuffPost superfans!
Sign up for membership to become a founding member and help shape HuffPost's next chapter
BEFORE YOU GO
PHOTO GALLERY
The 2015 Golden Globes Red Carpet