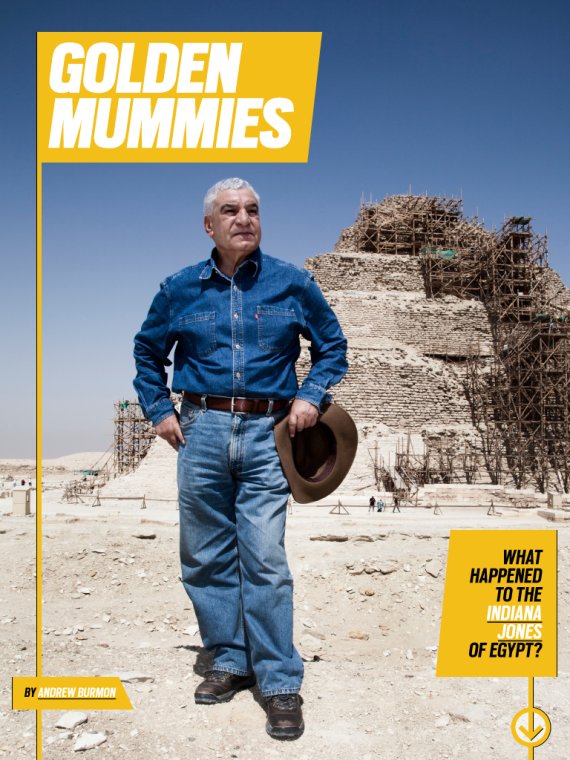 Zahi Hawass' ego hasn't suffered since protesters forced him out of his influential post as Egypt's antiquities steward 18 months ago, shortly after Hosni Mubarak was toppled from the country's presidency.

"I am Egyptian antiquities," he says.

That confidence served him well when he controlled the pharaohs' treasures on Mubarak's behalf, steering Egypt's economically critical Supreme Council of Antiquities and the billions it helped reap annually, primarily from tourism and international exhibitions. The man who calls himself Egypt's Indiana Jones has fewer friends these days, now that revolution and a corruption scandal have forced him from office. Protesters who picketed Hawass and his Indy-esque fedora in Tahrir Square shouted that he should "take it with him and go."

Though he was briefly restored to power last year, Hawass, 64, has yet to find much support among the Freedom and Justice Party of President-Elect Mohamed Morsi. He may yet be vindicated, however, if Morsi's new government finds it can't replace his golden touch. The stability of the fledgling democracy may even depend on it.
Before Mubarak's fall in February, 2011, Hawass had spent more than two decades helping Egypt promote its antiquities to a foreign audience. He is credited as the man behind the traveling King Tut exhibit, the discovery of the Valley of the Golden Mummies and a wide range of other projects during his nine years as Secretary General of the Supreme Council of Antiquities. He provided an agreeable face for the Western world.
Hawass' aggressive promotion often came on the heels of tragedy, in what appeared to be a deft strumming of public sentiment toward his homeland. In 1998, following the murder of 63 tourists in Luxor, he reopened the Sphinx to the public after its 10-year closure. From then on, he organized a near-constant parade of blockbuster museum shows around the world designed to advertise Egypt as both an idea and destination.
In his absence, it remains unclear whether Egypt can make such economically crucial overtures to foreign tourists and whether the billions — and the goodwill — Hawass once brought in can ever come back without him.
"He created by his publicity campaigns a new image of Egypt that mobilized millions of visitors," says Dieter Arnold, head of the Metropolitan Museum's Egypt Department in New York. "He cleaned up the sites, built tourist facilities and museums, organized exhibitions abroad and brought Egyptian antiquities into the center of worldwide attention."
For years, tourism had been the country's largest economic sector. While the price of cotton fluctuated wildly and the number of ships passing through the Suez Canal plummeted after the global financial crisis, tourism proved resilient. In 2009, revenue dipped a slight 2% before thundering back in 2010 with more than 15% growth.
Still, by the first month of last year, as protests consumed Cairo, it had become clear that tourism alone would not be enough to keep the economy healthy. As the protests spread, the economy sank. The Tourism Ministry announced that revenue dropped by a third to $8.8 billion in 2011, but industry observers say the damage has been much worse. In addition to months of violence and instability, Tourism Ministry officials believe a rise in anti-western political posturing and extremist Islamic attitudes has contributed to leeriness among would-be visitors.
Hawass's ubiquity, and his gift for gab, bred resentment among his fellow Egyptians, but the money he delivered quieted critics. Some 14.5 million visitors arrived in Egypt in 2010, many to tour the country's historical sites. The billions they spent were vital to shoring up the country's foreign reserves, which helped provide for such basic needs as wheat imports.
In essence, Hawass was putting bread on the table. Of course, that also involved painting a picture of Egypt that was tourist-friendly and glossed over some of the country's brutal realities. Hawass' Egypt was the pyramids and the pharoahs, not social, political and economic inequities on the streets of Cairo. Recruiting Western enthusiasts like assistants on his great dig, Hawass steered some of those same Westerners away from a deeper understanding of the tectonic shifts in Egyptian society that ultimately surfaced in Tahrir.
He also was never focused only on branding Egypt — he was busy branding himself as well. He mandated that the King Tut exhibition sell copies of his fedora and planned to launch an eponymous clothing line marketing shirts that his catalogue claimed, "Recall the rugged experience of excavating the ancient tombs in Egypt."
Mubarak's wife strongly supported Hawass, and he took the opportunity for financial gain. Hawass received $200,000 a year for serving as an Explorer-In-Residence for The National Geographic Society, which also helped arrange speaking engagements that earned him $15,000 apiece. In addition, he made an undisclosed sum from the sale of his books (each copy of "Secret Voyage: Love, Magic and Mysteries in the Realm of the Pharoah's" sold for $4,400), as well as a reality TV show that he starred in, and his government salary. Though speculation about Hawass's personal wealth became something of a sport among Egyptians frustrated by the Mubarak government's lack of transparency, even those who saw him as the ultimate opportunist may be forced to accept him back into the fold if he can again funnel billions of dollars into the public purse.
"I wouldn't be surprised if Hawass was reinstated as Minister," says Nora Shalaby, an Egyptologist and political activist.
If Hawass makes a comeback, it will be a tribute to his charismatic tenacity and to the willingness of the new government to compromise democratic ideals in order to secure the country's economy. Hawass's weakness may be that he is a remnant of the old regime, but, in some ways, this is also his strength. He is an accomplished autocrat with little interest in public opinion and a demonstrated passion for showmanship. While his return would be politically unpopular, it might prove to be economically expedient.
"I'll never stop caring about or working with Egypt's history," Hawass says.
Three days into the Cairo riots, as fire tore through the National Museum, thieves broke into the newly opened gift shop, stole tchotchkes and knocked over displays. Outside, smoke was billowing out of Mubarak's party headquarters and across the city onto CNN. Rumors were spreading on Twitter: Protesters were looting the museum. Protesters were policing the museum. Police were looting the museum.
"Where is Zahi Hawass?" came close to becoming a Twitter meme before he resurfaced from his home in Giza the next afternoon. Hawass was so synonymous with the museum and so possessive of its image that his absence from the spotlight — if not the building itself — during a harrowing moment in the institution's history marked a complete deviation from the blusterous norm. Hawass claimed curfews had confined him to his home and thanked protesters for protecting the museum,
Hawass, speaking in perfunctory verbal jabs, downplayed the damage — "They destroyed two mummies and opened one case," he told Al Jazeera — even as TV cameras revealed the mess inside the museum. In fact, a second team of burglars had rappelled into one of the Museum's main halls through a skylight and broken numerous displays and artifacts. In an update to his personal blog the next day, Hawass continued to praise the Egyptian people for their vigilant defense of their heritage.
"The Egyptian people are calling for freedom, not destruction," wrote Hawass "When I left the museum on Saturday [January, 29], I was met outside by many Egyptians, who asked if the museum was safe and what they could do to help. The people were happy to see an Egyptian official leave his home and come to Tahrir Square without fear; they loved that I came to the museum."
According to Shalaby, this sudden populism struck a false note. "Hawass had never hidden his dislike for Egyptians and found them unworthy of their own heritage," says Shalaby.
Though some Egyptologists believe Hawass was, as International Association of Egyptologists President James Allen puts it, "responsible for the Egyptian public's renewed interest in and respect for their Pharaonic legacy," many Egyptians resented him for what they describe as his shabby treatment of local people and domestic archeologists. Shalaby points out that the "countless concrete walls he built around towns and villages to separate the inhabitants from the antiquity sites" infuriated civilians even as his policy of announcing every major find soured the attitude of professional diggers.
Whalid Saad, a museum guide, says that the protesters crowded around the museum knew, contrary to what Hawass was telling the media, that antiquities had been broken.
"We found pieces in the street and had to carry them back inside," says Saad. "Some Egyptians helped us collect them."
According to Saad, museum guides had immediately concluded that several treasures were irreparably damaged. Later inquiries found that 78 pieces had been stolen. Some were never recovered.
In the weeks after the break in, Hawass told reporters that he was working overtime to make sure Egypt's relics would be safe as the revolution rolled on. He also endlessly lauded — often exaggerating — the heroism of the protesters who had protected their country's priceless artifacts from harm.
If Hawass was aware that there were two groups of thieves, he continued to feign ignorance after touring the wreckage. Instead he mocked the foolishness of thieves who would focus on the gift shop he "was very proud of," the one operated by businesses closely tied to his interests, mentioning only in passing the broken vitrines and statues inside.
Unfortunately for Hawass, a far more complicated story was emerging. There was talk, later substantiated by the Egyptian Cultural Heritage Organization, that the perpetrators had been security guards and police officers.
The incident seemed to highlight one of Hawass's weaknesses — the fuzzy distinction between his personal and professional business relationships, giving his enemies within the museum, government and on the streets ammunition to mount the assault that would eventually result in his removal from government.
"All the devils came for me," says Hawass. "The accusations brought against me were just the talk of people who had hated me for years."
ALL THE SUNS MAN CAN REMEMBER
The entrance to the laser show consists of a gate in the wall separating the work sites at the foot of the Great Pyramids from Giza's dirty, charmless downtown and the Pizza Hut across the street. The chairs inside sit arrayed just out of the reach of the Sphinx's heavy stone paws: the rows and rows of foldable white chairs would be at home at a high school commencement. When the show begins at 7:30 pm, laser effects swirl around monuments buttressed by archeologists' scaffolds as the Sphinx tells the story of ancient Egypt.
"For five thousand years, I've seen all the suns man can remember in the sky," says the Sphinx itself, voiced by Omar Sherif. "I saw the history of Egypt in its first glow as tomorrow I shall see the east burning with a new flame."
After ten years working on the Giza plateau, Hawass was appointed to the board of trustees of a government-owned company behind this nightly spectacle. His connection to the company, Sound and Light, came to the fore in 2009, when he canceled the results of an auction for a contract to operate a gift shop in the National Museum. Even as Farid Atiya, the businessman who won the auction, complained, Hawass planned a second round of bids. He also lobbied the government to simply give Sound and Light the contract - which the government eventually did.
When the new gift shop opened the State Council, a the judicial body closed it. The council sided with Atiya, but Hawass wrote to the Prime Minister to tell him Sound and Light and AUC had already invested too much in the project for the store to be shuttered.
That was in early January 2011.
A month later, as Mubarak handed over control to a military council, Hawass remained as prominent as ever, but the gift shop, empty since the break in, would soon prove troublesome again.
By late February, a group of about 150 young Egyptian archeologists were opposing Hawass, publicly demanding opportunities in a field they claimed the toppled regime had ceded to foreigners. Hawass resigned on March 5, saying he was no longer capable of creating jobs and protecting sites from looters and attackers.
"We need the money brought in by tourists who visit our sites and museums to fund these things and, at the moment, there are no tourists," Hawass wrote in an email to several media outlets confirming his departure.
Hawass' resignation didn't last long. The interim government persuaded him to take up the newly created post of Antiquities Minister. This is when, as Hawass describes it, "The thieves I stopped before the revolution targeted me." Not long after he assumed his new post, Atiya filed suit against him again, this time citing a law under which civil servants who failed to implement court rulings must be fired and jailed. Though a court decree allowed him to maintain his position and avoid imprisonment, Hawass lost the case and, with it, his bid to dissociate himself from Mubarak's cabal of profiteers. He had been found guilty of corruption.
If his relationship with the Egyptian people had been tenuous before, it was now downright hostile.
In early July, the Egyptian government pushed out Hawass along with 11 other Ministers unpopular with protesters. Hawass had just returned from an international tour promoting post-revolutionary tourism and resigned his position as a National Geographic Explorer-In-Residence.
"All the talk over the last six months was just by people who hate me," says Hawass. "Not a single accusation was correct. People are jealous of success."
The gift shop was removed, becoming nothing more than a glass-walled exit.
Hawass was not only replaced as Minister of Antiquities, but forced out of his unofficial post as Egypt's pitchman. The timing was less than ideal.
In the immediate aftermath of the Cairo riots, hundreds of thousands of tourists had rushed out of Egypt. They hadn't come back. The New York Times reported in late February that the occupancy rates in Luxor dropped as low as 4 percent, down from an average of 61 percent, even as popular beach resort Sharm el Sheik's rate dropped to eight from 70 percent.
It didn't help that, even as the government ran ads on TV stations around the world, politicians publicly mulled bans on alcohol, bikinis and non-halal food. Before it was disbanded, Parliament was a hotbed for such proposals, though they never made much progress.
"The media reported on these negative declarations, but when these statements were rejected the media has not reported that," Tourism Minister Mounir Fakhry Abder el Nour complained at a recent press conference.
Democracy brought Islamic organizations previously known for the violence that led to a tourist exodus in the late 1990s back into everyday life. The Building and Development Party, which won 13 seats in the 2011 lower parliament election as part of a coalition of conservative Salafist groups, is the political wing of the El Gama'a El Islamiyya movement. In 1997, it claimed responsibility for a terrorist attack on foreigners visiting Hatshepsut's temple in Luxor that claimed the lives of 48 tourists.
The tourist drought is just as evident outside Egypt's urban core. Tribesmen and Bedouins have taken to squatting in the half-built resort complexes off the Halaieb We Shalafein highway, which runs down the Red Sea coast. Inside the all-inclusives that have remained open, Russian women in string bikinis and British couples have their pick of poolside lounge chairs. A creeping stillness is the only sign of revolution.
Further north, in the Sinai, hotels have been less affected by the turmoil. Though occupancy rates remain low in Sharm el Sheik, the Russians and Chinese have helped refill the nightclubs and spas. The Sinai, after all, has been a hot spot for decades.
"A tourist doesn't care to participate in regime change," says Minister Abder el Nour. "This is a society in crisis."
It is not uncommon for English-speaking students and unemployed tourism workers to apologize, unsolicited, to foreigners about Cairo's now impenetrable traffic, slowed by the roadblocks surrounding Tahrir, and for the shouting on the streets. Hospitality is not merely an industry for Egyptians and though they are proud of their revolution, they feel embarrassed inviting strangers into a messy home.
"It is not always like this," a friendly student named Alexander told Huffington, near a burka store in Cairo's Islamic quarter. "We are not an angry people."
Though a student can't personally deliver that message to the Western world, Zahi Hawass can.
"I used to tell them that if they need money, our heritage was a way to get it," says Hawass. "If Good Morning America needs five minutes about pyramids, it can make a billion dollars for this country."
There's a genius to Hawass's costuming. By never stepping out of character, he has avoided stepping into the muck of regional politics. Despite being unceremoniously fired, Hawass has emerged from the revolution with less baggage than those who have seized power.
Morsi and the Supreme Council Of The Armed Forces, which ran Egypt's interim government, dissolved parliament and recently abridged the list of executive powers, are both heavily scarred from battle. Neither receives positive coverage in the foreign press, Morsi because of the Muslim Brotherhood's links to extremists and the SCAF because it is hardly outward-looking (it recently released an ad advising Egyptians not to talk to foreigners because they might be spies).
Ironies persist. The Los Angeles Times recently wrote that Morsi "symbolizes the long, bloody and still unresolved struggle between political Islam and a secular old guard" only days after giving "Cleopatra: The Exhibition," a touring exhibit featuring a film about Hawass's work a glowing review.
It remains unclear, however, how Morsi plans to mobilize Egypt's byzantine bureaucracy to stimulate tourism. The Muslim Brotherhood's official news site has already published promises from Morsi indicating he wants to invest $20 billion in the tourism industry.
"We are looking to institutionalize Egypt in this new era, post revolution, and we understand the past regime focused on the concept of the one man show to keep the control of the country within a few people," says Karim Elemam, a spokesperson for the FJP's tourism committee and former tour operator. "But there are many talented people with great capabilities in tourism and Egyptology. We have over 80 million Egyptians and our job is to bring the best talent onboard as well as a succession plan to ensure thrusting new talent and leaders to create a sustainable thriving Egypt."
Elemam says the FJP envisions an Egypt where small businesses as well as large hotels — many of which are foreign owned — will be able to compete for the tourist dollars and where visitors will engage with the culture instead of simply stopping off at major landmarks and resorts. Yet the new government may not be able to afford them if it doesn't demonstrate an ability to pay back the billions in loans Egypt owes.
Though many Egyptologists are reluctant to go on the record — access being necessary to their continued work — many complain privately that the sites around Egypt are now being mismanaged.
Whether or not its new democratic rulers call Hawass out of the bullpen will tell the world a great deal about the new Egypt. The regime will have to decide whether economic expediency warrants compromising the egalitarian ideals of Tahrir or if the ideals of the revolution trumps all.
Zahi Hawass — excavator, salesman, Mubarak acolyte, disgrace — is unswayed and still confident of his place in this new order.
"The magic of antiquities in
Egypt will never fade," he says. "Because I am clean and honest, I will return."
Popular in the Community