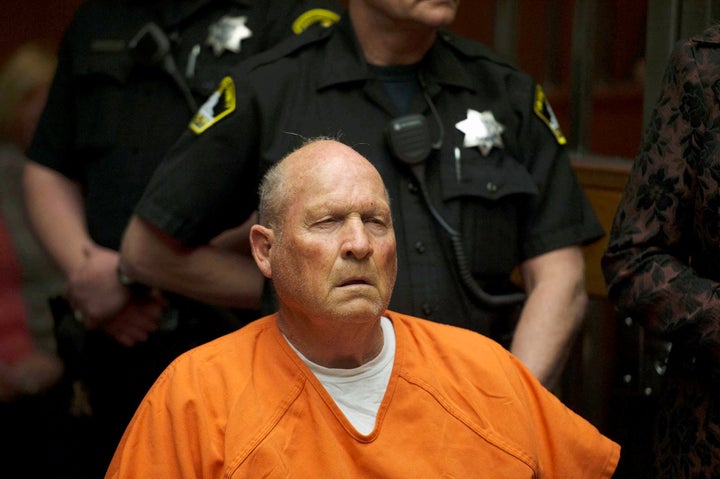 WASHINGTON ― There were reasons to suspect the serial murderer and rapist known as the "Golden State Killer" worked as a cop. He knew to conceal his identity, wearing ski masks and gloves, ordering his victims not to look at him, disguising his voice in a whisper. He meticulously cased victims' neighborhoods and homes: emptying bullets from a gun, disrupting phone lines, reducing noise. He brought shoelaces and ropes to use as makeshift handcuffs. He had a knack for parking outside of a police perimeter. He was proficient with firearms, tactically sound and skilled at making his victims comply. An escaping woman once heard him shout, "Freeze!" And for decades, he managed to escape authorities.
As it turns out, Joseph James DeAngelo, the 72-year-old man arrested last week on suspicion of committing a chain of rapes, murders and burglaries in California in the 1970s and '80s, was an ex-police officer. (He also reportedly served in the Navy during the Vietnam War.) DeAngelo hasn't entered a plea yet, and his attorney emphasized that he is innocent until proven guilty.
But if DeAngelo is the Golden State Killer, his background matters: Being in law enforcement could have helped him further his alleged crimes. And although this case is extreme — DeAngelo may have only been interested in policing to get away with wrongdoing — there's dramatic evidence that when a person with abusive tendencies joins a police force, the tools and authority that come with being a cop may only make them more dangerous.
"With his training in law enforcement, he would absolutely look to try to use that to his advantage," John Hall, the police chief at Exeter Police Department, where DeAngelo worked decades ago, told HuffPost.
Most people enter law enforcement "because they believe it's a very noble and honorable profession, and they have a genuine desire to go out and make a positive difference," Hall added. "So when you have somebody that comes on board, and they ... betray that trust that was placed in them, it's just extremely disappointing."
"He's always been a wolf in sheep's clothing."
DeAngelo graduated with a Bachelor of Arts degree in criminal justice from California State University, Sacramento, in 1972. He did an internship in "Patrol Identification and Investigation Divisions," according to a 1973 Exeter Sun article that reported he joined Exeter Police Department in May that year. Hall told HuffPost he had "no doubt" DeAngelo worked there, though there are no employee records from that time.
DeAngelo then went on to work at the Auburn Police Department from 1976 to 1979, according to news reports, until he was fired after stealing a hammer and a can of dog repellent. The Auburn Police Department did not respond to a request to verify that timeline.
DeAngelo's public defender did not respond to a request for comment.
Only around 1 percent of serial killers have a law enforcement background, not counting security guards. Out of the 5,009 serial killers in the Radford/FGCU Serial Killer Database, the largest nongovernmental serial murderer database in the world, 32 were former members of law enforcement and 25 were in law enforcement for at least part of their series of murders, according to Michael Aamodt, a professor emeritus at Radford University in Virginia. Two other serial killers were ex-military police, and 44 were security guards.
DeAngelo was an officer in sleepy communities decades ago, and it's unclear how much serious policing he did. He reportedly caught a toilet-papering teenager, and the police department in Auburn mostly handled property crimes.
But law enforcement experience might help a killer to conduct surveillance, physically and verbally force a victim to comply, and conceal evidence. Today, police officers have access to sophisticated information databases, but even in the '70s, DeAngelo may have been able to view information disseminated about his alleged crimes. (It's unknown if he did so.) Additionally, once someone works as a cop, that experience and those instincts can become deeply ingrained.
"Police have tremendous authority, and they get information and access that simply isn't available to most people."
Investigators had suspected that the Golden State Killer could be a police officer and/or have a military background, said Larry Pool, a former investigator with the Orange County Sheriff's Department who spent more than 20 years working on the case. Pool personally believed that "our offender would be someone who, while needing to control people, would not be very good at controlling themselves," and he suspected the offender wouldn't be successful for long in those careers. Nonetheless, Pool said he wouldn't have excluded somebody who was "very successful" in the military or law enforcement.
Pool documented names of police officers, detectives and emergency personnel who touched the case, and followed up on them to determine what they'd done since the series of crimes, he noted.
In his view, DeAngelo was not a real police officer, but "someone who came into law enforcement wanting to be placed in a position of control and authority," he told HuffPost. "He's always been a wolf in sheep's clothing."
Policing experts say vigilant screening and oversight can be key to making sure a violent person stays out of a police force. "Law enforcement agencies do a pretty good job now of screening for violent-type tendencies," said David Thomas, a program manager for the International Association of Chiefs of Police who focuses on addressing violence against women. But for anyone looking to bolster their hiring practices, "I would want to do a case study on everything that they can connected to the [DeAngelo] case to learn from it."
Screening is not infallible. So when victims report officer abuse to internal affairs departments, for example, those complaints must be taken seriously, victim advocates say. (A HuffPost investigation on officer-involved domestic violence found that even minor-sounding complaints can reflect deeper problems.)
Although the Golden State Killer is an extreme case and the crimes took place decades ago, keeping forces free of bad apples is just as important today, particularly as communities of color continue to distrust police and may feel that badly behaving officers are protected rather than held accountable.
"Police have tremendous authority, and they get information and access that simply isn't available to most people," said Seth Stoughton, an assistant professor of law at the University of South Carolina and a former police officer. "There are plenty of concerns that arise from the risk that officers will slightly misuse their knowledge and authority — and what this guy did was not a slight misuse."
Nick Willick, the former Auburn police chief who fired DeAngelo decades ago for shoplifting, told Fox40 he was "personally embarrassed" that his ex-colleague had turned out to be the alleged killer.
"It's a black eye," Willick said. "Not just on my department but law enforcement."
Support HuffPost
The Stakes Have Never Been Higher
Popular in the Community