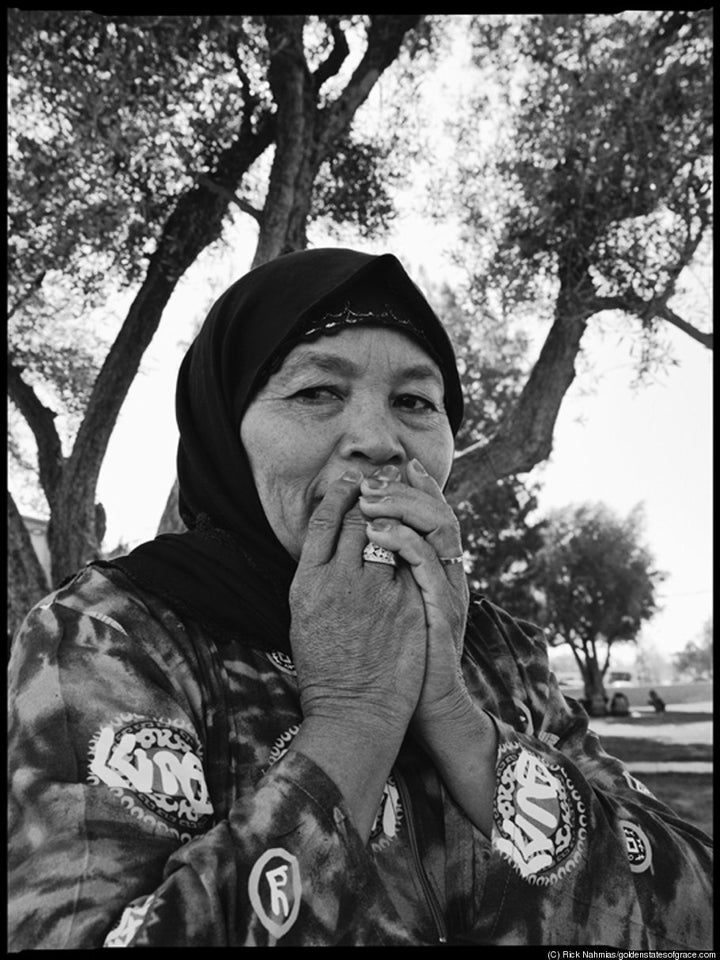 I am of the firm belief that every one of us carries within us something that is marginalized, some trait or piece of personal history that has been (or that we wish would be) left behind or cast off -- the malformed foot, the embarrassing immigrant heritage, the emotional scars left by an abusive, alcoholic mother. It is this concept (compounded by an allegiance to Jung's theory of the collective unconscious) that has led me to conclude that those whom society has cast off as "them" are, in reality, "us," and which drove the creation of my newest body of work, Golden States of Grace: Prayers of the Disinherited.
Since I began Golden States of Grace in 2003, it has often felt as if our world has drawn increasingly stark divisions between "us" and "them," be those divides cultural, political, socioeconomic, or religious. Additionally, representations across faith lines have become filled with stereotypes and, at times, outright hatred of "the other." National and international events demonstrate almost daily that we live in a fundamentally faith-based society that has grown increasingly intolerant of those who do not clearly embrace the narrowly defined codes of morality and religious worship. (The day before I began editing this book, a man with a gun entered a church in Knoxville, Tennessee and shot eight people, killing two. His motive: they were too liberal in that they supported the inclusion of gays, racial desegregation and women's rights.) This body of work aims specifically to counteract that intolerance, hoping its audience might open itself to discovering (if not experiencing) faith from the bottom up.
Even with many in mainline religious institutions and middle-class America continuing to exclude and even vilify those whom they view as "beyond the pale," there are still reasons to be hopeful that we, as a society, can see beyond our religious tunnel vision. For instance, a recent study on religious views across America, published by the Pew Forum on Religion and Public Life, documented that nearly 75 percent of Americans believe that many faiths beyond their own can lead to salvation.
You do not have to want to sit down to breakfast with someone to respect his or her place beside you in sanctuary or in community. Nor is it my intention that this book's reader throw his or her arms open to embrace the people depicted within it. Rather, if I have one singular hope, it is that our collective eyes remain open long enough to simply acknowledge every human being's need and right to come to some profound understanding about his or her own connection to a higher power.
Thus, in the end, Golden States of Grace is a study of otherness -- the otherness out there, the otherness within each of us, the otherness that begs us to bind together as human beings to celebrate, contemplate, and find meaning in our lives.
PHOTO GALLERY
Golden States Of Grace: Prayers Of The Disinherited (PHOTOS)
On Saturday, Oct. 2, we are doing a book-launch signing celebration and fundraiser for the anti-hunger group Food Forward. The event will take place from 4:30 to 7:00 p.m. at UCLA's Religious Conference, 900 Hilgard Ave., Los Angeles, Calif. 90024. Fifty percent of the proceeds from each paperback copy of the book sold on this day will go directly to Food Forward. The event is free and open to the public but requires an RSVP to 818-530-4125.