There's a shrine behind me covered in pounds of gold, but a crowd of young people want to take my photograph. I'm traveling solo, but you're never alone for long in India. You can strike up a conversation on just about anything -- even the whereabouts of your flip flops.
Amritsar, home of the Golden Temple, is literally a glowing moment on many Indian tour itineraries as pilgrims from around the world are drawn to Sikhism's holiest shrine. The gurdwara, or Gateway to the Guru, sits in a sacred pool of placid water, its gilding shining in the sun.
It is a spectacular structure and doing a circuit on the Parkarma, a marble walkway surrounding the pool, allows inspection from all angles. The temple is in the chaotically colorful old city, and near the entrance there is a place to deposit footwear. Sikhs are very welcoming, but they do not like shoes. I follow the shoeless hordes to the main entrance where there is a pool visitors must walk through to clean the feet.
As I make my circuit, I stop to answer questions about where I come from (Australia) and what Indians think Australians care about most (cricket). It is many years since I lived in Australia so at first when Indians squealed "Ricky Ponting!" at me, I wondered what on Earth they were talking about. (He was a former captain of the Australian cricket team.) If I say I am from London, where I lived for many years, the response is much more subdued, probably because England's cricket performance is a bit erratic.
A Sikh friend had asked me to note the "peaceful atmosphere" at the temple. Between photo opportunities, chats about cricket and the chanting that marches out of the loudspeaker system, I was enjoying the temple, but not for its tranquility.
Eventually I reach the line to enter the gurdwara where the "line manager" eyes my rucksack suspiciously. No one has bothered about it until now.
He glares at the bag. 'You have shoes in there?'
'No,' I answer truthfully, though he makes no move to open the bag I could be lying - maybe I have eight pairs of sandals in there. Maybe I am a flip flop smuggler ... I know wearing shoes are not allowed, but I'm not sure why putting them in my bag is wrong. So I ask him.
"Shoes are dirty. This is a sacred site!" he exclaims.
"But if I had shoes in here, and I'm not wearing them, and no one can see them, then why is that bad?"
I am just mildly curious, because well, asking questions is my job, but this is one question too much for the line wallah, who takes me to a "wise man" I can plague with my queries instead.
The bushily bearded wise man and I kick the footwear question back and forth, because I still don't understand why putting the shoes and keeping their dirt inside my own bag is not permissible. Especially in India, which is no picnic for the obsessive-compulsive.
"Carrying shoes is a bad as wearing them," he eventually declares. "This is a sacred site!"
So this is just one of those things I have to take on faith, which seems strangely appropriate. The thinking is a bit circular, but in an age of constant security checks I like the fact the temple people are very concerned about what is in the bag, but trust me to tell them the truth about what is in it.
After standing in the line for about 40 minutes I am this close to entering when everything stops, the volume increases and nothing happens for 15 minutes during what turns out to be a prayer. Eventually I do enter the gurdwara, which is peaceful and has places to sit in contemplation.
Famous for handicrafts, carpets and dried fruit, Amritsar is located in the north-western state of Punjab, which roughly means "land of five waters". The only state with a majority Sikh population, it is the home of Sikhism, said to be the fifth-largest organized religion in the world. There are around 30 million Sikhs, or "saint soldiers", pursuing social justice powered by full control of their "internal vices."
Most Sikhs wear turbans as a symbol of commitment to their faith and every day in Punjab is a fresh festival of turban fashion. Among Indians Punjabis have a reputation for enjoying a party, their appetite for alcohol only exceeded by an appetite for dairy products.
I stayed at Country Inns & Suites by Carlson, which despite the somewhat folksy name is a stylish contemporary hotel - think rooms with dark wood, white linen and warm accents. Its central location on Queens Road is a short walk from a selection of restaurants, such as Crystal, a local institution whose elegant interior is filled with foreigners early on, then increasingly lively locals.
The Golden Temple is compelling, but there are other attractions in Amritsar such as the labyrinthine Mata Temple, which has statues of deities along with a tunnel, a cave water course to wade through, mirrored halls - it's a little like a place of worship and funfair in one.
But the ultimate party is at the Pakistan-India border. Every day around sunset the road is closed after soldiers with plumed hats march up and down, stamp their feet creatively and primp like highly disciplined, armed peacocks in a kind of plotless, military themed Broadway show that would indicate Pakistan and India are on the jolliest of terms.
There is music and dancing and the Pakistanis, too far away to inspect at close range, seem to enjoy the gathering too. But the Indians are louder.
In the evening I return to the Golden Temple. I want to see it by moonlight and I was glad I did. Less crowded and more serene, this time I could go beyond architecture and appreciate the temple's very special atmosphere.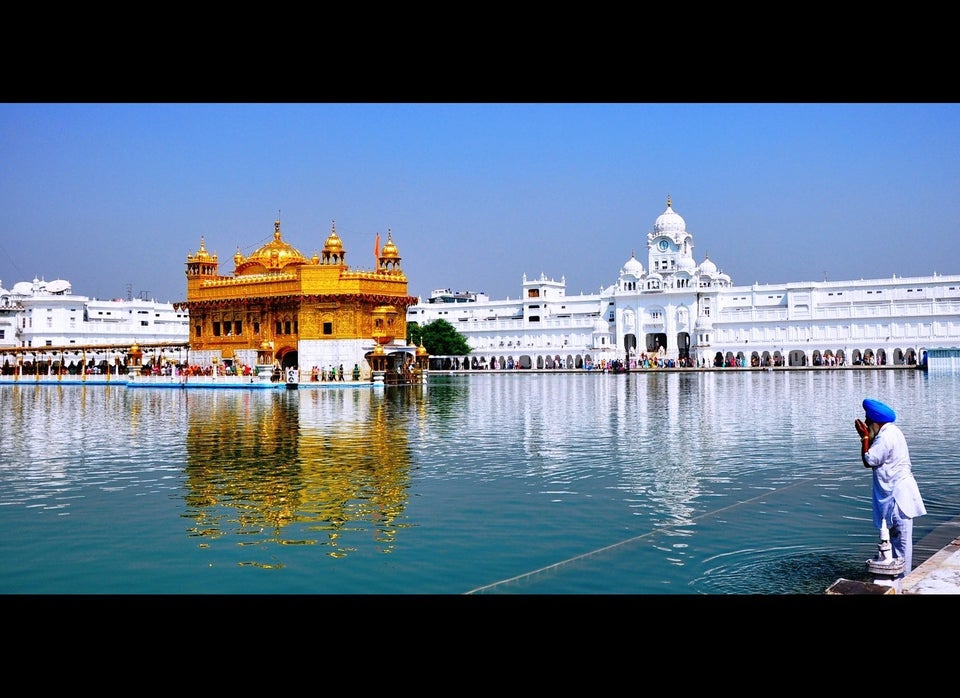 Golden Moments In Amritsar
Related