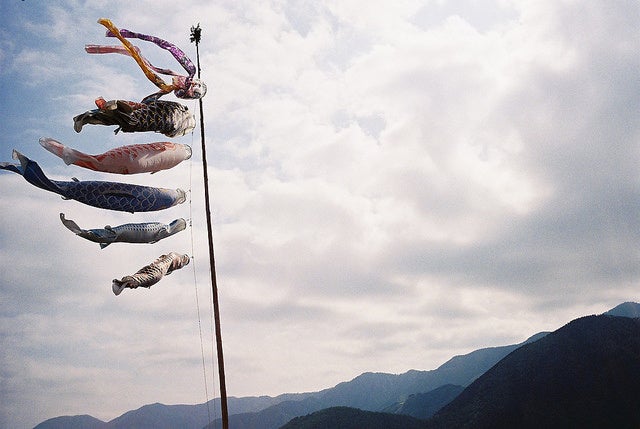 As the cherry blossoms burst into bloom and temperatures warm up, Japan enjoys a week of national holidays and festivities known as Golden Week (ゴールデンウィーク). It's my favorite time of year as the country is ablaze with blossoms.
The National Holiday Laws of 1948 declared four official holidays concentrated at the end of April and the beginning of May, and business across Japan enjoyed a rise in profit during this period as citizens enjoyed trips to the movies, restaurants, and parks. In 1951, ticket sales for the film Jiyū Gakkō were higher during this week than any other time of the year, and the film director nicknamed this week "Golden Week", advertizing it as the golden opportunity to go to the movies.
Nowadays, employees enjoy a week of paid vacation as companies close their doors for the four holidays and the gap days. In honor of this festive time in the Japanese calendar, we're sharing the history and traditions of the four official holidays.
Showa Day commemorates Emperor Showa's birthday, who served as emperor in the periods before and after World War II. Citizens are encouraged to reflect on Japan's struggle during Emperor Showa's rule, and remember those lost in World War II. In 2007, a new bill stated that celebrations on this day should include solemn remembrance of this troubled time in Japanese history.
2. May 3: Constitution Day
The Japanese Constitution was signed on May 3, 1947, and the government declared this anniversary a national holiday in 1948. On this day, thousands of citizens attend lectures on the constitution's impact and role in Japanese society. The Diet building also opens its doors for the day, and people have the opportunity to visit halls normally restricted to visitors.
Greenery Day, or Midori no Hi, was originally celebrated on April 29 as a tribute to nature-loving Emperor Showa, but was moved to May 4 in 2007. Although many view this holiday as merely an extension of Golden Week, it's devoted to the environment and nature, and the Japanese are encouraged to take time to appreciate Mother Nature's verdant bounty.
Children's Day began in 1948 as a celebration of children and their youthful happiness. Although it was originally consecrated exclusively for boys, the festival now includes girls as well. The holiday is symbolized by the carp, and Japanese fly carp-shaped flags in celebration. The carp represents a Chinese legend which states that carps swimming upstream become dragons, and the fish has come to symbolize a child's growth into adulthood.
This lively season in Japanese culture is a time of reflection, family fun, and enjoying the arrival of spring. Whether you're celebrating Children's Day in Osaka, or observing Midori no Hi in your backyard, from our team to you and yours, happy Golden Week!
Sharon Schweitzer, J.D., is a cross-cultural trainer, modern manners expert, and the founder of Protocol & Etiquette Worldwide. In addition to her accreditation in intercultural management from the HOFSTEDE centre, she serves as a Chinese Ceremonial Dining Etiquette Specialist in the documentary series Confucius was a Foodie, on Nat Geo People. She is the resident etiquette expert on two popular lifestyle shows: ABC Tampa Bay's Morning Blend and CBS Austin's We Are Austin. She is regularly quoted by BBC Capital, Investor's Business Daily, Fortune, and the National Business Journals. Her Amazon #1 Best Selling book in International Business, Access to Asia: Your Multicultural Business Guide, now in its third printing, was named to Kirkus Reviews' Best Books of 2015. She's a winner of the British Airways International Trade Award at the 2016 Greater Austin Business Awards.
Support HuffPost
The Stakes Have Never Been Higher
Related
Popular in the Community