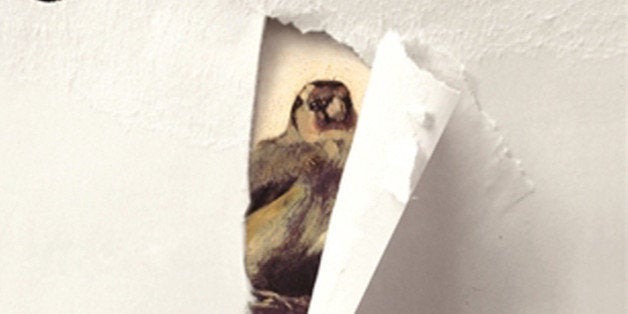 The Metropolitan Museum of Art is hit by a terrorist attack while Theo Decker and his mother are looking at paintings. Theo manages to escape, but not before talking to an elderly man (also a victim of the bombing) who gives him a ring and tells him to deliver it to a specific address, all right before dying. In his daze, Theo also ends up taking his mother's favorite painting, "The Goldfinch." After Theo manages to get out of the building, he discovers that his mother is dead. The story follows Theo's life until middle-age, covering his grief over his mother and what happens with the famous painting he stole. But at its heart, it's really a coming-of-age story. Tartt's most beautiful writing is about Theo's coping as he grows up.
Why are we talking about it?
This is Donna Tartt's first book in 12 years. We were eager to read this after the first two were such hits. Everyone in the book industry has been anticipating this novel.
Fans of Tartt's other books, anyone who prides themselves on being up to date about the hottest books (this one will be one of the biggest of 2013).
What do the reviewers say?
The New York Times: "Ms. Tartt has made Fabritius's bird the MacGuffin at the center of her glorious, Dickensian novel, a novel that pulls together all her remarkable storytelling talents into a rapturous, symphonic whole and reminds the reader of the immersive, stay-up-all-night pleasures of reading."
Vanity Fair: "...right from the start we remember why we enjoy Donna Tartt so much: the humming plot and elegant prose; the living, breathing characters; the perfectly captured settings, in this case mostly Manhattan but with detours to Las Vegas and Amsterdam. She seems to understand all these worlds, high and low, and is on intimate terms with the human struggle to craft some kind of meaning, some idea of beauty, from the brutal inevitability of death."
USA Today: "The result is the best book of 2013 so far, and required reading for anyone who loves great literature from this or any other century."
Though parts of it are slow (to be expected in such a long book), you won't realize you're reading almost 800 pages. The prose is beautiful, and the story is compelling. Despite several problems that it had, we absolutely loved it. We wish we could read it for the first time again.
"When I was still in Amsterdam, I dreamed about my mother for the first time in years."
"When I looked at the painting I felt the same convergence on a single point: a glancing sun-struck instance that existed now and forever. Only occasionally did I notice the chain on the finch's ankle, or think what a cruel life for a little living creature--fluttering briefly, forced always to land in the same hopeless place."
REAL LIFE. REAL NEWS. REAL VOICES.
Help us tell more of the stories that matter from voices that too often remain unheard.