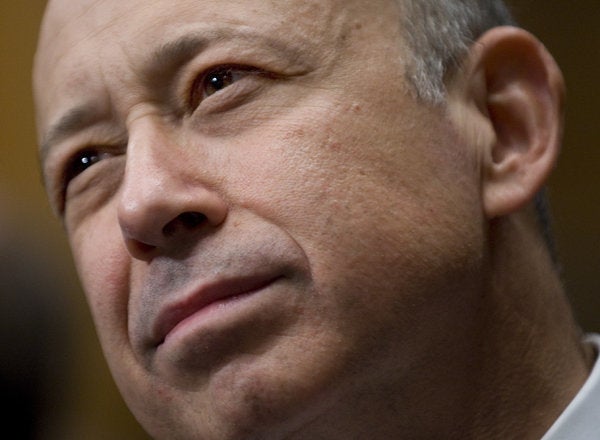 A pension fund representing U.S. government employees has filed a shareholder proposal to strip Goldman Sachs Group Inc Chief Executive Lloyd Blankfein of his other post as chairman.
The pension plan of the American Federation of State, County & Municipal Employees said on Wednesday an independent chairman would provide checks and balances in the power structure at the largest U.S. investment bank.
Blankfein has also come under attack from activist investors and corporate governance advocates, but he retains the loyalty of Goldman's board. Shareholders supported him at Goldman's annual meeting in May.
Blankfein, who turns 58 next week, has been chairman and CEO since 2006. The bank has had one person serving as its head since Jon Corzine left in 1999 and Henry Paulson, Blankfein's predecessor, took over.
AFSCME said splitting the roles of CEO and chairman might have prevented Goldman from getting into trouble for its actions leading up to the financial crisis and will improve its stock performance going forward.
``A strong, independent Board chair would focus Goldman on generating long-term value for its shareholders,'' AFSCME President Gerald McEntee said in a statement.
Goldman spokesman Stephen Cohen said a similar resolution was defeated in 2010, with 81 percent of shareholders voting against it.
``We think we have a robust governance structure in place, with a very effective independent lead director,'' said Cohen. ''We always listen to our shareholders, so it is disappointing that AFSCME decided to go to the media before raising the issue with us.''
Goldman shares are down 38 percent this year, compared with a decline of 43 percent for its chief rival, Morgan Stanley . The other four biggest U.S. banks are down 21 percent to 48 percent.
AFSCME directly holds 7,101 shares of Goldman, worth $741,000 at current market prices, according to pension fund spokesman Chris Fleming. AFSCME's 1.6 million members own 2.5 percent of Goldman's outstanding shares, worth $1.325 billion.
AFSCME pointed to the legal bills Goldman shareholders have had to pay for its activities leading up to the crisis.
Goldman paid $550 million to settle fraud allegations with the U.S. Securities and Exchange Commission last year, related to a toxic derivatives deal it sold to investors. Goldman did admit or deny wrongdoing but acknowledged making mistakes in its marketing materials.
The bank paid $726 million in legal fees in 2010 and forecast $2 billion worth of further legal losses in a regulatory filing last month.
Goldman is now contending with further regulatory scrutiny stemming from a report by the Senate Permanent Subcommittee on Investigations that highlighted conflicts of interest and accused the bank of profiting at the expense of clients.
Blankfein was grilled during a tense hearing the subcommittee held last year. Senator Carl Levin, who led the inquiry, has said Blankfein lied to Congress by saying Goldman was not short the housing market.
While shareholder proposals are rarely a shoo-in, Charles Elson, director of the John L. Weinberg Center for Corporate Governance at the University of Delaware, said that having an independent chairman has become a standard industry practice, and executives who resist shareholder calls can sometimes lose out.
Bank of America Corp chief Ken Lewis faced off against investors in 2009 and lost: Shareholders voted to separate the posts of chairman and CEO. Lewis remained CEO but lost the port of chairman. He left the bank later that year.
``Goldman has been under fire and I'm not surprised they got this resolution,'' said Elson. ``The question is, do they react appropriately to it? Goldman has not shown itself receptive to these sorts of things in the past. I hope they reconsider.''
Goldman shares were up 90 cents to $104.99 in afternoon trade. (Reporting by Lauren Tara LaCapra in New York; editing by John Wallace)
Popular in the Community