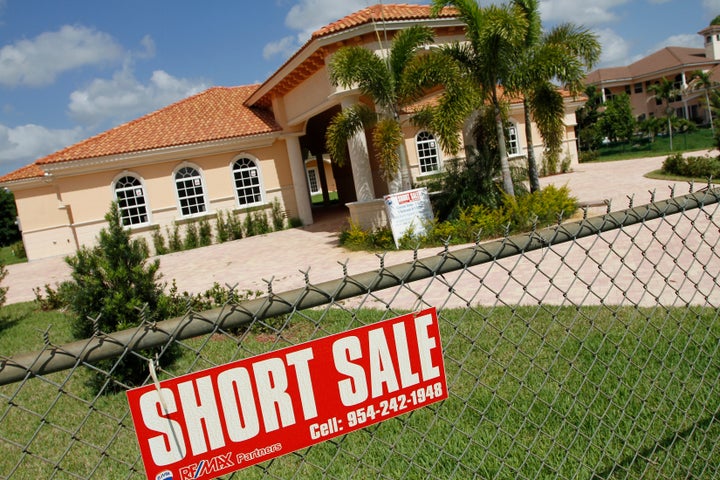 Even the geniuses at Goldman Sachs have decided the retail mortgage business is more trouble than it's worth.
The firm agreed to sell its mortgage servicing unit, Litton, to Ocwen Financial Corporation, according to a Sunday filing with the Securities and Exchange Commission. The deal marks the bank's exit from an industry that lately has been plagued by scandal and strained by a historic housing market slump, as the largest mortgage companies have allegedly been cutting corners in an attempt to preserve their bottom lines. Even for Goldman, a storied titan of Wall Street, the retail mortgage business wasn't producing the hoped-for rewards.
"Now is a terrible time to be in the servicing industry," said Diane Thompson, an attorney at the National Consumer Law Center. "Your margins are getting squeezed. The standard model for how you make money in servicing is sort of out the window."
Litton has had a rough several months. In October, as the nation's biggest banks suspended foreclosure proceedings when it came out that they had employed "robo-signers" who signed thousands of documents daily without reading them, Litton likewise halted some of its foreclosures. Goldman said it had discovered "process issues" with the way those foreclosures were handled.
In March, Goldman said it was considering selling Litton, which the company acquired in 2007. And then in May, the New York branch of the Federal Reserve received a letter from a Litton employee, who said Litton was denying mortgage modifications to distressed homeowners. The New York Fed said it was looking into those allegations.
For the first quarter of this year, Goldman marked down Litton's value by about $200 million.
Goldman agreed to sell Litton to Ocwen for $263.7 million, to be paid in cash. The amount the firm initially paid for Litton wasn't made public, but a month before that deal, a company that partly owned Litton's seller said Litton would be sold for about $467.9 million, Bloomberg News reported.
"The purchase of Litton did not yield the benefits we anticipated, given the unprecedented depth of the housing crisis, which we, like virtually everybody, failed to foresee," Goldman spokesman Michael DuVally said.
The housing market crash decimated home values nationwide, forcing millions of borrowers into default and foreclosure. Home prices still fall, in a painful feedback loop, as foreclosed properties push home values down still further.
And mortgage companies have been overwhelmed by the volume of distressed properties. Banks now hold more than 872,000 homes, nearly twice as many as in 2007, according to data-provider RealtyTrac. In some regions of the country, banks seize more homes than they sell. This "shadow inventory" amounts to another drag on the housing market, as the glut of supply tends to prevent prices from rising.
In 2009, more than 2.8 million homes received a foreclosure filing, and in 2010, that number rose to nearly 2.9 million, according to RealtyTrac.
The Obama administration's signature foreclosure-prevention effort, Home Affordable Modification Program, intended to encourage banks to modify distressed mortgages, is widely seen as a failure. And Litton's record is less than ideal.
As of the end of February, Litton had started 10,767 permanent mortgage modifications under the Obama administration's program, equivalent to about 27 percent of its eligible delinquent borrowers. That compares to Bank of America's record of 32 percent, JPMorgan Chase's record of 46 percent, CitiMortgage's 53 percent and Wells Fargo's 58 percent.
"Servicing has turned out to be a liability for many of the players," said attorney Margery Golant, a principal at the law firm Golant & Golant. "If they have a situation where they could write down principal to some reasonable number and come out with a performing loan, instead of foreclosing and trying to sell the property in this market for less, why wouldn't they? It should be common sense."
Ocwen, which agreed to buy Litton, has a relatively strong mortgage-modification record. It started 32,136 permanent HAMP mortgage modifications as of the end of February, equivalent to 79 percent of its eligible borrowers.
Unlike Goldman, Ocwen specializes in handling mortgages. But according to Nadine Cohen,
managing attorney of the consumer rights unit at Greater Boston Legal Services, homeowners with Litton loans shouldn't necessarily expect an improvement in service.
"People are realizing that servicing is harder than they think," Cohen said. "To be really ethical and conscientious seems to be very difficult for a lot of the servicers."
Popular in the Community