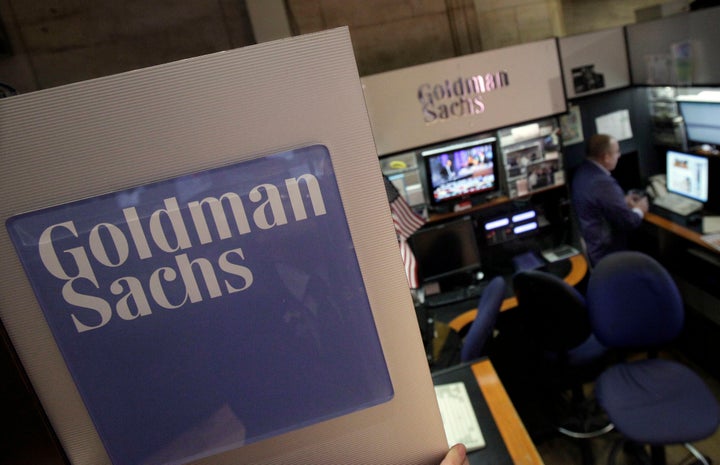 Prior to the 2008 when Wall Street was laying on big bets on the housing market, mortgage servicing was the equivalent of blackjack; the odds for a player who knew the rules were very good and having a company that collected monthly mortgage payments from homeowners provided a reliable revenue stream. Even better were the companies that operated in the sub-prime space -- "default servicers" -- because if you couldn't shake the shekels out of the homeowners pocket, you could always seize the property in foreclosure and make back your nut and then some. In the colorful vernacular of the industry these mortgage loans are referred to as "S&D" (scratch and dent).
Now Goldman Sachs isn't the place you'd think would want to make paltry and piddling sums off the backs of individual homeowners, but, then again, recent history has proven this notion incorrect. Goldman, for most observers, is a company that operates in hedge fund heaven, a financial stratosphere full of qualified investors and high rollers with lots of coin to spread around. But when it comes to trolling for revenue Goldman will bait its hooks for anything that might prove profitable, and back in 2007 the Wall Street giant had its eye on a relatively small Houston based company by the name of Litton Loan Servicing run by a father and son team, Larry Litton Sr. and Larry "Blake" Litton Jr. The company had a portfolio of "non-performing" sub-prime loans which they attempted to turn around by pursuing a variety of options including loan modifications. Whatever Goldman wants Goldman gets and in late 2007 the financial giant muscled out the competition to acquire Litton at auction. However, according to Suzanne Kapner, writing for the Financial Times in a March 16th 2011 article, Goldman's interest wasn't simply distressed mortgages. The ever cagey financial giant "also wanted to use the data that Litton collects from delinquent borrowers to help it make bets on the housing market, said people familiar with the strategy."
When the casino melted down in the summer of 2008 all bets were off and you didn't need Mata Hari to tell you that the housing market was taking a nose dive. According to ex-Litton executive, Chris Wyatt, Goldman quickly sent down word to abandon loan modifications altogether and push homeowners into foreclosure before a moratorium negotiated with several major banks was to go into effect in early 2009. This was followed by the Obama administration's much touted but weak-kneed attempt to help struggling homeowners through the Home Affordable Mortgage Program ("HAMP"), which Litton signed on to after its introduction in 2009. According to Wyatt, HAMP opened up a floodgate with thousands of homeowners swamping the staff at Litton with a tsunami of loan mod requests. In response Goldman's micro-managers sent down some commandments: deny, deny and deny. For Wyatt, whose job put him in direct contact with homeowners seeking modifications, Goldman was trying to get what it could out of foreclosures without having to be bothered by the muss and fuss of labor intensive and less profitable loan mods. An anonymous letter sent to the NY Fed and obtained by Suzanne Kapner summed up the scheme. In a May 25th, 2011 article for the Financial Times she writes that "loans were denied without the proper review under a 'denial sweep' strategy devised to clear a backlog of applications."
Publication of the Kapner article lit a fire under the rears of Fed investigators (who had received the letter nearly four months earlier) prompting an even deeper dig into the alleged foreclosure irregularities and on September 1, 2011 issued a press release stating that Goldman had signed a consent agreement admitting that, well, there were problems and agreeing to a foreclosure review of some 135,000 Litton homeowners who were the subject of legal action in 2009/2010. All this was memorialized in a consent agreement signed with the Fed September 1, 2011. The consent agreement was also the swan song, marking the end of an unhappy relationship and the end of Litton as a company; its mortgage portfolio and servicing rights sold off to another operation by the name of Ocwen Financial.
Goldman has now embarked down the path trod by 14 major servicers -- many of them associated with Megabanks like Citi, Chase, Bank of America and Wells -- the targets of an earlier consent agreement signed with both the Fed and the Office of the Comptroller of the Currency in April, 2011. In this case the constellation of homeowners impacted -- upwards of four million -- dwarfs Litton's portfolio, but the rules set by the regulatory agencies are the same: select a third-party auditor and submit the name to the Fed for approval (servicers eat the cost of the audits), determine which foreclosures were problematic and come up with a remediation plan to provide compensation for homeowners.
The larger set of independent foreclosure reviews (referred to as "IFR's") is in progress and the auditing companies green lit by the Fed are public knowledge. However, Goldman's selection, which has been approved and is currently at work, has been kept under wraps and despite repeated inquiries the Fed has refused to release the name of the company. A FOIA request in July 2012 did force the Fed to give up the name: Navigant Consulting.
Are there any conflict-of-interest issues with Navigant Consulting (this has emerged as an issue with some of the other auditors)? Michael Duvally, Goldman's spokesperson, when first queried responded with a "no." However, evidence gathered from public filings does show that the Goldman Sachs Group, Inc. holds a very small ownership position in Navigant Consulting, amounting to roughly over 236,000 shares (worth something short of three million dollars).
Based on this filing, it's difficult to determine whether Goldman itself owns a piece of Navigant, or is simply acting as the broker for outside investors. Responding to my request for further clarification, Michael Duvally went on the record to say that "we have no strategic stake in the company and the holdings referenced in the filings are a combination of investor money and stock used for client facilitation."
So, what does Goldman really have to fear from any possible revelations regarding its dabbling in the scratch and dent world of sub-prime servicing? Apart from stoking and legitimizing homeowner outrage over Litton's loan modification denials and improper foreclosures, any confirmation of meddling in Litton's affairs may provide new ammunition for future investor law suits targeting Goldman's role in the peddling of so-called toxic assets. In the well-publicized dismissal of one shareholder lawsuit last August 14th, U.S. District Judge William Pauley cited the fact that "plaintiffs failed to present enough evidence of 'red flags' to suggest that directors should have recognized deficiencies in Goldman's mortgage servicing and securitization operations." Does the current foreclosure review have the potential to paint those flags a little bit brighter? It's difficult to speculate but sources conducting the review inside Litton's old Houston headquarters, where all the records are kept, report that the building is in virtual lock-down with 24/7 security, round the clock guards and cameras trained on all the computer stations and internet browsing closely monitored.
Goldman's foray into the world of sub-prime mortgage servicing is one that company executives would like relegated to the dumpster along with the water-logged sandbags that shielded their New York HQ from the ravages of Hurricane Sandy. But bad business decisions have consequences and in this case revealing the sordid underbelly of a despicable practice may offer the victims validation, compensation and perhaps most importantly, a measure of justice.
Joel Sucher, a filmmaker with Pacific Street Films in Hastings-on-Hudson, N.Y. is working on Foreclosure Diaries, a documentary about the financial crisis and has blogged on foreclosure related issues for American Banker. In 2009 he was the subject of a failed foreclosure attempt by Litton Loan Servicing.
www.pacificstreetfilms.com
Popular in the Community