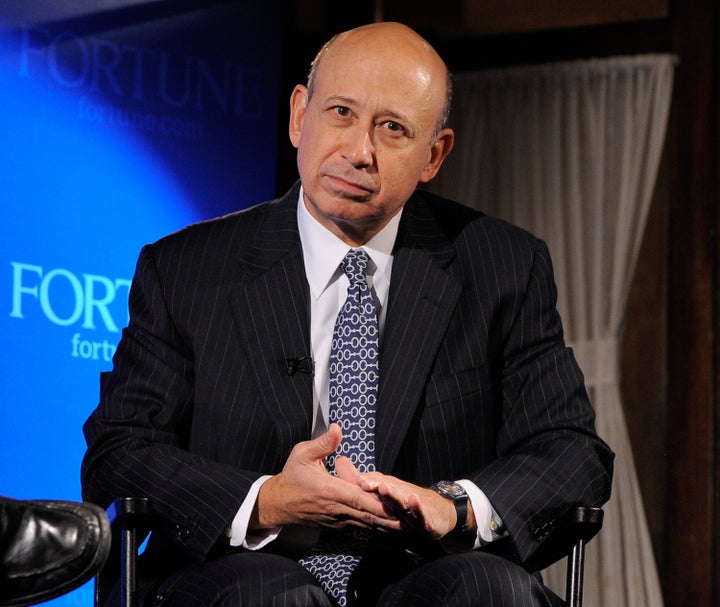 This story was updated at 7:10 p.m. ET with comment from Goldman Sachs.
Goldman Sachs put its own interests ahead of its clients in trying to profit off the souring housing market of 2007, documents released Monday show.
The firm, which had profited handsomely off packaging and selling securitized subprime home mortgages to investors during the housing boom, switched directions in early 2007, furiously shedding its home mortgage-linked risk and buying as much insurance as it could, effectively shorting the market throughout the year -- a move that netted the firm "billions and billions" at the expense of its clients, according to the documents released by the Senate Permanent Subcommittee on Investigations.
"Goldman Sachs made billions of dollars from betting against the housing market, and it placed those bets in some cases at the same time it was selling mortgage-related securities to its clients," said the committee's chairman, Carl Levin (D-Mich.). "They have a lot to answer for."
Goldman says it always puts its clients' interest first. It's a position the firm has stuck by as Levin's investigation has produced emails and internal documents apparently showing otherwise.
"Our clients' interests always come first," Goldman says on its website.
But by late 2006, company officials, presciently realizing that losses from subprime mortgage-related products would soon begin to mount, began to aggressively reduce the firm's risk. It did so by reducing its inventory of positions, and by betting against subprime-related securities, the documents show.
"A very profitable year was underway," Levin said.
"In 2007, when Goldman Sachs took steps to reduce its inventory of mortgage-related investments, the Goldman Sachs sales force was instructed to sell those investments, including high-risk...securities that Goldman Sachs wanted to get of its books, creating a conflict between the firm's proprietary interests and the interests of its clients," the panel said in a statement.
The firm was "spreading the poison throughout the system," Levin charged, adding that investors had a "reasonable assumption [the securities] were designed to succeed."
One particular security, named Timberwolf I, a collateralized debt obligation of other collateralized debt obligations that were based not on actual home mortgage bonds but instead on those bonds' movements, lost 80 percent of its value within five months of issuance. A senior executive, Tom Montag, remarked in a June 22, 2007, email, "Boy, that timberwo[l]f was one shi**y deal."
That security was rated less than three months prior to Montag's email. He has since left the firm.
Goldman "cannot portray itself as working on behalf of clients," Levin said. It sold securities "that it clearly didn't believe in."
"[D]uring the early summer of 2006 it was clear that the market fundamentals in subprime and the highly levered nature of CDOs was going to have a very unhappy ending," one top executive, Michael Swenson, wrote in September 2007 in his annual self-evaluation.
In a March 2007 memo, the firm noted that it was "Game Over" for subprime as there was an "accelerating meltdown for subprime lenders such as Fremont and New Century."
An email the same month remarked that "overall as a business, we are selling our longs and covering our shorts."
Part of the problem, Levin said, was that Goldman didn't tell its clients it was shorting the market throughout the year -- it waited until the end of the year.
At times, Goldman had a net short position as large as $13.9 billion, according to a memo prepared by Levin's investigators.
In shorting the very securities it was peddling to investors, Goldman told its customers that there were a variety of other investors shorting those securities, investigators said. In at least a few of those instances, though, Goldman was the only party shorting the securities, investigators said, raising questions about possible violations of securities law.
The firm states in its most recent annual report that it "did not generate enormous net revenues by betting against residential related products."
In a statement to the Huffington Post, the firm's top spokesman, Lucas Van Praag, said:
"We respectfully disagree with Chairman Levin's statement. We did not have a big bet against the housing market, as our performance in residential mortgages demonstrates, and we believe we at all times worked appropriately with our clients. We did try to manage our risk, as our shareholders and regulators would expect. There are many lessons from the financial crisis, and we are intent on learning from them. To that end, we support strong regulatory reform to safeguard markets for the future."
Levin says the firm made as much as $3.7 billion shorting the market -- proprietary trades that only benefited the firm, and not its clients. Evidence that the firm was heavily shorting the market -- rather than just hedging its risks -- is overwhelming, investigators said.
"Company documents show the firm taking every opportunity during early 2007 to take short positions against mortgages," the panel said in a statement. "And in reducing its risk, the firm aggressively sold its mortgage holdings to clients.
"Documents show the firm's sales force raising questions about the quality of securities Goldman was trying to unload, and complaints from clients who posted big losses on products Goldman had sold them."
The panel's nearly 18-month-long investigation has yielded about 2 million documents, investigators said. Its hearing examining Goldman Sachs, featuring both current and former executives, begins 10 a.m. ET Tuesday.
READ Goldman Sachs CEO Lloyd Blankfein's prepared remarks before the panel below:
Popular in the Community