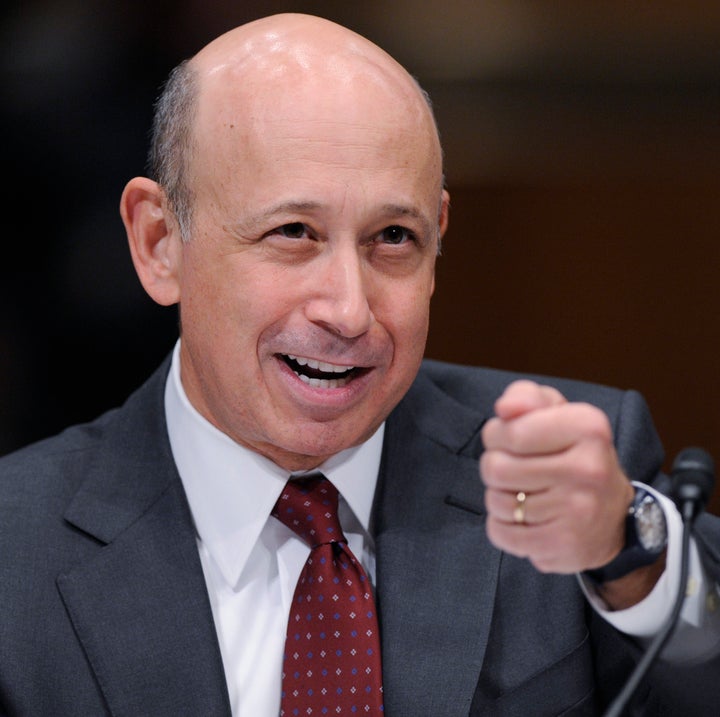 WASHINGTON -- Goldman Sachs' decision to handle the doomed Solyndra loan earned the investment banking giant, along with a nifty payday, bad press that the besieged firm could certainly have done without.
According to the now-bankrupt Solyndra, Goldman acted as its "exclusive financial advisor" on the deal -- an arrangement that was hardly surprising. Goldman has become synonymous with Wall Street influence in Washington, as the company's top executives shuttle back and forth between New York and the Treasury Department regardless of which party occupies the White House. But a closer look shows that Solyndra was just one element of the bank's involvement with a Department of Energy program that has shoveled millions in loan guarantees to companies partially or entirely owned by Goldman Sachs.
In September, the Energy Department closed on a $90.6 million loan guarantee for an experimental renewable energy program at Cogentrix of Alamosa, a wholly owned subsidiary of Goldman.
Around the same time, Cogentrix was being stripped of its right to build solar projects in the Nevada desert, after regulators had complained for years that the company was merely sitting on the land, speculating that its value would rise, and preventing initiatives by serious renewable energy firms. Gregory Helseth, the Bureau of Land Management's renewable energy projects manager for southern Nevada, told the Associated Press in August why it was booting Cogentrix from the desert.
"We have just about wrapped up rejecting the last of the Cogentrix applications," said Helseth. The company "never showed a desire to move forward on their solar applications. They didn't turn in the required paperwork or show an interest," he said.
The Colorado project for which Cogentrix won federal funding began construction in March of this year, Jef Freeman, a spokesman for Cogentrix, told HuffPost. He said production will start next April.
Cogentrix, which has traditionally focused on coal and fossil fuel but has been branching out into renewable energy, is not merely owned by Goldman Sachs. It is also closely connected through upper management. The subsidiary's CEO is Bob Mancini, who was chief commercial officer and co-president of Cogentrix from 2003 to 2006, according to his company bio. He then left that job to launch the "commodities principal investment business at Goldman but remained on the board of Cogentrix." In February 2010, he returned to become CEO of the energy company.
A Goldman Sachs spokesman declined to comment, but Freeman said that Cogentrix decided to apply for federal funding because its technology was too experimental to obtain financing in the traditional market -- which is, more or less, the purpose of the loan guarantee program, to encourage risky projects that may be useful socially but that private lenders are hesitant to support.
"It's technology that was developed ... for outer space use, and this is a terrestrial use for that," said Freeman. "It is a technology that's transitioning from very small applications into a more mainstream application, utility-scale. Financing for a project of that type is virtually impossible in the conventional financing market, so we needed to go and try to capture some of the guarantee capabilities of that program to enable us to get the project financed."
The Energy Department loan guarantee program, which was set up during the Bush administration, is not specifically intended to create jobs, but rather to encourage U.S. energy independence by expanding renewable resources. Still, the department highlights the job-creation potential of clean energy by disclosing how many jobs each project produces. The number is not too impressive for Cogentrix's project: 75 construction jobs and 10 permanent jobs "created or saved." The project will also reduce carbon emissions equivalent to taking 8,000 cars off the road each year.
Goldman also has a minority stake in U.S. Geothermal, which closed on a $97 million loan guarantee through the same Energy Department program in February. The Oregon-based project for which U.S. Geothermal won backing is expected to create 150 construction jobs and 10 permanent jobs and reduce carbon emissions equivalent to taking 20,000 cars off the road each year.
U.S. Geothermal is working with Raft River I Holdings, yet another Goldman subsidiary, on a project in Idaho.
Update: 5:33 p.m. -- Jonathan Zurkoff, a U.S. Geothermal executive vice president, said that although Goldman Sachs is a part owner of the company, it played no role in the loan guarantee application process. "They had nothing to do with the loan application and have no ownership interest in that project other than their common stock interest," he said.

Calling all HuffPost superfans!
Sign up for membership to become a founding member and help shape HuffPost's next chapter