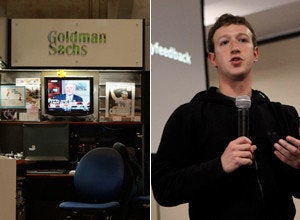 Is Goldman Sachs' Facebook deal worthy of SEC scrutiny? The New Yorker's John Cassidy yesterday reacted to the news of the deal paging SEC chief Mary Shapiro: "once again the boys and girls at Goldman Sachs appear to be making a mockery of you and your colleagues."
Yesterday, news broke that Goldman Sachs set up a "special purpose vehicle" to allow its wealthy clients to invest in Facebook, despite the fact that Facebook is not yet a publicly traded company. Dealbook outlines the arrangement, which values Facebook at $50 billion, like so:
While the S.E.C. requires companies with more than 499 investors to disclose their financial results to the public, Goldman's proposed special purpose vehicle may be able get around such a rule because it would be managed by Goldman and considered just one investor, even though it could conceivably be pooling investments from thousands of clients.
Bloomberg, for its part, spoke to James Angel, a finance professor at Georgetown University's business school in Washington, who said that if the special purpose vehicle could be ruled illegal if it designed to get around the SEC rules.
Dealbook notes, Goldman's involvement puts the company in a strong position to take Facebook public, in "what is likely to be a lucrative and prominent deal." For, Facebook CEO and founder Mark Zuckerberg, who is said to own roughly one quarter of the company, the move is not only a financial windfall, but a way to retain full control of the company.
Goldman Sachs clients are apparently jockeying to get into the arrangement. To even be considered, they reportedly have to have a net-worth of at least $10 million. Additionally, CNBC reports that would-be investors will have to pay steep fees up to 5 percent up front and more on profits earned. Goldman will reportedly invest $450 million, and is expected to raise up to $1.5 billion from investors.
Last week, the Times reported that the SEC was looking into the "red-hot" trading market developing in the shares of privately held social networking sites.
Related
Popular in the Community