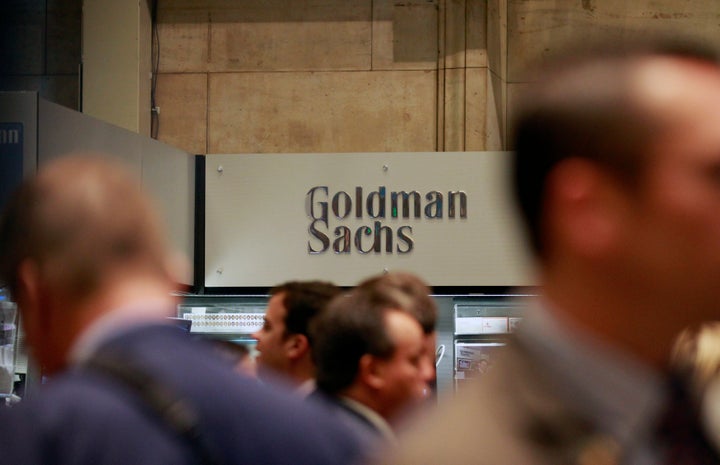 Goldman Sachs has implemented new policies restricting the work newly hired current and former government officials are allowed to do, a source at the bank familiar with the matter told The Huffington Post.
Under the new policy, "before the formal interview process begins we would have multiple departments reviewing what post-employment restrictions the employee would be under. The process starts earlier and there are more people involved," said the source, who spoke on condition of anonymity. The source declined to specify when, under the previous policy, the review began.
The move comes after years of criticism that the bank profits from close government connections, and a recent criminal case in which an employee, himself an ex-government worker, is accused of doing just that.
The bank agreed Wednesday to pay $50 million to settle charges that a Goldman banker, who previously worked at the New York Federal Reserve for seven years, had received confidential Fed documents relating to at least one Goldman client. The case was first reported by The New York Times in November 2014. In the settlement, Goldman admitted to a failure to properly supervise and train the former Fed employee once he was hired at the bank.
The company began reviewing its internal policies shortly after the Times story.
Since the 2008 financial crisis, Goldman has been subject to specific and intense scrutiny for the revolving door between the firm and government. Most of that criticism has focused on Goldman executives leaving the bank for government roles where the key responsibilities involve direct oversight or regulation of their former employer.
Most prominently, former Treasury Secretaries Hank Paulson and Bob Rubin both led the bank before taking their government roles. At a less prominent but nevertheless influential level, three of the 12 regional Federal Reserve banks are headed by Goldman alums.

Last year, a New York Fed whistleblower released tapes documenting the regulator's interactions with Goldman. While doing little to decrease the perception of Goldman as overly close with its regulators, the tapes were far more damaging to the New York Fed. They showed a meek watchdog, fretting about how to deliver even slight rebukes to a bank it oversees.