 Sometimes you have to toss a few cheddar cheese salads in the garbage to make a Goldman Sachs employee.
That is one of the many harsh truths revealed in the first chapter of a new book by famous former Goldman Sachs employee Greg Smith. The book is not due in stores until October 22, but the first chapter, or at least most of it, was leaked online today, via DealBreaker.
You may recall that Smith quit Goldman in March by writing an op-ed piece in The New York Times accusing the Vampire Squid of abandoning its core principles and dedicating itself to stripping its clients, or "muppets," of every penny they possessed. His book promised to reveal more shocking details about his time in the belly of the cephalopod, and from what's in the first chapter, at least, it sure delivers.
The bulk of the chapter is dedicated to the near-constant torment Goldman visits on its interns, who were forced to scrape by on just $5,000 for the entire summer of the year 2000, after taxes. Their torment included twice-weekly grillings by bank executives, called Open Meetings, which were so brutally harsh that they caused not one, but two interns to break out in tears during Smith's summer internship.
You'd better sit yourself down for this next part. Maybe grab a stool or something. Oh, what's that? You can't find a stool? How humiliating for you. Maybe now you know how Goldman interns felt, every day, when they were forced to carry small stools around to every meeting and desk-side sit-down with traders -- but Goldman, in a viciously Darwinian twist, did not provide enough stools for every intern. This was "innately demeaning," Smith observes, unnecessarily. I think we all remember that scientific study that found that monkeys deprived of proper furnishings suffer from erectile dysfunction. Anyone? No? Just me?
Anyway, in addition to the stools -- which the interns carried everywhere, like soldiers in basic training carry their rifles, chanting, we like to imagine, "This is my stool, this is my gun. This is for sitting, this is for fun." -- they were also forced at all times to wear bright-orange name tags and lanyards. Branded as members of the underclass. Even Mark Mulroney, the son of the former Canadian Prime Minister, was not immune, Smith notes.
But wait, there is more. Apparently, Goldman interns were also required to take coffee and meal orders for their traders, news that will horrify interns throughout the greater New York metropolitan area. And even God could not help you if you got one of those orders wrong (emphasis added):
I remember one managing director...who was very sensitive about his lunch orders. ... One day he asked an intern for a cheddar cheese sandwich, and the kid came back with a cheddar cheese salad. The kid handed it to him so proudly: "Here's your cheddar cheese salad." I was sitting next to the MD, so I remember the incident well. He opened the container, looked at the salad, looked up at the kid, closed the container, and threw it in the trash.
There are some things you wish you could un-read after you read them, but you just can't. This is one of those things. We now must be haunted forever by the image of this kid -- maybe the son of a former Canadian Prime Minister, who knows -- having his dreams summarily crushed like so many croutons on a cheddar-cheese salad.
"It was a bit harsh, but it was also a teaching moment," Smith writes. "The managing director joked about it with the kid afterward; he didn't make a big deal about it. The lesson was learned."
We have no doubt the lesson was learned: Always listen very carefully when taking a lunch order, because "salad" and "sandwich" sound very much alike. Also, what is a cheddar-cheese salad?
Smith says he didn't mind the Boschian hellscape of cruelty unfolding around him.
"I knew that we were being indoctrinated, handed a full cup of delicious Kool-Aid, but it was fine with me," Smith writes. "I'd been a true believer before I ever set foot in the building."
We now must eagerly await the rest of the book, or the next leak, but we can imagine what comes next: The tale of how Smith's faith in Goldman Sachs slowly eroded, leading him to do the right thing and write an op-ed for The New York Times. Then obtain a $1.5 million book advance.
But subsequent chapters, with titles like "Welcome to the Casino" and "Looking into the Abyss" sound more promising, maybe.

Related
Before You Go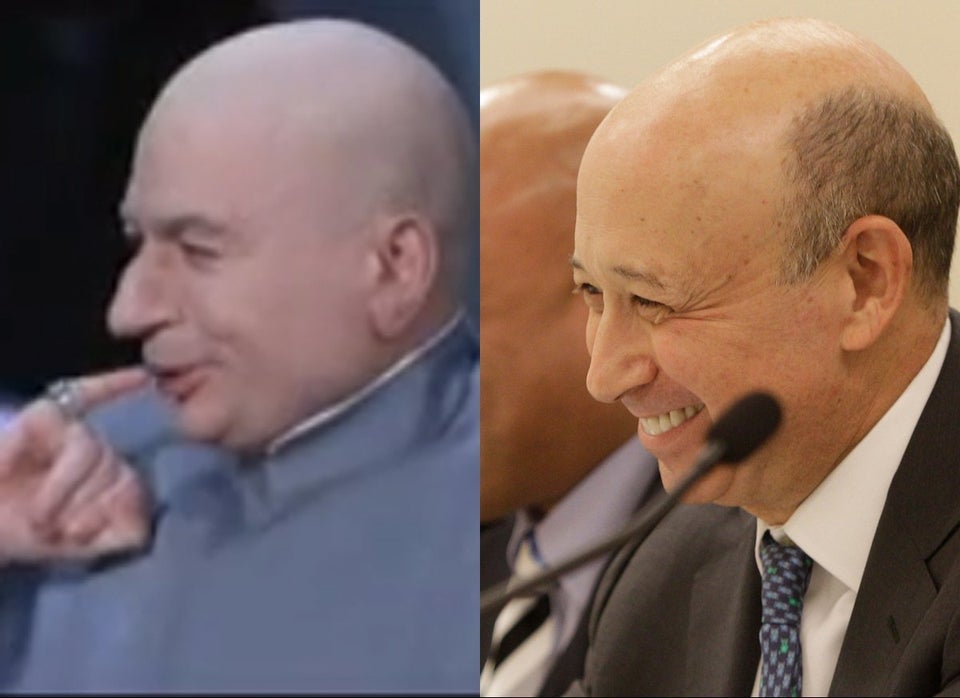 CEOs Who Look Like Villains
Popular in the Community