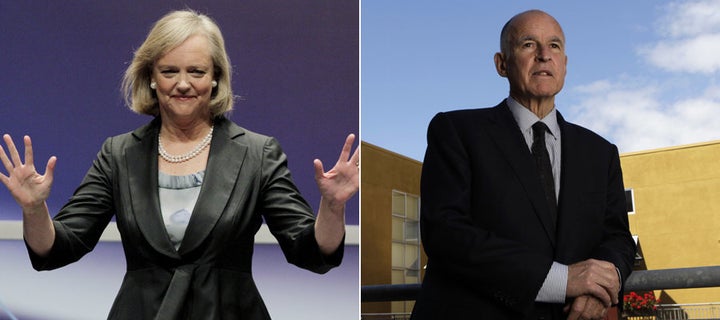 As the investigation into alleged fraud at Goldman Sachs impacts Wall St. and Washington, it might well have profound implications for the race to be California's next governor. Both Meg Whitman and Jerry Brown have longstanding ties to the firm, which are coming under increased scrutiny as the investigation unfolds.
In the LA Times, Michael Hiltzik explores Whitman's involvement with Goldman Sachs:
Eight years ago, it came out that Whitman was among an elite group of favored executives who had accepted preferential stock deals from Goldman Sachs while it was seeking business from their companies.

In spinning, executives would typically get shares in coveted initial public stock offerings, which they would "spin," or resell, into a soaring market, usually within days and sometimes within hours. Their quick and almost entirely risk-free profits were effectively gifts, and the investment banks the givers.

Whitman attempted to dodge responsibility for her actions by claiming that there was "nothing illegal" about them at the time. (This is rather at odds with a credo appearing on page 130 of her book: "Be accountable.")
Jerry Brown has been uncharacteristically quiet on Whitman's history with Goldman, but Michael Rothfield points out in this weekend's LA Times that he has some history of his own with the firm:
Brown, a Democrat and California's attorney general, also has connections to Goldman, which was charged with civil fraud last week by the Securities and Exchange Commission. The links are his sister and a complicated financing deal made by the city of Oakland, where he served as mayor for eight years.

That deal, known as an "interest rate swap," was supposed to guarantee Oakland stability in its debt payments but is now costing the cash-strapped city $5 million a year. The agreement, which goes until 2021, has an estimated cancellation cost of $19 million. The city is trying to renegotiate it, and union officials representing government employees are calling on Goldman to let Oakland and other municipalities out of such agreements.
LA Observed provides some context and analysis of the role Goldman Sachs will have in the coming months for the candidates:
The Whitman people are countering that Jerry Brown's sister, Kathleen Brown, had been a Goldman executive right around the time that Jerry, as the mayor of Oakland, worked with Goldman on a popular financing deal known as an interest rate swap (L.A. and many other cities were doing the same thing). Whitman probably hopes that the two connections will cancel each other out by November - and they probably will. Even so, this sort of awkwardness awaits anyone who has a Goldman Sachs tie. And let it be said that the entire world has a Goldman tie. The tarring is indiscriminate and unfair, and it veers away from the specific issues related to the SEC suit. But no one seems especially interested in the particulars behind what happened.
Popular in the Community