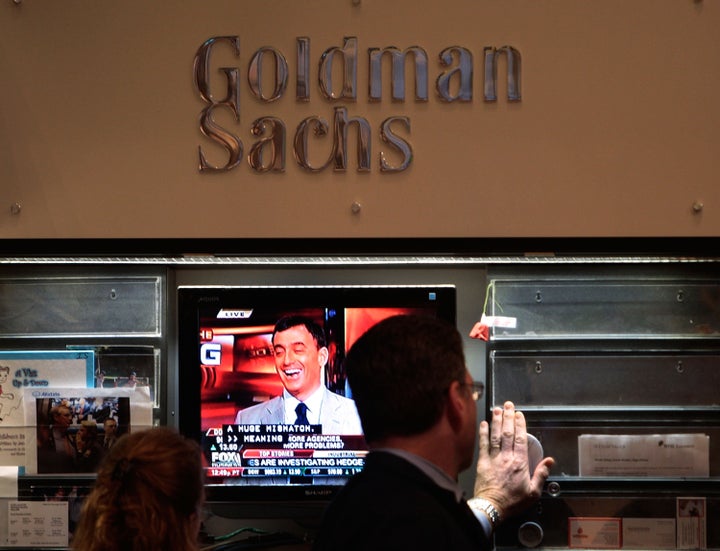 Add The New York Times' Andrew Ross Sorkin to the list of writers who've pondered the mystery of Goldman Sachs.
The latest issue of Vanity Fair has an excerpt form Sorkin's book Too Big To Fail: The Inside Story Of How Wall Street And Washington Fought To Save The Financial System - And Themselves. In it, Sorkin writes that the government tried to arrange a secret deal for Goldman Sachs to buy Wachovia in the weeks following the implosion of Lehman Brothers. At one point, Sorkin reports, the Federal Reserve even tried to push Citigroup and Goldman into a merger.
[The entire piece is not yet online, but check out Vanity Fair's Q&A with Sorkin here]
Sorkin's reports go further than any other published accounts in establishing a link between the government's actions during the financial crisis and the benefits Goldman Sachs received during the bailout. His piece contains some very damning reports about the behavior of participants in the high-level meetings between the Federal Reserve and the nation's largest banks during the peak of last year's financial collapse.
Specifically, Sorkin reports on direct communication between government officials and Goldman Sachs, and scuttled deals that even caused Warren Buffett to raise an eyebrow. Sorkin quotes Buffett, who was offered to invest in a possible merged Goldman-Wachovia bank:

"By tonight the government will realize they can't provide capital to a deal that's being done by the former firm of the Treasury secretary with the company of a former vice-chairman of Goldman Sachs and former deputy Treasury secretary," Buffett said. "There is no way. They'll all wake up and realize, even if it was the best deal in the world, they can't do it."

Here's more from Vanity Fair's press release:

According to Sorkin, Goldman co-president Gary Cohn had agreed to engage in talks with Wachovia only on the presumption that the Fed would help Goldman guarantee some of Wachovia's most toxic assets. And [Fed governor Kevin] Warsh, in a bold gesture, made a commitment that the Fed would strongly consider it. Paulson spoke with [Goldman Sachs CEO Lloyd] Blankfein and told him to take the talks seriously. "If you go into this looking for all the problems and how much help you're going to get, it's never going to happen," he said, adding, "You're in trouble, and I can't help you."

Much to their dismay, Cohn and [Wachovia CEO Robert] Steel spent 24 hours working on a deal that they thought was near closure--and had the support of the Fed--but which ultimately died after Paulson, Bernanke and Geithner decided against pursuing it, in part, because of the "optics" of Goldman's ties to the government. "I'm sorry. I understand--I'm just as frustrated as you are. We just don't have the money; we don't have the authorization," Warsh explained.

Calling all HuffPost superfans!
Sign up for membership to become a founding member and help shape HuffPost's next chapter