Goldman Sachs has been subpoenaed by the Commodity Futures Trading Commission amid an ongoing investigation into complaints about inflated metals prices, CNBC reported via Twitter Monday.
Goldman Sachs was sued earlier this month for allegedly inflating metal prices.
Reuters reported earlier on Monday that the CFTC has subpoenaed a metals warehousing firm. Here's the full report:
The U.S. commodities market regulator has subpoenaed a metals warehousing firm, seeking all of its documents and communications related to the London Metal Exchange since January 2010, as an inquiry into complaints about inflated metals prices gathers steam.
The U.S. Commodity Futures Trading Commission (CFTC) sent the subpoena last week, a source with direct knowledge of the matter said, after a letter from the regulator last month ordered the warehouse firm to preserve emails, documents and instant messages from the past three years.
The subpoena is the latest sign that the CFTC is stepping up its inquiry as it looks into allegations by users of metals, such as Coca-Cola Co, that warehousing firms have made it more expensive for them to buy metal by restricting the flow of metal out of warehouses.
It isn't clear if more than one firm has received a subpoena or whether there is going to be a formal investigation into the metals warehousing industry.
The industry used to be primarily run by traditional warehouse firms such as Netherlands-based C.Steinweg and Singapore-headquartered CWT Commodities but in recent years it has been dominated by banks such as Goldman Sachs and JPMorgan Chase & Co, as well as large commodities traders like Glencore Xstrata Plc and Trafigura AG, all of which have bought metals warehouse businesses in the last three years.
Goldman Sachs, JPMorgan Chase & Co, Glencore Xstrata, and Trafigura declined to comment.
CFTC spokesman Steve Adamske also declined to comment. While the CFTC opens dozens of investigations each year, only a handful ever result in action and some are never made public. It almost never discusses open inquiries.
The warehouses and the London Metal Exchange (LME), which works with and monitors a vast network of warehouses, have said big stockpiles and high physical prices are the result of low interest rates and a market structure known as contango that make it profitable to sell metal forward and store it for months or years at a time.
The source, who asked for anonymity and for the name of the firm not to be disclosed as he is not authorized to speak to the media, said the CFTC's enforcement division has asked the firm that has received the subpoena to send, by August 23, every document, communication, voice recording, correspondence and external and internal emails related to the LME since January 2010.
The subpoena "included more than 30 areas of interest to the CFTC", the source said, and was particularly focused on "anything that relates to moving metal from one warehouse to another within the same company... and procedures for loading out," adding it also wanted details of any trading based on prices on the LME, the CME Group's COMEX commodity exchange, and Platts, a unit of McGraw Hill that publishes price assessments of physical commodity markets.
The LME declined to comment.
In another sign of increasing scrutiny over alleged price inflation, U.S. Department of Justice officials have visited a different warehousing firm in the United States and asked about how the business is run, said another source, who also asked not to be identified or for the name of the firm to be disclosed.
The DOJ started a separate preliminary probe into the metals warehousing industry last month, sources familiar with the matter said.
The DOJ has declined to comment on its inquiry.
Anti-trust lawyers have said the DOJ would only launch an official investigation if it found evidence that warehousing firms had broken anti-trust laws. There has been no such indication.
The Beer Institute, which represents the $250 billion beer industry and over 2,800 breweries, which use aluminum in cans, has met with the DOJ and urged it to take action, a source familiar with the meeting said in July.
Companies such as Coca-Cola and its sheet supplier Novelis Inc have complained to regulators and in public comments that warehousing firms have artificially inflated the length of time it takes to get metal out of warehouses, raising rents and boosting the physical premiums customers must pay to get quick access to metals such as aluminum and tin.
At least four class-action lawsuits from small U.S. aluminum end-users have also been filed in the past month accusing banks and large commodity trades of hoarding metal in warehouses and driving up the prices of industrial products ranging from soft-drink cans to aircraft.
Goldman Sachs, JPMorgan and Glencore Xstrata were named as defendants in some of the suits, alongside the firms' warehouse subsidiaries.
Goldman and JPMorgan have said that the allegations are without merit. Glencore has declined to comment.
In the past three years, a mountain of aluminum and other metals has accumulated in global warehouses that are part of the LME network, clogging trading and causing lengthy queues of up to 18 months for consumers and dealers seeking to buy the metal, traders and end-users say.
The long wait times have been further inflated by incentives paid by the firms to attract metal into their sheds, traders and consumers say, and have caused the price premium on some metals to surge.
After years of complaints from end-users, regulatory and lawmakers' scrutiny of Wall Street's role in physical commodity markets is intensifying.
The visit to a firm by the DOJ followed letters sent to at least two companies that own warehouses seeking more information about warehousing practices.
The nature of those letters was not immediately clear and there has been no public allegation of any illegal activity. It is not clear how advanced or broad the DOJ probe is, nor is there any certainty that it will result in any action.
Responding to the accusations, Goldman Sachs has publicly said that Metro International Trade Services, its warehousing unit, has not broken any laws or rules. In an effort to reduce intensifying pressure on its commodities business, it offered on July 31 to provide immediate access to aluminum stored in Metro's warehouses, a week after the CFTC and DOJ probes were first reported by Reuters.
Warehouse supply issues, according to critics of the LME system, are a byproduct of LME rules which require warehouses with 900,000 or more tonnes of metal to load out just 3,500 tonnes each day.
Under fire from users, the LME, which was sold last year by its member bank owners to Hong Kong Exchanges and Clearing, has proposed a massive overhaul of its warehousing policy which would come into effect next April.
(Writing and additional reporting by Susan Thomas in London; additional reporting by David Sheppard in New York and Douwe Miedema in Washington; editing by Ed Davies and Jason Neely)
Related
Before You Go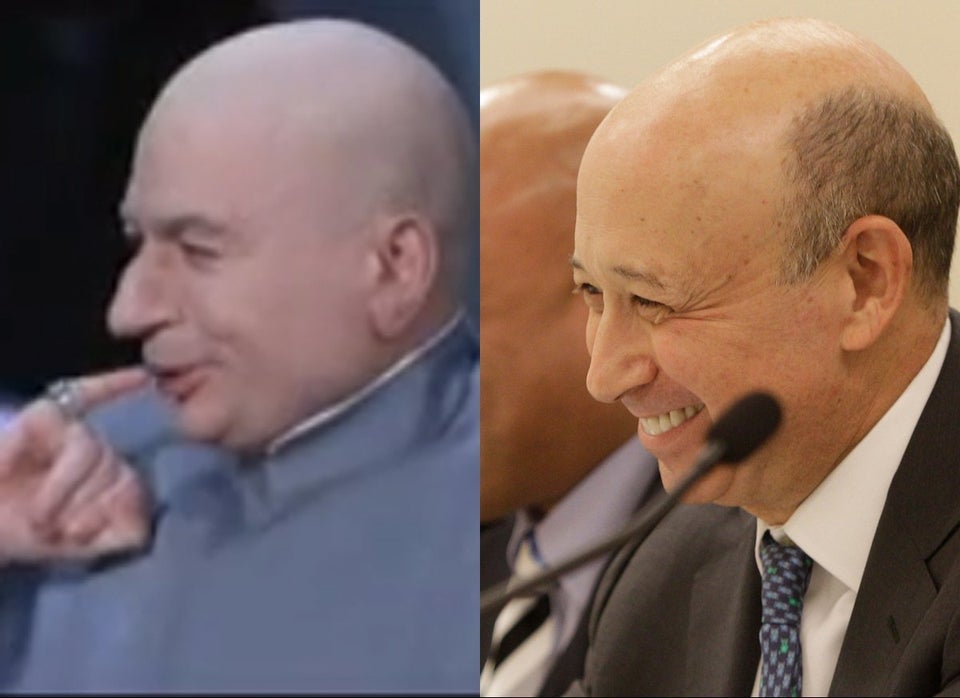 CEOs Who Look Like Villains
Popular in the Community