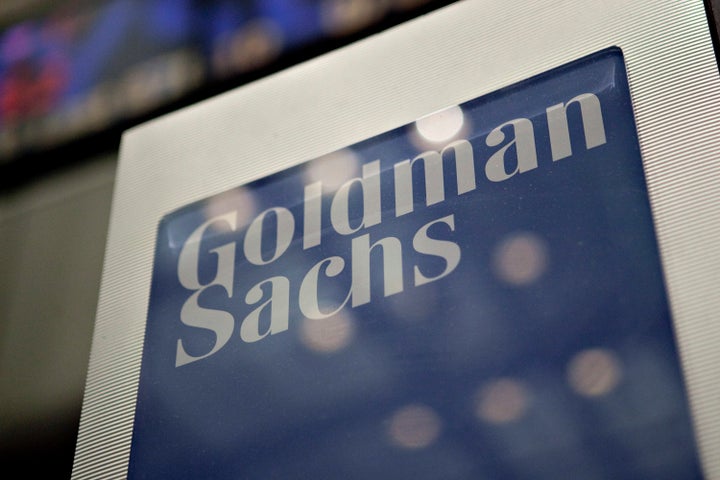 Goldman Sachs Group Inc. will pay nearly $3.3 billion to resolve state and federal claims that it cheated investors who purchased its mortgage securities, the bank announced Thursday.
The preliminary accord also includes an additional $1.8 billion for others in what the bank described as consumer relief, such as reduced loan balances for households whose mortgages were bundled into those securities, raising the total value of the settlement to $5.1 billion. News reports previously pegged the expected settlement at about $3 billion.
The bank said it struck the deal to settle "actual and potential" civil claims over Goldman's mortgage securitization activities from 2005 to 2007 by the Department of Justice; attorneys general in New York and Illinois; the National Credit Union Administration, a federal regulator; and the Federal Home Loan Banks of Chicago and Seattle.
Goldman did not admit any wrongdoing in a news release announcing what it described as an "agreement in principle."
Goldman had previously disclosed the state and federal investigation and warned investors that it likely faced a hefty settlement. The bank has told investors that Benjamin Wagner, the U.S. attorney based in Sacramento, California, "concluded" that the bank violated federal law, according to its securities filings.
About $2.4 billion of the settlement is in the form of a government penalty. The bank has said that it securitized about $125 billion of home loans between 2005 and 2008, of which about $23 billion eventually soured. The penalty represents about 10 percent of investors' losses.
Goldman can deduct the rest of the settlement, about $2.7 billion, from its future tax bills, according to a person familiar with the accord. The bank said the settlement will reduce its fourth-quarter profit by about $1.5 billion. It reports earnings next week.
The U.S. Justice Department and state prosecutors have come under severe criticism for striking deals with big banks over their allegedly illegal activities without requiring them to admit fault, or by structuring the settlements in a way that allow the banks to reduce their taxes. The Justice Department recently has required some banks to acknowledge wrongdoing. Others lately have pleaded guilty to felonies, after a 2013 admission by former Attorney General Eric Holder that some banks may be too big to prosecute criminally led to a public outcry.
Goldman's settlement, if finalized, would be the latest in a long string of deals struck between prosecutors and Wall Street over financial companies' alleged wrongdoing in the years preceding, during and following the financial crisis. In addition to accusations that Wall Street duped investors who bought home loan bonds, banks have settled allegations that they helped drug cartels launder their illicit proceeds through the U.S. financial system; aided rich Americans who hid money abroad to avoid paying taxes; colluded to rig auctions involving municipal bonds; attempted to manipulate foreign exchange markets and key financial benchmarks; and violated U.S. sanctions against nations including Iran and Sudan.
Related
Popular in the Community