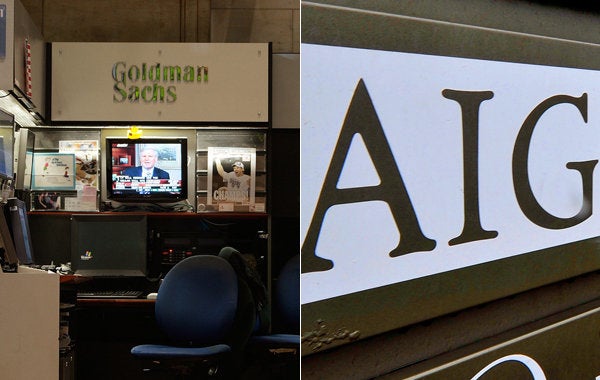 Goldman Sachs was the "most aggressive" financial firm to demand cash from AIG on what it viewed as souring deals during the financial crisis, the head of a federal investigative panel said Wednesday.
Goldman Sachs Group, the most profitable firm on Wall Street, was the "first in the door" in demanding collateral from the disgraced insurer -- once one of the world's most successful and creditworthy companies -- on its derivatives deals, said Phil Angelides, chairman of the Financial Crisis Inquiry Commission.
Goldman comprised 27 percent of AIG's derivatives portfolio at the end of 2007, yet held 89 percent of collateral that AIG posted to all of its counterparties, Angelides said, citing AIG documents.
Wall Street's most successful firm was "way ahead of everyone else" on demanding collateral from the giant insurer, Angelides said. And Goldman was "much more aggressive" about marking down the value of those securities, he added.
Joseph Cassano, the former head of AIG Financial Products, the derivatives unit whose actions ultimately led to the firm's taxpayer-financed government rescue, told Angelides's panel Wednesday that he was "surprised" at the magnitude of Goldman's increasing demands for collateral.
Goldman eventually received $14 billion through its insurance contracts -- specifically its credit default swaps, an insurance-like derivative product -- from AIG, according to a November report by the Office of the Special Inspector General for the Troubled Asset Relief Program. Of that, $8.4 billion was in the form of collateral payments that Goldman simply kept; $5.6 billion was from taxpayers through a special investment vehicle created by the Federal Reserve Bank of New York.
Taxpayers committed $182 billion to backstop AIG. Taxpayers own 79.9 percent of the insurer. The firm's counterparties, like Goldman, were paid 100 cents on the dollar. It's unclear whether taxpayers will be made whole.
Goldman consistently marked its contracts with AIG lower than any of the firm's other counterparties, said Angelides and Cassano.
One example given was a collateral call of $1.8 billion. As the value of the securities fluctuated, the firms would post collateral to one another to cover their positions.
Cassano said that the $1.8 billion demand was surprising particularly due to its lack of "incrementality."
"It went from nothing to $1.8 billion," Cassano said, who left his position as head of AIG's derivatives unit in early 2008.
AIG then went out and solicited prices from other counterparties to check if Goldman's marks were accurate. Within a month or so, Goldman lowered its demand to $450 million.
Cassano said that a counterpart at Goldman told him, "I don't think we covered ourselves in glory."
Calling all HuffPost superfans!
Sign up for membership to become a founding member and help shape HuffPost's next chapter