While Goldman Sachs faces a litany of investigations and lawsuits -- with more likely on the way -- its traders can at least bask in one accomplishment: they didn't lose money on a single day last quarter.
Of the 63 trading days in the three-month period ending in March, Goldman Sachs generated revenue of at least $25 million on every single day, according to its latest quarterly filing with the Securities and Exchange Commission.
On nearly three out of every five days, Wall Street's most profitable firm generated revenue exceeding $100 million trading stocks and bonds, and creating and entering into derivatives contracts.
For The Quarter Ended March 2010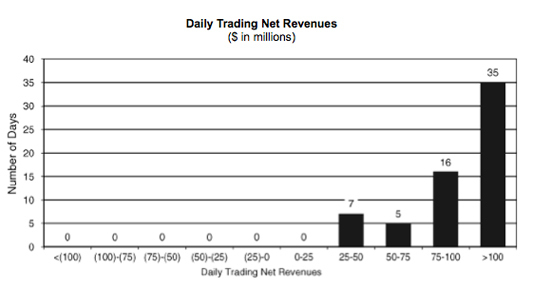 Source: Company filing with SEC
Goldman's first-quarter pace exceeds last year's, when the firm generated $100 million off trading on 34 days out of 64. It also lost money on eight of those days. For 2009, the firm had $100 million days on 131 out of 263 days, or just under half. It experienced losses on a total of just 19 days.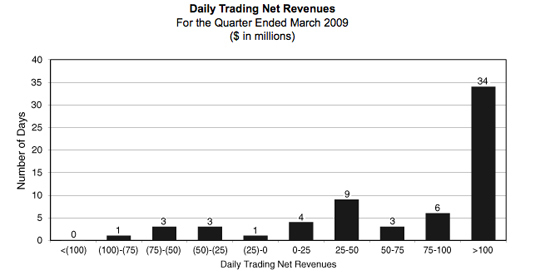 Source: Company filing with SEC
For The Year Ended December 2009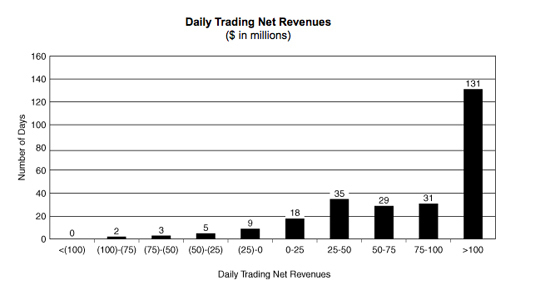 Source: Company filing with SEC
But this year, the firm's traders generated revenue of at least $75 million every four trading days out of five.
Goldman Sachs nearly doubled its income in the first quarter to about $3.5 billion.
The firm's revenues soared to $12.8 billion in the three-month period ending in March, a 36 percent increase over the same period last year. Most of the increase was due to the firm's trading and principal investments unit, the part of the firm that trades and invests for clients, as well as for itself with its own cash.
On April 16, the SEC charged Goldman and one of its employees for defrauding investors by creating and selling exotic securities tied to subprime home mortgages in 2007 without disclosing that they were handpicked by a hedge fund that was betting on them to fail.
Since then, members of Congress have called for further investigation. Governments across Europe have done the same, with the U.K. Financial Services Authority opening a probe into the firm.
"We anticipate that additional putative shareholder derivative actions and other litigation may be filed, and regulatory and other investigations and actions commenced, against us with respect to offerings of CDOs," the firm warns investors in its latest quarterly filing.
But the firm isn't too worried about the avalanche of lawsuits and investigations.
"We believe, based on currently available information, that the results of such proceedings, in the aggregate, will not have a material adverse effect on our financial condition," Goldman states in its filing. But those proceedings "might be material to our operating results for any particular period, depending, in part, upon the operating results for such period.
"Given the range of litigation and investigations presently under way, our litigation expenses can be expected to remain high."
As of Friday's close, Goldman shares are down more than 22 percent since the day before the SEC's suit became public.
Calling all HuffPost superfans!
Sign up for membership to become a founding member and help shape HuffPost's next chapter