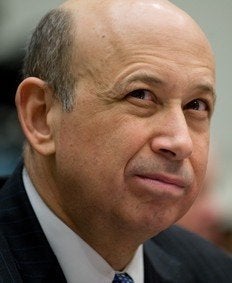 Goldman spokesman Lucas van Praag said the charm offensive is a necessary response to supercharged rhetoric and exaggerations that have swirled around the 140-year-old company since the financial crisis erupted.
The campaign includes a new lobbying push in Washington as well as media interviews with chief executive Lloyd Blankfein in which he regales reporters with tales about his first job as a 13-year-old -- selling peanuts at Yankee Stadium.
The paper reports that company officials have also discussed increasing charitable contributions as it attempts to bounce back from the post-financial crisis furor. It certainly has the money to do so -- the firm has earned three times as much this year as it did in 2008 and its employees are on track to earn even more than in 2007, when the average payout was a staggering $661,490.
The Associated Press reports that Goldman has already set aside $16.7 billion so far this year for compensation.
Blankfein, who announced that as a result of accepting a multi-billion dollar government bailout he and other executives would not take a bonus for 2008, has been the mastermind behind the PR campaign. Blankfein took over the company in 2006 after the departure of Henry Paulson, who went on to become Treasury Secretary under President Bush.
"There is little justification for the payment of outsized discretionary compensation when a financial institution lost money for the year," the Goldman CEO said. He said bonuses are important to attract and retain top talent, but "misapplied, they can also encourage excess."
Financial firms have spent $224 million lobbying Congress during the first half of 2009, according to the AP. Goldman has spent $1.3 million lobbying so far this year, according to the Center for Responsive Politics.
Popular in the Community