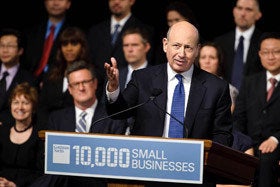 This story has been updated
NEW YORK -- Before stepping onstage at Delgado Community College in New Orleans Monday, legendary investor Warren Buffett turned to a local businessman who had just completed a training program and handed him his wallet as a joke. "I almost fell to the floor because it was so heavy," laughed Kendall Washington, the owner of a pest control company.
Buffett may have been humoring him, but he was serious about helping Washington and the 29 other small business owners who completed a training program in management, marketing and accounting through Goldman Sachs's 10,000 Small Businesses initiative. The Wall Street firm launched the $500 million initiative -- the single largest charitable contribution in the bank's history -- in partnership with Buffett in November 2009. The bank committed $300 million to help small businesses access capital through lending and gifts over a five-year period and $200 million for business and management education programs. Amid an anemic environment for small-business lending and widespread criticism of Goldman's trading practices, the initiative promised to do some good and help restore the firm's reputation along the way.
"The Goldman Sachs program really threw a lifeline to small businesses," said Washington, explaining that he has hired one new staffer and expanded his Safe Spot Pest Control business since joining the program.
More than a year and a half after its launch, the initiative has made an impact, but at a seemingly glacial pace -- it has so far only helped about 300 small business owners, about 3 percent of the way towards its goal of helping 10,000 small businesses. And most of that has consisted of training -- only $15 million in loans have been closed or approved by Goldman's community development partners in New York, New Orleans, Los Angeles and Houston. Goldman offers low-interest loans to these institutional partners, which then offer loans to qualified small business owners at higher rates.
Though it seems slow, that pace was planned by Goldman, which seems to be taking a careful and deliberate approach. "10,000 Small Businesses is a broad and growing network of financial, education, commercial and non-profit partners across the country," said a spokesperson for the firm. "Working together we are very pleased to see participating small business owners grow their businesses and create jobs."‬
In New Orleans, where the initiative has been praised, a local lawmaker is urging Goldman to step up the pace. ‪‪‬"I do think that they have somewhat of a challenge that they have set for themselves," said John Johnson, a district councilman who ran the small business development program at the University of New Orleans. "They will have to move more aggressively to meet that challenge. As far as their work in New Orleans, I'm prepared to give them the benefit of the doubt. It's too soon to criticize them for not moving more expeditiously."
Johnson, whose committee will get an update from Goldman officials next week, noted that Goldman's effort should be praised since other major banks have not launched similar initiatives.
In the wake of the financial crisis, small-business lending has faltered: The total value of outstanding loans to small businesses plunged by $43 billion between June 2009 and June 2010, according to a recent report from the Small Business Administration. The 19 largest banks, which includes Bank of America, Wells Fargo, JPMorgan Chase, Citibank and Goldman, have a particularly poor track record. Though they sit on 60 percent of bank assets, these giant banks only do about one-quarter of the country's small business loans.
Loans to small businesses are primarily handled by small and midsize banks, according to Stacy Mitchell, senior researcher at the Community Banking Initiative. She said that the amount of small business loans on the books of the giant banks decreased by $20 billion from March 2010 to March 2011.
Mitchell said she was skeptical that Goldman's initiative and similar programs serve a purpose beyond providing good public relations. "You see all these full-page ads from Chase and Goldman touting their small business work but the lending they provide is a drop in the bucket."
In Houston, where Goldman announced the latest round of the initiative, local business leaders have disputed that assertion, praising the program and blaming federal regulators for the lending drought. Dick Huebner, the president of the Houston Minority Supplier Development Council, said that "minority-owned businesses are the fastest growing within our community, and this program will help them realize their full potential." He said that federal rules have "suffocated lending" by making it more difficult for banks to make money off of loans.
Sharon Sinaswee, the founder of Armada Building Services in East Harlem, credited the training program with helping her expand her business and land potential contracts. "It was beneficial in the sense that it helped me understand my business better," she said, adding that she is not interested in financing. "When I went before people from Columbia University, I was able to make a better presentation."
Goldman's partner in New York is Seedco Financial, a nonprofit community development financial institution with more than $200 million in assets under management. In the wake of the 9/11 attacks, Seedco's disaster-recovery initiative was credited with saving or creating over 6,000 jobs in Lower Manhattan. But in 2009, after the organization was hired by the city of Denver to offer loans to small businesses in low-income areas, its performance was criticized by a city auditor who found that it was actually hurting the city's ability to help businesses. Seedco's president claimed that its loans helped create jobs and community-aided development in the city.
Last January, about 52 entrepreneurs graduated from the program in Los Angeles at a ceremony attended by the city's mayor, Antonio Villagairosa, and Goldman CFO David Viniar. Among the graduates was Miguel Guarjardo, whose construction company landed a major public works contract and hired five new people since starting the program. He said that the accounting skills he learned enabled him to be a smarter businessman and increase his profits.
Randy Gordon, who runs the Long Beach Chamber of Commerce, spoke to the class last year and was struck by the excitement of the participants. "It's almost like Small Biz 101 -- this course has really opened up their eyes. The whole program is a great model to help educate small business owners and help them grow in a tough economy," he said.
In Los Angeles, Goldman partnered with Valley Economic Development Center and the National Development Council, which have started to give out loans to qualified entrepreneurs. VEDC president Roberto Barragan says that his organization has funded, or is the process of funding, 10 loans through the program, totaling $2.5 million in funds lent. VEDC is also currently underwriting another $1.0 million in business loans using Goldman Sachs funds. Barragan explains that Goldman selected VEDC partly due to the low delinquency rate on the loans they offer small businesses. The bank lent them $5 million and gave them a $1 million grant for organizational development, which has allowed VEDC to expand its lending.
But not all entrepreneurs who qualified for loans have been satisfied. Bill McIntosh, the CEO of cause-marketing company CharityTrucks.com, was recently accepted for a $300,000 loan through the program, but he turned it down, saying he was outraged by "exorbitant fees and a high interest rate."
Calling it a "bait and switch scheme," McIntosh claimed he was not informed about the terms of the loan until after he spent 10 weeks providing all the documentation required by VEDC. "They wanted about $12,000 in fees and the interest rate was about 9 percent," he said. "I said, 'You've got to be kidding me. This is outrageous!" He said that the three-month ordeal hurt his business -- which had relocated from Canada -- forcing him to lay off some staffers, adding that he could have secured a better loan through Chase.
He claimed the partnership with Goldman does not serve the real needs of small businesses. "It's very misleading to say you've been granted a pot of money to lend out when it's actually a wholesale loan and you're going out there and selling them at retail and building in a lot of fees. They're just a sales force for Goldman Sachs."
Barragan said that McIntosh misunderstood the program, explaining that VEDC only lends to businesses that can't borrow from banks and that those loans tend to involve higher fees and interest rates. He also disputed McIntosh's numbers, saying the interest rate was closer to 8 - 8.5 percent with fees totaling $9,000.
He explained that VEDC needs to be careful with its loans. "The money I borrow from Goldman is full recourse. If I have losses, I owe them money."
Calling all HuffPost superfans!
Sign up for membership to become a founding member and help shape HuffPost's next chapter