Though a marathon day of testimony in front of a Congressional panel this week didn't budge Goldman Sachs' stock price, news of a criminal probe and two downgrades of the bank's stock sent shares tumbling today.
At the time of this post, Goldman stock was down nearly 10 percent. Both Bank of America Merrill Lynch and Standard & Poor's took dimmer views of Goldman Sachs's stock, with the latter changing its rating from hold to sell.
Last night, word surfaced the Department of Justice was conducting an investigation into possible criminal case stemming from the SEC's charges that that Goldman Sachs defrauded investors in a complex derivatives deal. The AP reported that 62 House lawmakers pushed for the probe.
Check out the huge plunge in Goldman's stock: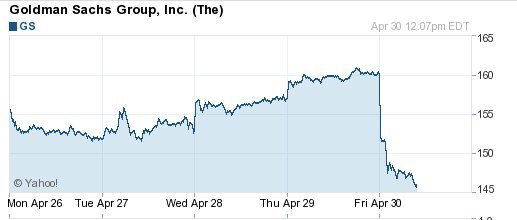 Related
Popular in the Community