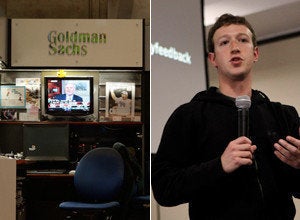 Citing "intense media attention," Goldman Sachs has decided not to offer shares in Facebook to its U.S. clients, the Wall Street Journal reports.
The WSJ obtained a statement from the bank which indicated Goldman "concluded the level of media attention might not be consistent with the proper completion of a U.S. private placement under U.S. law."
The deal will reportedly still be offered to the bank's offshore clients, and the WSJ indicated that the exclusion of U.S. investors was not required or requested by any government agency.
Goldman's Facebook deal was widely criticized as an end-around SEC regulations requiring financial disclosures from private companies with more than 500 shareholders. Through the use of a "special-purpose investment vehicle" that would be officially listed as a single shareholder, Goldman and Facebook looked to sell shares to rich clients, potentially circumventing the 500-shareholder limit.
When the deal was announced, the New Yorker's John Cassidy said Goldman was "making a mockery" of the SEC.
As a part of the deal, Goldman Sachs is collecting some large fees from clients, according to Bloomberg News, which obtained a copy of the bank's offering documents. Here's Bloomberg:
"To get a stake in Facebook, Goldman Sachs clients are required to make a minimum investment of $2 million by Jan. 7 in what's described as limited partnerships based in the Cayman Islands and Delaware. Goldman Sachs is charging 0.5 percent of any capital committed to the partnership as an "expense reserve" as well as a 4 percent placement fee and 5 percent of any gains, according to the document."
Related
Popular in the Community