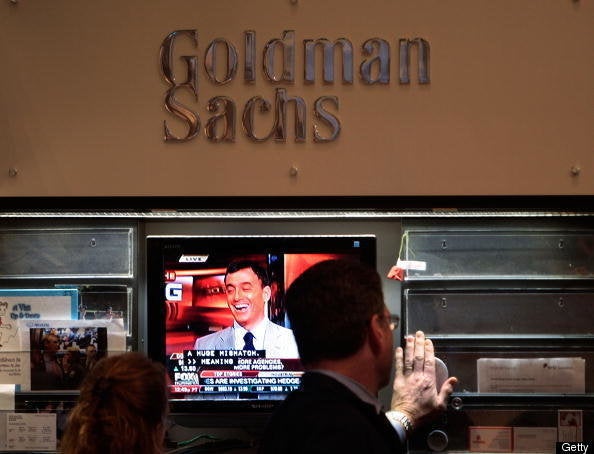 AIG and federal authorities did not negotiate with Goldman Sachs when it came to the firm's controversial $12.9 billion payout from AIG, courtesy of taxpayers, a top Goldman official told Senators today.
After the federal government stepped in to rescue the teetering insurance giant in the fall of 2008, the New York Fed, then led by current Treasury Secretary Timothy Geithner, directed AIG to pay its counterparties 100 cents on the dollar on their complex derivatives deals. More than $27 billion of taxpayer money went into the coffers of firms like Goldman Sachs and Deutsche Bank. The firms were also allowed to keep $35 billion in collateral previously posted by AIG.
Since AIG was under the control of taxpayers, it's been argued that more than $62 billion in taxpayer funds went to rescue Goldman and its peers in a series of transactions members of Congress have termed a "backdoor bailout."
The move has been heavily criticized by Democrats and Republicans alike, as well as by nonpartisan, independent federal investigators. The Office of the Special Inspector General for the Troubled Asset Relief Program issued a scathing report on the entire transaction, focusing on the role of federal regulators at the New York Fed who worked for Geithner.
Sen. Tom Coburn, the top Republican on the Senate Permanent Subcommittee on Investigations, asked David Viniar, Goldman's chief financial officer, about the firm's $12.9 billion payout.
Explain that, Coburn asked. Why did the firm get 100 cents on the dollar?
"It was what they owed us," Viniar replied.
Asked why Goldman got full payment on securities guaranteed by a company that had just been bailed out by taxpayers, Viniar said, "I think everybody did from AIG."
Was there a negotiation? Coburn, of Oklahoma, asked.
"The firm got a term sheet," explaining that it would be paid at full par, in other words 100 cents on the dollar, Viniar said.
Coburn asked: So there was no negotiation?
"They made an offer and you accepted?" Coburn inquired.
"Correct," came the reply.
<0--2391--hh>0--2391--hh>
Calling all HuffPost superfans!
Sign up for membership to become a founding member and help shape HuffPost's next chapter