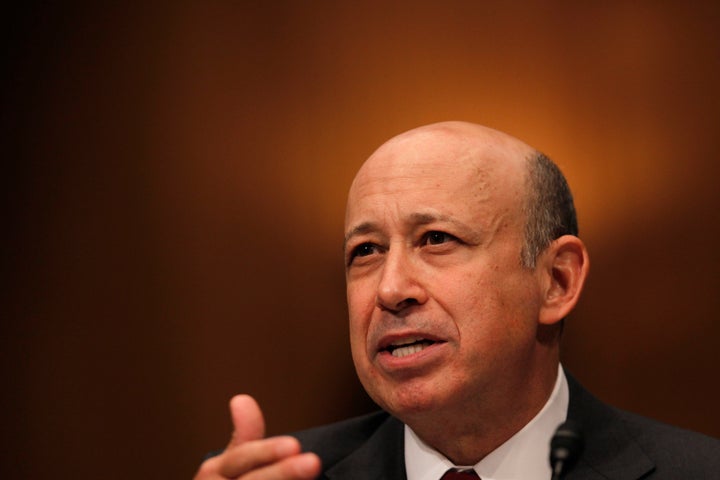 NEW YORK -- On Thursday, Goldman Sachs gained the government's blessing to sell off its mortgage unit, but not without a couple of reprimands.
The investment bank, which had been trying for months to exit the retail mortgage business that has been a source of prolonged headaches for other institutions, agreed to forgive a few million dollars in homeowners' debt, and said it would refrain from an illegal practice known as robo-signing -- or approving foreclosure documents without reading them. Goldman also got a stern talking-to from the Federal Reserve, which imposed no monetary penalties at this time.
Some experts professed amazement on Thursday that two government regulators with the power to impose sanctions seemed to go easy on the mortgage unit Litton Loan Servicing, with a couple of letters asking Goldman to abide by the law going forward.
"The body language of it suggests that firms don't have a large worry on the punitive damages of robo-signing," said Joshua Rosner, managing director at the independent research consultancy Graham Fisher & Co, who has blogged for The Huffington Post.
"This is not America," he continued. "We've become a corporatocracy."
A spokesman for Goldman declined to comment.
Goldman, Litton and Ocwen Financial, the mortgage company that bought Litton, struck a deal with New York State's Financial Services Department to allow the sale to go through, according to a Thursday statement from the state. Ocwen, which has become the 12th largest mortgage servicer in the country, will be "handling a very large number of customers in foreclosure or facing possible foreclosure," the statement says.
Among the provisions for homeowners included in the deal, Goldman promised to accept write-downs on $53 million in unpaid mortgage principal, forgiving about a fourth of the balance on 60-day delinquent loans in New York that were owned by Goldman and handled by Litton as of Aug. 1. The total reduction would amount to $13 million, according to the terms of the deal.
While that could offer significant relief for homeowners who are struggling to pay their bills, it's not much of a hardship for Goldman Sachs. On a typical trading day in the second quarter of this year, Goldman took in nearly 10 times that $13 million figure.
Goldman and Litton also agreed to end robo-signing -- the illegal practice that is a focus of settlement talks between the nation's biggest banks and federal and state regulators. All 50 state attorneys general and a host of federal agencies are negotiating a settlement with mortgage companies to silence allegations of illegal foreclosures, talks that have stalled as a few key participants have questioned the adequacy of the deal.
New York's agreement with the firms Thursday "does not preclude any future investigations of past practices or release any future claims or actions whatsoever," according to the statement. So, there could be penalties in the future.
The Fed ordered Goldman to hire an independent consultant to investigate whether foreclosures were done improperly. "The review is intended to provide remediation to borrowers who suffered financial injury as a result of wrongful foreclosures," the Fed said in a statement.
But beyond that, Goldman isn't being asked to pay up -- at least not at the moment. The Fed "plans to announce monetary penalties," the central bank said in the statement.
With the Fed's action, Goldman joins the ranks of other financial institutions that the Fed reprimanded in April. Back then, the central bank said it "plans to announce monetary penalties" for those companies, which include Bank of America, Citigroup, JPMorgan Chase, Wells Fargo and others. These penalties haven't yet been announced.
A spokeswoman for the Fed declined to comment beyond the central bank's statement.
Last year, Goldman was fined $550 million by the Securities and Exchange Commission to settle allegations that it misled investors by selling them a deal it had designed to fail. That penalty amounted to less than a week's worth of revenue for the firm.
Even if Goldman is hit with fines, the penalty seems unlikely to be burdensome, said Amar Bhide, a professor of international business at the Fletcher School of Law and Diplomacy at Tufts University.
"What monetary penalties could they impose, other than symbolic ones?" Bhide asked.
He added that robo-signing is only a symptom of a larger problem within the mortgage industry -- namely, the failed securitization process, in which companies allegedly lost or faked vitally important paperwork.
"We're not getting to the heart of the problem," he said. "We have a factory approach to producing mortgages, and once you have a factory approach to producing mortgages, all this other stuff will inevitably follow."
*****
William Alden is the Wall Street reporter for The Huffington Post. Email him at alden[at]huffingtonpost[dot]com or call him at 212-402-7004.
Related
Popular in the Community