Close your eyes and picture the smiling, fluffy bundle of mirth that is a golden retriever.
Now picture 400 golden retrievers galloping across grassy fields to a long dock jutting into quiet lake and each dog launching him or herself into the water with gusto.
Is this some calming scenario your therapist told you to picture during times of stress?
No. It's Goldstock, an annual gathering of golden retrievers and their human companions who are passionate about 1) their own goldens, and 2) other goldens in need of rescue.
Every Labor Day weekend, Goldstockers from around the world flock to Camp Weequahic, a kids' sleep-away camp on 100 woodsy acres outside Scranton, Pa., to let their dogs frolic on the hillside, participate in events like agility trials and the Golden Olympics, and also a lot of wildly joyful dock diving.
When the fun slows down and the dogs are napping back in cabins and RVs, the humans hold fund raisers to benefit the nearly 30 different rescue groups that have representatives at Goldstock each year, sending the groups home with thousands of dollars from sales of golden-centric items, as well as proceeds from the silent and live auctions.
Goldstock was started in 1998 by New York City dogwalker and golden enthusiast, Gail Lustig, whose father built the camp in 1953 on what used to be a dairy farm.
"Goldstock is a Goldmine of opportunity for fantastic shots of one of the most beautiful animals on Earth, but it goes deeper than that," says New Jersey photographer Steve O'Byrne, who has attended for several consecutive years.
O'Byrne says he's drawn to the emotional bond between people and their pets on display at the gathering. But even more gratifying, he says, is seeing and capturing the reactions of newly rescued dogs brought to Goldstock to romp and play after a life of neglect or abuse.
"For some, it's the first time their paws have touched water," says O'Byrne. "For others, it's the first time someone has thrown a ball for them. For others, it's the first time they've been in a place where everybody wants to pet them, so they run to every person they see."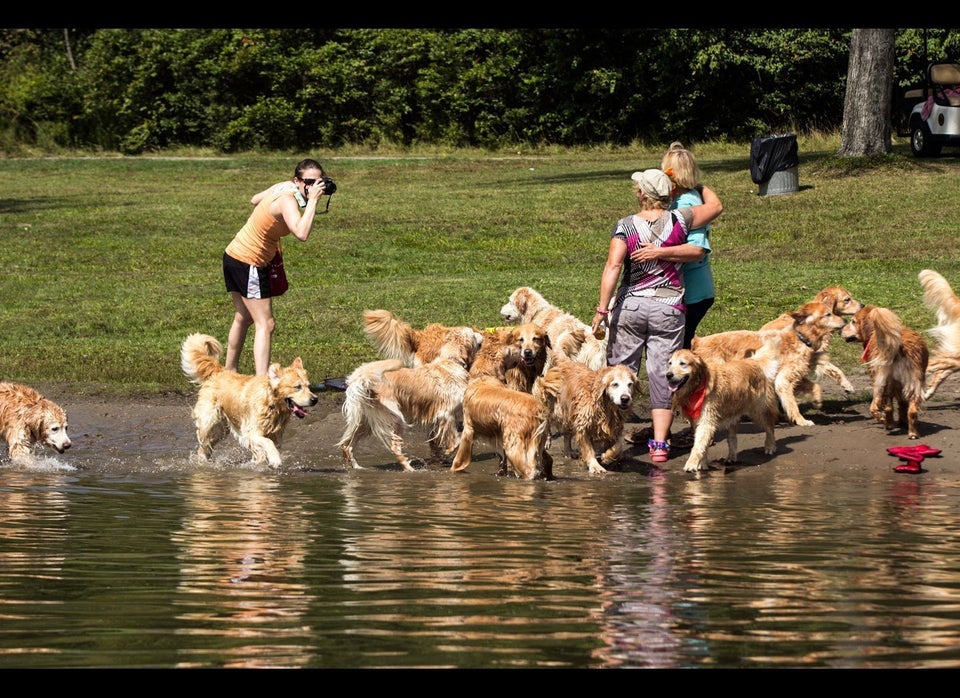 Goldstock: 400 Golden Retrievers Get Together on Labor Day Weekend
The gathering is therapeutic for humans as well. Every year, Marty Harris, a home care nurse from Lebanon, Ohio, drives 12 hours to get to Goldstock with three special-needs kids she adopted after fostering them, and one special-needs child she befriended after serving as his nurse.
Over the years, the boys -- one legally blind from having been shaken as a baby, and two of whom were exposed to illegal drugs in utero, then neglected -- have taken on more responsibility and a sense of ownership at what they call "Dog Camp." They help raise money for their local rescue group, and pass out goodie bags and ribbons to winners of the various contests. And they've found a sense of purpose in their focus on dog rescue.
"The boys have learned that not all people treat dogs well or love them like they should, but that all dogs deserve a chance at having a loving, caring home and good medical care, and that it takes money to help," says Harris. "They also see that when a lot of people give a little money, a lot of dogs can be saved. At camp, the boys feel empowered and important, strong and able to make a difference. They are the future of rescue."
One of the boys, Tyler, who walks with crutches, sheds them each year to take a crack at the ball in a version of baseball where humans hit the balls and the dogs work the outfield. Goldstock regulars know the boys, and seem to triumph as much as Harris in seeing them flourish surrounded by dogs and dog lovers all weekend.
"I would say the average blood pressure of everyone there is quite low. Goldens are truly the ultimate comfort dogs," says Pittsburgh artist Tom Mosser.
Mosser attended for the first time in 2013 with his dog Lucas. Lucas is the subject of Mosser's painting, "A Golden Retriever at the Museum," which features a golden staring rapt at a painting of a giant tennis ball. The image went viral last year.
Mosser calls Goldstock "Golden Retriever-palooza."
"The bond that the people had with each other was incredible. Their dogs were that bond," Mosser says. "And the bond that people had with their dogs was palpable, too."
Mosser donated a framed print of "A Golden Retriever at the Museum" for the Goldstock auction, and it went for several thousand dollars, all of which went to benefit rescue.
The night before Goldstock ends and everyone disbands, the event's organizers hold a candle-light vigil. Weeping is rampant for the Goldstock regulars who have died since the last gathering, and because it will be another year until everyone unites again.
For more information on Goldstock, go here.
Photo by Steve O'Byrne Photography.
Popular in the Community