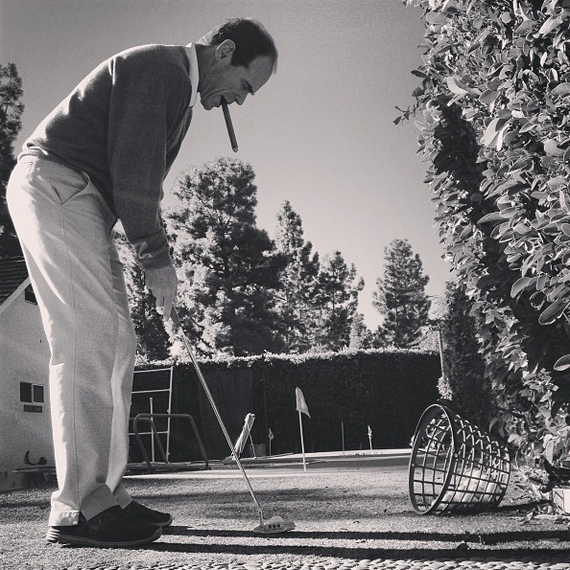 Steve Rennie is a former record label executive, talent manager, concert promoter, entrepreneur, and not to mention, an incredible golfer. In a recent article, Billboard Magazine ranked Steve No. 1 on their music industry golf leaderboard. Amongst many successful acts Steve's been responsible for over the past 30 years, he's most known for being the manager of multi-platinum rock band, Incubus, whom he's represented for the past 17 years.
As of recently, I had the privilege of connecting with Steve, and upon discovering his website (Renmanmb.com) and watching a couple episodes of "Renman Live", I immediately knew we were supposed to be friends.
Though I am a working artist, songwriter, and music entrepreneur myself, I assumed that we would first connect on any of those levels. But once Steve became aware that I also shared a love for playing golf, he decided that our first meeting had to be over a round of 18 holes -- my kind of dude. Music business and golf? To put it mildly, I was stoked to go hang with "Renman" at his home course, Bel Air Country Club.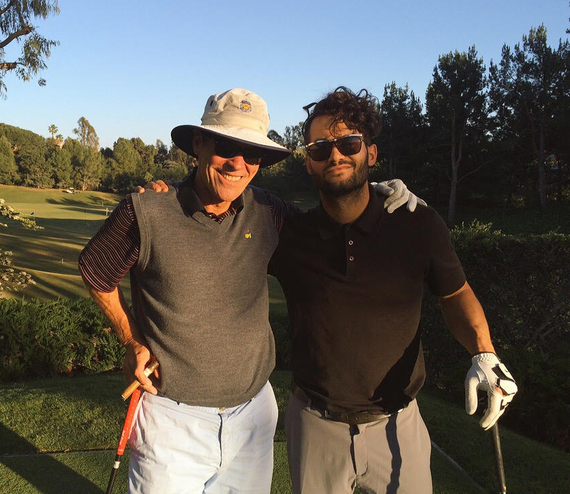 From our warm up at the driving range, to the end of our journey at the 18th hole, I really enjoyed chatting with Steve and sharing stories about all of the topics I am most passionate about -- golf, education, and the music industry. There were definitely other topics sprinkled in there too, and if you know Rennie, you know that they're ones that will make you laugh... a lot. But amongst the many of the things he shared with me, there was one specific moment that stood out to me more than the rest. It was on hole number 14.
Just as we were about to tee off, and like the rest of the holes before, Steve began to give the complete rundown about every nuance of hole 14. All of which consisted of clear advice on where to aim, what to avoid, and suggested approaches to achieve the best results from my efforts. (Remember this.) He explained from where we were standing on the tee box, the hole reads to be "150 yards" to the pin measured by the scorecard, and even a professional-grade rangefinder. But then he went on further to share that even though the "facts" might tell the golfer that they're 150 yards away, with full confidence he knew that in fact, it was actually "164 yards" to the pin. So like most things that he says, at first, it sounded like madness. But after, he explained his reasoning for this was that from his experience, playing that golf course approximately 2,500 times over a span of 12 years, he knows the layout well enough to factor the grade of the slope we stood above gave an extra 10 yards to the pin and in addition to that, the green feeds from front to back giving you an extra four or so yards of roll, even with backspin on the ball. His calculation and advice was based on the unseen variables; the factors that couldn't be known from a scorecard card or through a rangefinder.
His broader point which really hit close to home for me, is when he shared how, just like in the game of golf, the same principles can be applied to the music industry. Though a music professor in a school may be able to tell you the 'facts' from a textbook or the web about the music business and how it works, a true mentor will be able to guide you from inside their experience so that you can learn about the most important variables, the ones that cannot be learned from a page or a screen. A great mentor is no different from a great caddy; they give clear advice on where to aim, caution you of what to avoid, and suggest approaches that will help you achieve the best results from your efforts.
So what I learned about the music business from my time with Steve Rennie sort of has nothing to do with the industry, but everything to with it all at the same time: That no matter where you are on the course, sometimes the most important thing you need is just to make sure that you have a really good "caddy".
Steve has created various online resource for anyone interested in working within the music industry. Whether you're an aspiring artist, songwriter, producer or music professional, Steve's websites offer practical and applicable information that you'll need to know to be successful in the music business.
Check out Steve's courses and videos at the links below.
Calling all HuffPost superfans!
Sign up for membership to become a founding member and help shape HuffPost's next chapter