"Play it as it lies" is a cardinal rule in golf, the acceptance of wherever the ball lands -- favorable or not. For golfing great David Graham, with a career of 35 worldwide wins who will be inducted into the World Golf Hall of Fame in July, the phrase takes on a philosophic meaning.
A native of Australia who now lives in Dallas, Graham rose to the top of the game, winning the 1979 PGA Championship and then the U.S. Open in 1981, where his final round went down in history as one of the best ever of a major championship. (His 1981 victory at Merion Golf Club also landed him on the cover of Sports Illustrated.)
Then, in 2004, during a senior tour event, congestive heart failure took it all away. "You go from having this wonderful life in a competitive environment, with good sponsors and doing what you love, to having none of it. That's very difficult," Graham, now 68, said over coffee in snowy Chicago, where he was in town for the Chicago Golf Show, at which he appears with his good friend and fellow golfing champion Lee Trevino.
While in the midst of treatment, Graham saw a television commercial for St. Jude's Children's Research Hospital, which treats children with cancer and other life-threatening conditions. As he recalled, "A little 6-year-old girl in the commercial was asked, 'How can you be so happy?' Her answer was, 'I can feel happy or I can feel sad. I choose to feel happy.' I imagine that spoke to a lot of people and not just me."
Graham discovered golf at the age of 12 when he first picked up a club -- a left-handed one, even though he's naturally right-handed. By the time he was 14, Graham had left school and landed a job as the number two assistant at the Riverdale Golf Club in Melbourne, Australia. Early one evening, Graham was at the driving range after the golfers had gone when, by chance, head golf pro George Naismith was leaving the club. "He came over and, after watching me hit a couple of shots, told me he didn't think I'd ever be any good swinging left-handed. I had to start playing right-handed. He was a major blessing to me. I never would have succeeded if I had kept playing left-handed."
When asked how difficult it was to make the switch, Graham gave a small smile. "If you want to do something, it's easy to learn. I wanted to get better."
Graham, whom the golf media describe as a "superb technician" on the course, is a role model of tenacity and discipline for anyone in any endeavor, from sports to the arts. "I don't think golfers are born naturally. Some are born with some measure of gift. But they have to learn how to use that gift. It's not God-given that you become a player. Without the right application, the gift is wasted."
By the time he was about 21, Graham was on the Asian tour, where he learned the ways of competitive golf, but found it hard to make a living. The American tour was the place to be, which meant living in Australia was not an option. Graham and his wife, Maureen (they've been married for 45 years and he credits her for making his golf career possible), moved to the U.S., starting out in Florida where he became good friends with Jack Nicklaus, and then moved to Dallas. Graham's first PGA victory was the 1972 Cleveland Open. He amassed a total of eight PGA Tour titles.
Asked about the 1981 U.S. Open win, Graham spoke not one bragging word about the victory -- not even the final round when he shot a 67, which the legendary Ben Hogan called the finest round of golf he'd ever witnessed. "All the stars aligned," Graham said humbly. "A lot of players have played incredibly good rounds of golf. But some are on a Thursday or a Friday [early in a tournament], or are not played on a prestigious course. Some are not seen on TV. Mine was on a Sunday at Merion and at the U.S. Open."
While Merion was an obvious high point, Graham labeled another tournament "one of my greatest experiences": The Warrior Open, a 36-hole golf tournament hosted by former president George W. Bush in Dallas, which featured professional golfers and wounded U.S. service members, many of whom had lost limbs and still played a good round of golf. "You don't really comprehend where that strength comes from," Graham said.
Perhaps, though, Graham knows better than most, having had to give up competitive golf. But he is far from forgotten as the sport honors him with a Hall of Fame induction. "It's a way in which your peers and the powers-that-be in golf can bestow on you golf's highest honor," he said, and then adds: "It's the culmination of a lot of hard work."
David Graham with a copy of the 1981 Sports Illustrated cover after his U.S. Open victory: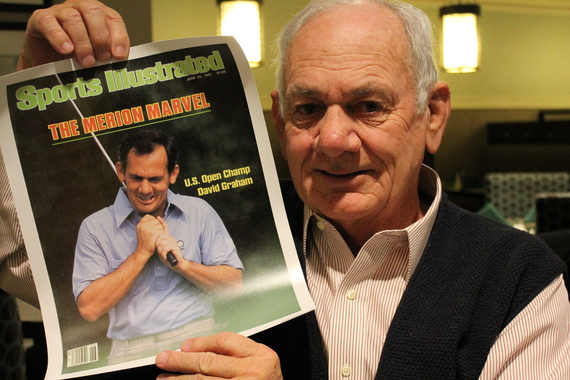 REAL LIFE. REAL NEWS. REAL VOICES.
Help us tell more of the stories that matter from voices that too often remain unheard.