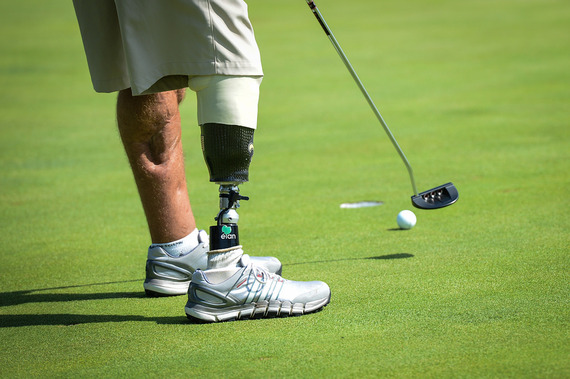 Golf famously has been called a good walk spoiled. Wounded soldiers may not see it that way. After losing a limb or suffering a blow to the brain, golf can become a major part of their rehabilitation.
The sport provides a way for veterans injured in the line of duty to regain their confidence, renew their focus and redevelop their physical strength. The course itself becomes a place for nature to restore them mentally and physically.
Standing amidst Texas oaks, with a soft, summer-like breeze blowing across the Las Colinas Country Club outside of Dallas, First Lieutenant Brian Donarski explained that simply being out in nature is a major part of golf's rehabilitative power. For one thing, there is the psychological aspect. The sun. The air. The grass. Those elements are why some liken the game to playing in a cathedral.
The nature effect includes this truth: Golf is a game played against nature. Golfers learn quickly that they cannot tame the course. They must adjust to it, which teaches a skill soldiers need as they go through rehabilitation. A wounded warrior may not be able to return to what was in his life, but he still can go forward.
Golf teaches that going forward part -- in large doses. Hole after hole, golfers are striving toward immediate goals that require intense focus and discipline. "This game is about being purpose-oriented," former professional Christie Smith remarked after hitting a tee shot on the 14th hole last Thursday. "You choose your target. You don't look at the hazard. And you calm yourself to be present."
Qualities like those are essential for soldiers learning how to regain a sense of direction and balance in their lives. Rehabilitation is all about setting a goal and moving toward it.
Restoring a sense of balance includes the physiological aspect. Sergeant Daniel Casara, whose legs were severely injured during his service in Iraq, showed that as he hit a tee shot last week.
His legs supported by orthotic braces, Casara blasted a powerful drive down a fairway after several practice swings. During those swings, one foot quickly crossed the other, looking for a moment like the movement would knock him off balance. Casara persevered and scorched a long, straight drive.
Shortly after that shot, Tom Watson, the five-time British Open champion, paused as he came off another tee. He explained how balance is fundamental to golf. In describing the mechanics of a swing, Watson observed that a golf swing includes a "violent move," from the shoulders on down to the hands and legs. Golfers must retain a keen sense of balance as they make that move.
"Imagine doing that on one leg," he remarked. Watson then noted how programs at places like Walter Reed National Medical Center and Brooke Army Medical Center use golf as the means to teach physical balance to wounded warriors.
Of course, golf is not a team sport, except for rare events like the Ryder Cup. The individual nature of the sport may not seem like a natural fit for soldiers coming out of the ultimate team-like atmosphere of the military. But golf's individualism provides another teaching tool. You can't have someone else play the game for you. You must master it on your own, much like learning to find your way back into the world after war.
As his cart came to a stop under some oaks, President Bush summed up that golf ultimately teaches personal responsibility. Indeed, it is the only game where athletes are supposed to penalize themselves for breaking the rules.
This fits with the ethos of the wounded warriors competing last week with pros like Watson, Smith, Ben Crenshaw and Jay Haas. Soldiers learned long ago about honor and integrity. The game allows them to embrace those values while helping them renew their confidence, move toward a goal and regain the direction they may have lost.
No one will ever perfect the game. Nor will wounded soldiers ever be exactly the same. Yet they are progressing, hole by hole.
William McKenzie is editorial director of the George W. Bush Institute.
Calling all HuffPost superfans!
Sign up for membership to become a founding member and help shape HuffPost's next chapter