NEW YORK -- Brooklyn is reeling from news that the L train might stop connecting to Manhattan. As repairs are planned for the subway line's underwater tunnel linking the two boroughs, one of the options being considered is to close the tunnel for over a year.
Suddenly, a proposal for a new gondola system over New York City's East River looks even more appealing.
The L train's Canarsie Tube runs under the East River between Bedford Ave. in Brooklyn and First Ave. in Manhattan. The proposed gondola would service this general area and eventually offer access to additional points in Brooklyn, Queens and Manhattan.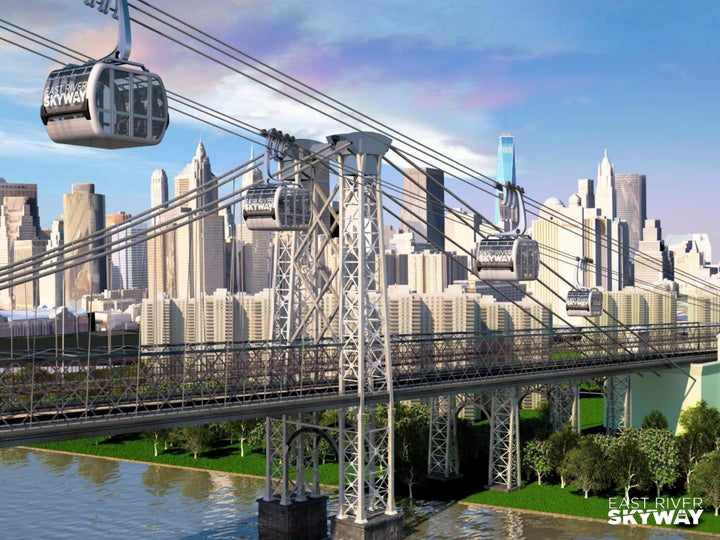 The East River Skyway project, put forward in 2014 by Daniel Levy, president of real estate site CityRealty, would build an aerial tramway between Brooklyn's Williamsburg neighborhood and Manhattan's Delancey Street on the Lower East Side. Two additional systems would connect Greenpoint, Brooklyn, and Long Island City, Queens, to midtown Manhattan; and Brooklyn's DUMBO to Manhattan's South Street Seaport.
With cars leaving Brooklyn every 30 seconds, the Skyway could shuttle around 5,000 people per hour, Levy told The Huffington Post on Thursday. The trip between Williamsburg and the Lower East Side would take just over four minutes.
Ridership on the L has spiked in recent years, however, and the Skyway would likely be unable to handle the strain of 300,000 daily commuters. But it highlights the growing need for alternative modes of transportation as the subway gets more congested each year.
Each of the three gondola lines is estimated to cost between $75 and $125 million.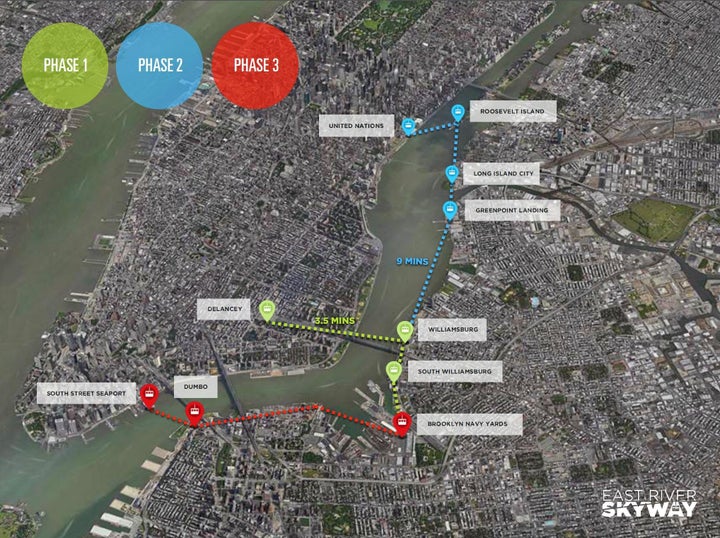 "It's a nicer experience, being above ground," Levy told HuffPost. "You start your day with literally being 300, 400 feet in the air."
(Of course, if fresh air and sunlight are you're after, you could also bike over the bridges, take a bus or hop a ferry across the river.)
The New York City Metropolitan Transportation Authority said this week that it was weighing shutting down the L train tunnel to fix damage from Hurricane Sandy in 2012, Gothamist reported. Alternatively, the MTA could keep the tunnel open with limited train service while completing the work over a longer period of time.
"The work has to get done," Adam Lisberg, an MTA spokesman, told The New York Times. "There is no way around it."
CORRECTION: An earlier version of this story incorrectly stated that gondola cars would depart every 30 minutes, rather than every 30 seconds. It also misidentified CityRealty as the backer of the Skyway project, when in fact CityRealty's president is the backer.
Related
Popular in the Community