I've never a read a creepier thriller than Sharp Objects by Gillian Flynn. Just thinking about the 2006 debut novel sends chills up my spine. The protagonist, Camille Preaker, a sharp-witted and brash Chicago newspaper reporter, was committed for being a cutter. Preaker is one of the most disturbing and realistic sleuths I've ever encountered in my reading experience. Flynn is a prolific writer whose dark and grisly novels make you squirm and often think, like the age-old horror story plea, "don't open the door" or "don't go down there!"
What does Flynn, an Edgar Award finalist and the recipient of two of Britain's Dagger Awards, like best about writing fiction, particularly thrillers? She says: "I'm a consummate worst-case scenarist -- unrivaled really -- and I think writing about bad things lets me burn off a little of that extra freakout-fuel, so I can behave properly in real life."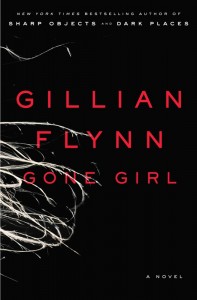 Like Sharp Objects and her stellar second novel, Dark Places, her latest book, Gone Girl, is filled with raw intensity and emotional suspense. The novel is told from the perspective of two engaging, yet disarming characters -- Nick and Amy Dunne -- in the present day and in old diary entries. They're the kind of couple whose marriage makes other married people start to question their own relationship -- for better or for worse. Nick, a former magazine journalist, feels deprived of his dead career and Amy, a magazine quiz writer, is still yearning for her big break. Do the Dunnes appear to be: a) a solid, loving couple, b) loyal and trustworthy, or c) troubled with their own set of problems and dark secrets?
Once New York residents with burgeoning writing careers, they now live in Carthage, Missouri near Hannibal -- Mark Twain's home and a key location in the story. Why such a drastic change? Well, Nick was asked by his sister to help out with various family problems. Always doing the right thing, Nick complies. As Flynn says: "He's a golden boy, a momma's boy, a hard worker, a laid-off journalist, a devoted brother, a clever writer, a stoic, a liar, a manipulator, a people pleaser... and possibly a murderer."
But the move is rough on Amy, who stays at home fiddling with various projects and hobbies. She's not Susie Homemaker; she's this bubbly writer who wants to do more than play housewife. And like many of us, the failed economy has hit the Dunnes hard. Then, one chilling day, Nick discovers that his wife is missing. He rushes home to an empty, disturbed house. Where did Amy go? It's their fifth wedding anniversary. The cops begin to investigate Amy's strange disappearance, which becomes creepier, more bizarre and urgent with every turn of the page.
Flynn has a knack for creating dark stories. Answering the perennial writing cliche of how she comes up with these macabre stories, she says:
"Early on, there's usually some initial scene that pops into my head. Sharp Objects reflected my love of fairy tales -- the really dark, unedited Brothers Grimm fairy tales. So I had the vision of an eerie little town surrounded by woods where very bad things were happening to children. With Dark Places, I started with the murder scene itself, which had its kernel in my teenage obsession with Capote's In Cold Blood.

Having grown up in Kansas City, Flynn read In Cold Blood like it was going out of style. While writing Dark Places, she often pondered the question: A family is found slaughtered in their Kansas farmhouse -- what happened?
She continues: "With Gone Girl, I was driven by my interest in exploring a marriage gone wrong -- but very early on, I did have the mental picture of a husband coming home to a house with the front door swung ominously wide open."
The novel also delves into how cases like the Dunnes' create a media frenzy. Nick deals with this issue via his sarcastic internal comments, which are directed toward the police, the press, suspects and his wife. Gone Girl tackles an abundance of topics -- from the state of our world to if we truly know the people we love. What Flynn would like readers to take away with them after reading Gone Girl is this: "The best compliment people could give me is that once they finish reading, they make their spouse or partner or best friend immediately read it because they want to talk about it. I like a book that sparks some intense conversation. Or light fisticuffs."
As the daughter of two community college professors, she majored in journalism and began writing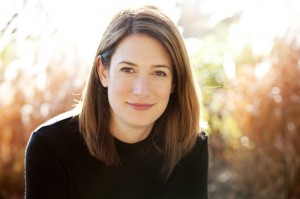 for a trade magazine in California before moving to Chicago -- earning her master's at Northwestern -- and then to New York, where she worked for Entertainment Weekly, covering film, television and books for ten years.
During her tenure with EW, she wrote Sharp Objects at night in New Orleans, New Zealand, and Florida hotel rooms while covering various films. Currently, she writes in a little office in the basement of her house. She starts writing in the morning, drinking way too much coffee and often takes a break midday so she doesn't break out in a panic -- writing just to accumulate pages.
Of her writing process, she says:
It's a good thing to force a breather and figure out whether what you wrote in the morning was any good. Gone Girl is particularly tricky in structure, and I'm not someone who is remotely mentally organized, so I kept track of the plot and timeline by taping note cards everywhere. Then I'd tape up more note cards for things I wanted to fact check. By the end of it all, it looked like the crawlspace of a madwoman. And it kind of was.
In her spare time, Flynn enjoys hanging out with her husband and son, especially reading. She explains:
We are a book-loving household, so my son is not yet two but owns every Richard Scarry book ever published, including some of my own from when I was a kid. I read all the time. I know some writers say they stop reading when they're writing -- I think that's absolutely insane. I'd rather give up writing before I gave up reading.
So, is Gone Girl just as creepy as Sharp Objects? Let's just say, you'll never think of marriage and wedding anniversaries the same way again.
Gone Girl was released on June 5th! Pick up a copy and enjoy!
Related
Popular in the Community