Long before Peter Bonner created his "Historical And Hysterical Tours" in Jonesboro, Georgia, he was simply a guide sharing Civil War stories for tips. These days, those stories that he says "saved him" haven't just led him into a career -- they've led him to Tara.
Known more commonly as the house from "Gone With The Wind," Tara has become the reason that Bonner drops character for a few hours a week and hunkers down in a dairy barn about 30 miles outside of Atlanta, he told HuffPost Home via phone. The facade of the iconic plantation made its way from California's Selznick Studio Lot years ago, and is being restored by Bonner in the barn.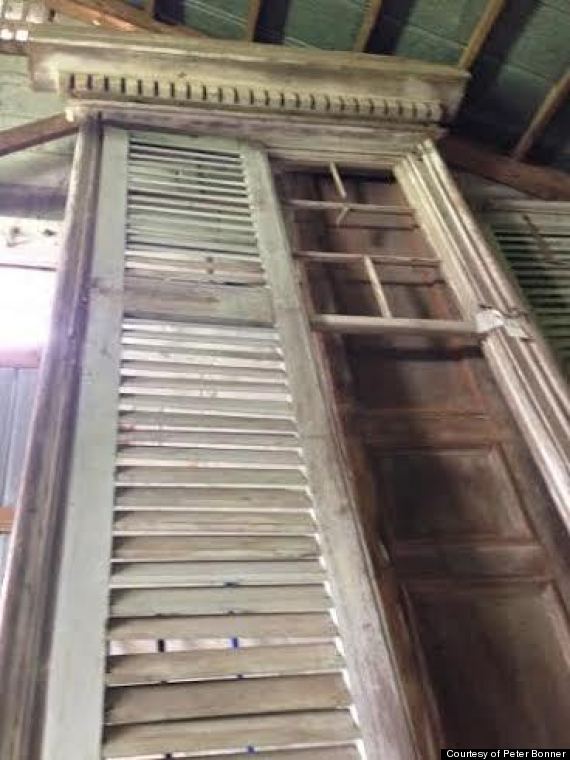 The tall window that stood in the background behind Scarlett and the Tarleton twins at the beginning of the movie.
Originally dissembled and moved from Hollywood in the late 1950s/early 1960s, Tara was sent to Atlanta where it was intended to become the centerpiece of a museum. Instead, it sat in a barn until the famous hostess Betty Talmadge opted to purchase it. She faced the same disappointing fate of the previous owner who tried to revive interest in Tara, though now in Bonner's hands through a deal with the family, things appear to be looking up.
"We came to an agreement and I'm doing it out of my pocket -- just me and my Home Depot credit card," he joked. "We started cleaning the place up, and now it's just a never-ending puzzle."
Pieces of the puzzle include the cathedral window where Scarlett discusses the war with the Tarleton twins, the porch where Melanie Hamilton sits with Confederate soldiers and other set elements straight from cinema history. Just don't tell him to pick a favorite.
"You're asking me which child I like the most," he laughed. And seeing as none of his "children" come with instructions, just "ghosts" or marks of assemblies past, Bonner is in no rush to complete the project. "It's real labor intensive and a project like this could just kill you, so I learned something -- the barn could burn down tomorrow so I'm not going to get all crazy. It's reminded me that sometimes you take things like you eat an elephant, one bite at a time."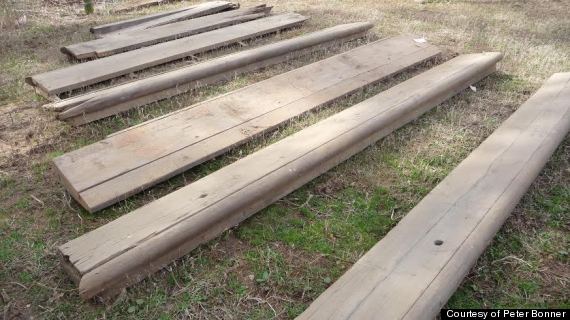 The steps from the right side porch where Mellie sat and talked with the soldiers who were eating. These are made with manmade knotholes.
But if the "elephant" is completed, Bonner envisions it to be a bit different from the movie set, considering he is working with pieces of the facade and not an entire home structure. In that regard, he's hoping to display the pieces in the barn and show off the "pretty amazing" workmanship involved in their creation. He's even taking time to keep track of his progress on his Facebook page, "Saving Tara" and has already written a book titled "The Official Guide To The Saving Tara Site," all in the good name of telling the story.
So how will his story conclude?
"One day, sure, it will be great to build a replica of the Tara facade, but this is all being displayed as art right now," Bonner said. "And every day I walk in and get to stand next to this window with shutters and it's the same window that [actors] Vivian Leigh and Fred Crane stood in front of, and that's pretty cool to me."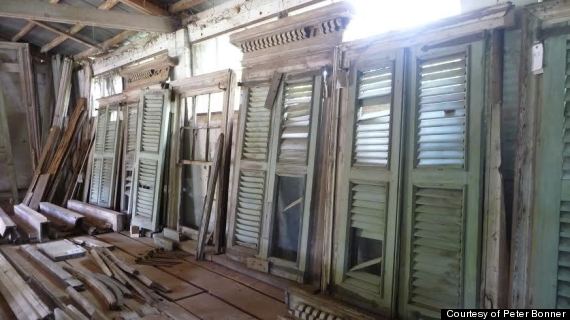 A row of windows from the front of Tara's left side waiting to be placed in flats (cradles) to better secure them before being stood up on display.
Are you an architect, designer or blogger and would like to get your work seen on HuffPost Home? Reach out to us at homesubmissions@huffingtonpost.com with the subject line "Project submission." (All PR pitches sent to this address will be ignored.)