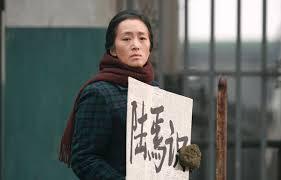 When it comes to the Cultural Revolution in China, there are a million different aspects to mine when it comes to the minefield of destroyed lives. The renowned Chinese director Zhang Yimou takes a hard look at mental illness featuring his past muse Gong Li in a not-so-glamorous role, in the film Coming Home. Based on the novel The Criminal Lu Yanshi by Yan Geling, the film screened at the Glasgow Film Festival this year.
Li is heartbreakingly wretched as a wife and mother whose husband was imprisoned for more than a decade. After ten years of not seeing her professor-activist husband who has been sent to a re-education camp, she makes a desperate attempt to see him, only to be thwarted by her pubescent, brainwashed, ballerina daughter. Her mind is shattered afterward, and her emotions and memories get locked away in a tiny, safe place in her head.
In Li's previous collaborations with Zhang in Red Sorghum and Ju Dou, Li often plays the tragic heroine. Here, her acting chops take a different turn as a middle-aged emotional wreck and she poignantly takes hold of this challenging role with sensitivity and empathy. In her previous films, it was easy to relegate her as a face of classical Chinese looks, who often played into the oh-poor-me-I'm-a-beautiful-helpless-woman but she has evolved into a truly impressive actor rather than just a pretty face.
Kudos to Chen Daoming who plays the husband, exhibiting the most amount of grace, devotion and forgiveness in circumstances that have brought him from a prestigious university position to a cot in a shop storeroom. His wife no longer recognizes him when he returns from a labor camp, though she loyally awaits his return..
In six years, China is poised to have the largest movie audience in the world. It pays for non-Chinese filmmakers, especially from Hollywood, to pay attention to what makes a film tick for the mass market. Not to say the screenwriters and directors should be pandering and forgoing their artistic license but the Chinese audience is actually quite discerning.
Ultimately, Coming Home ends on a note about optimistic love, devotion, and the acceptance of torn lives that left me surprisingly teary eyed. As tragicomically ridiculous as the ending is, with the husband waiting by his wife's side for his own arrival, it's absolutely conceivable and realistic this happened for thousands of people in the great upheaval of China's societal revamp. The artistic collaboration between actress Gong Li and director Zhang Yimou has evolved into a deeper, more sympathetic depiction of the lives people end up with. Though it does not always look like a pretty picture, the beauty of survival and love can be immeasurable.
Calling all HuffPost superfans!
Sign up for membership to become a founding member and help shape HuffPost's next chapter