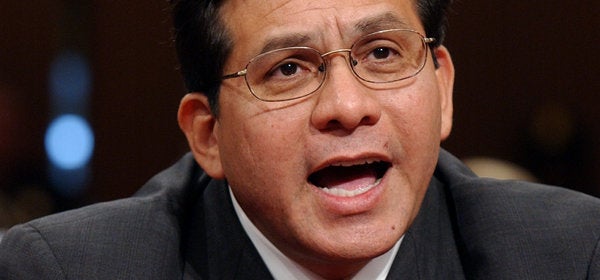 The Wall Street Journal reports that former Attorney General Alberto Gonzales is writing a book:
Alberto Gonzales, who has kept a low profile since resigning as attorney general nearly 16 months ago, said he is writing a book to set the record straight about his controversial tenure as a senior official in the Bush administration.
In his interview with the paper, the disgraced appointee expressed frustration that "for some reason, I am portrayed as the one who is evil in formulating policies that people disagree with."
"I consider myself a casualty, one of the many casualties of the war on terror," he added.
Apparently, the book's publication has already hit a few snags.
Mr. Gonzales, 53 years old, doesn't have a publisher for his book. He said he is writing it if only "for my sons, so at least they know the story."

The chapters on the Bush administration's surveillance program, which involved eavesdropping without court warrants, and other controversial aspects of his work, remain blank. That is in part because he remains under investigation regarding allegations of political meddling at the Justice Department.
Popular in the Community