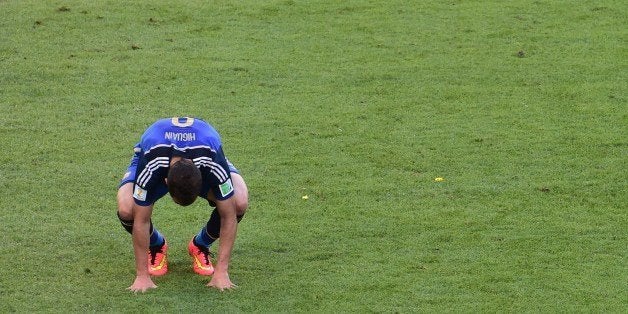 It just wasn't Gonzalo Higuain's day.
The Argentina forward squandered an early chance to give his side the lead over Germany in the World Cup final and later celebrated scoring a goal that had been disallowed for offside. Both missed opportunities won't likely be forgotten soon in Argentina as Germany would go on to win 1-0 in extra time.
In the 21st minute of the final at Estadio Maracana on Sunday, Higuain was gifted a scoring chance after a poor header by Germany's Toni Kroos. With no defender between him and Manuel Neuer's goal, Higuain improbably failed to even put his right-footed shot on frame.
Higuain believed he had atoned for miss in the 30th minute when he slotted a low shot past Neuer. Unbeknownst to the 26-year-old striker, an official's flag had been correctly raised for offside on the play. Higuain's celebration was cut short and the match remained scoreless into halftime.
With the match still scoreless in the 78th minute, Argentina coach Alejandro Sabella pulled Higuain for Rodrigo Palacio. The reserve striker would also fail to capitalize on a chance of his own later in the match as Argentina went scoreless in the final.
Popular in the Community