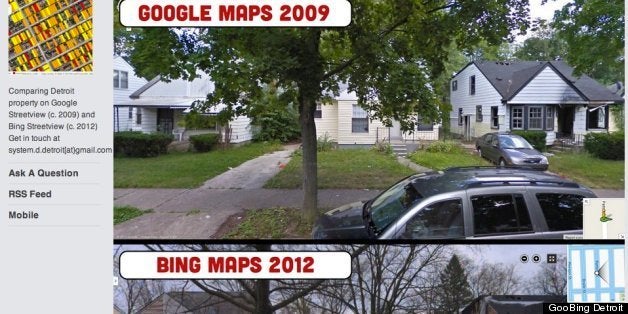 Fighting blight has been a priority for Detroit Mayor Dave Bing. During his February "State of the City" speech, the mayor said his administration had torn down 6,700 out of a promised 10,000 abandoned structures during his time in office. He also announced the establishment of a public-private initiative called the Detroit Blight Authority and, more recently, pushed for blight removal funding in a budget proposal to City Council.
As fate would have it, though, there's another Bing that's raising questions about vacant structures in the Motor City: Bing, the search engine.
A new blog called GooBing Detroit uses images of the city from Bing's Streetside mapping tool and older Google Street View images to document abandoned buildings and create a narrative about what has happened to vacant properties over time.
(Scroll down to see images from GooBing Detroit of Detroit's abandoned structures over time.
GooBing Detroit is the brainchild of Alex Alsup, who works for Loveland Technologies, a Detroit-based developer of crowdfunding and social mapping systems. He told The Huffington Post the blog is separate from his job with Loveland, but definitely draws inspiration from it:
"I spend most of my day staring at maps of Detroit through my work with Loveland. Our site, Why Don't We Own This?, pulls in Google Streetview imagery for every property in the city. Every once in a while I would see something on Google, which went through Detroit for its streetview imagery ... and wonder what it looked like more recently.
Alsup believes Google's images of Detroit are from 2009, and Bing's were captured several years later. He originally thought the Bing images were taken in 2012, but has since used prices shown on images of gas station signs to estimate the recent images were taken in late 2011.
"I would compare and contrast then and now," he said. "Oftentimes, a lot had changed in the intervening ... years."
There's definitely no shortage of abandoned buildings for Alsup to chronicle in Detroit. According to U.S. Census data, the city lost 25 percent of its population over the last decade. According to the City's Buildings, Safety Engineering and Environmental Department, there are approximately 35,000 vacant structures in Detroit.
Although Alsup has been compiling photos privately for several months, the blog is only about two weeks old. As for its purpose, he doesn't have grandiose aspirations; Alsup simply believes it's important to capture moments of Detroit's recent history. He does, however, add that he's interested in areas that aren't typically considered to be development hotspots.
"I try to avoid the more developed areas of the city -- even though there's been a lot of change there -- I just find the neighborhoods much more important and interesting," he said. "I do try to find improvement and not just decay, but improvement is, unfortunately, not as common as the opposite."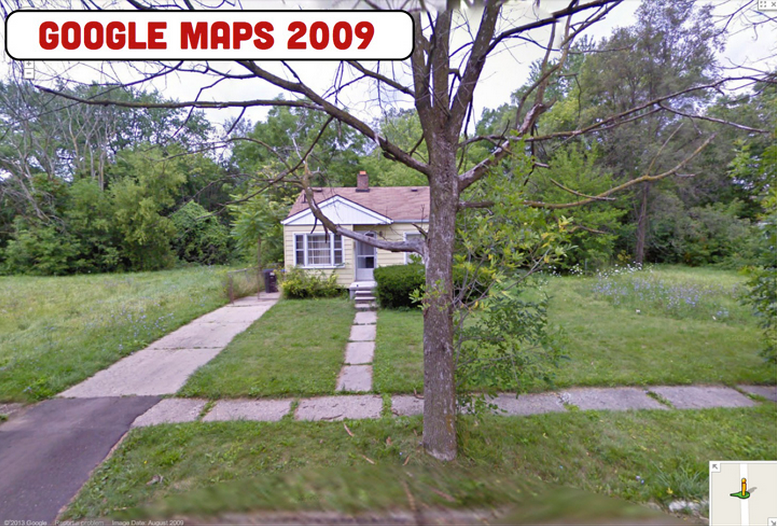 GooBing Shows Detroit's Abandoned Buildings Over Time
Popular in the Community