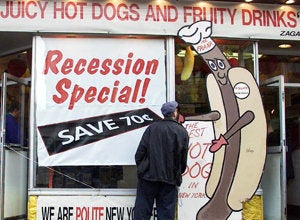 As an analyst who covers local media and the small-business marketplace, I'm always trying to engage real-life businesses on how they're running their shops -- kind of my own little focus group.
This can get especially annoying for my friends who run local businesses. Lately these conversations have shifted to a sympathetic theme, centered on lost business and survival tactics. I've started to avoid the discussion altogether.
But sometimes I forget that some SMBs are actually doing well in the current environment. Earlier this week, I got in a conversation with a good friend who owns a bar/restaurant in San Francisco. As I was helping him move, I finally acknowledged the elephant in the room and asked how business is going.
His reply: Business is not only booming, but in January he saw his highest revenues to date (partly due to a long New Year's weekend and MLK weekend). The enigmatic part is that it's a somewhat high-end place, targeting beer connoisseurs and serving gourmet "gastropub" fare. The uniqueness makes it well worth it, but it ain't cheap.
My friend -- we'll call him Mr. C -- has worked in the restaurant industry for a long time -- everything from busboy on up. His theory is that recessionary economics cause the total amount of people going out to eat/drink to diminish, but the stronger businesses will still get that limited business.
"People aren't going to stop going out to eat," he says, which rings especially true in San Francisco, where a good portion of the population is doing OK (my wooden desk just got two quick knocks).
So in down times, there isn't a leveling effect across the market but instead a weeding out of the weaker players, where the fittest not only survive but sometimes thrive. We've seen something similar in the tech world, where the companies that emerged from the ashes of the past two recessions were named Microsoft and Google.
But it's still counterintuitive upon first glance that a high-end beer tavern is thriving in the current environment. Sure alcohol is known to be recession proof, and people enjoy it (relatively) in good times and bad. But one would think the bad times call for a $2 PBR rather than an $11 Duvel.
If it's indeed a function of the strength of the business, the current environment has served as a litmus test for Mr. C that he's doing something right (if hundreds of glowing Yelp reviews, and 60-minute waits every night since he's opened weren't indication enough).
But business owners like Mr. C are not just sitting back and counting the checks. Now more than ever, they have to stay on top of their game. As we pulled a sectional couch out of the back of the U-Haul, Mr. C's business partner, who handles the books (Mr. N), gave his opinion.
"We're feeling good about it, but part of me is waiting for the other shoe to drop" (another two knocks to my desk).
Michael Boland is a Senior Analyst with The Kelsey Group, covering small business marketing. He runs the Kelsey Group Blog and contributes to many other industry blogs such as Search Engine Watch. Previously he worked as a Journalist for business & Technology publications including Forbes, Red Herring, and Business 2.0.
REAL LIFE. REAL NEWS. REAL VOICES.
Help us tell more of the stories that matter from voices that too often remain unheard.